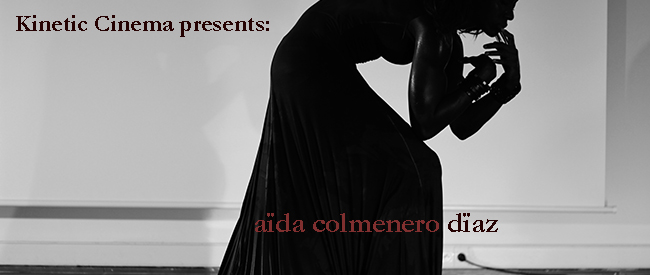 PENTACLE'S KINETIC CINEMA PRESENTS A SCREENING AND DISCUSSION WITH AÏDA COLMENERO DÏAZ
Dir. Aïda Colmenero Dïaz, 2014
Spain, 90 min.
THURSDAY, MARCH 12 – 7:30 PM
ONE NIGHT ONLY!
Guest Artist and world citizen, Aïda Colmenero Dïaz will show an evening of videodance poems made in collaboration with dancers and choreographers from Nigeria, Senegal, and Tanzania.
SHE POEMS is a project created by Aïda to pay TRIBUTE TO AFRICAN WOMEN through poems written in Spanish.
They are "video poems" played by African women artists, They are audiovisual works of contemporary dance inspired by poems written in Spanish language.
SHE POEMS speak about IDENTITY of African women and it is a defense of the human rights of women.
The goal is to place African women in the role of CREATOR, these women will live a process of empowerment and they will be an example for their community,
SHE POEMS want to give a positive image of Africa, profiling strong African women.
SHE POEMS aims to build a Women -Poetry -Dance- African MAP.
Aïda Colmenero Dïaz started her career in Cristina Rota Drama School, after she received her title in Contemporary Dance in the Real Conservatorio Profesional of Dance "Mariemma" of Madrid. She has created a multidisciplinary approach using different body and dance techniques: Contemporary, theater, Yoga, Taichi, Capoeira, Classical dance, technique "Río Abierto", Butoh, etc…
The only Spanish artist to obtain the diploma in Acogny technique by Germaine Acogny, at the École des Sables, Senegal, Aïda is co-directing LANLA a project to expand Acogny technique at an international level. In collaboration with Ecole Des Sables they have created THE MARCH, The First Open international Dance workshop around Germaine Acogny Technique, in Senegal. Aïda also created the CYCLE OF MODERN AFRICAN DANCE in Madrid.
Aïda has been based between Africa and Spain since 2009. She has developed her educational project "Africa Danza Training Program" in Morocco, Senegal, Nigeria, Ghana, Cape Verde Islands, Tanzania, Guinea Conakry, Madagascar, Gabon; for dancers, actors, circus people, children and women in special situations. Her choreographic work in Africa includes: "Café Toubab" with Alioune Diagne (2009), presented in the Festival Mundial des Arts Négres; and "Fudu" with Papa Sangoné Vièira (2012).
Aïda is touring with KM.O Project "Preludio" created by the Spanish choreographer Paloma Sánchez, co produced by La Nívola and Yakart, in collaboration with Espacio en Blanco of Madrid. She was invited to participate as a specialist lecturer in the map of contemporary dance in Africa in II Encuentro Coreográfico África-España, organized by Casa África and Mercats de les Flors, Barcelona 2011. She was invited as a choreographer by Arigato International to the Forth Forum Global Network of Religions for Children, Dar es Salaam 2012. She was invited as special guest in "Día da criança africana" organized by the United Nations in Praia 2010.
Aïda has been awarded twice by the Ministry of Culture of Spain and AECID (Agencia Española de Cooperación y Desarrollo)
This presentation is supported and produced by: Spanish Embassy in Abuja, Casa África, Goethe-Institut Senegal, Cultura Dakar, Spanish Embassy in Dakar, Spanish Embassy in Dar es Salaam, Acción Cultural Española, SUNU Street, Maison Aïssa Dione, Hotel Sokhamon, MUDA África, Nafasi Art Space, Asociación Yakart.
More info at www.aidacolmenerodiaz.com
ABOUT KINETIC CINEMA
Kinetic Cinema, is a regular screening series produced by Pentacle in conjunction with Spectacle Theater and curated by invited guest artists who create evenings of films and videos that have been influential to their own work as artists. When artists are asked to reflect upon how the use of movement in film and media arts has influenced their own art, a plethora of new ideas, material, and avenues of exploration emerge. From cutting edge motion capture animation to Michael Jackson music videos, from Gene Kelly musicals to Kenneth Anger films, Kinetic Cinema is dedicated to the recognition and appreciation for "moving" pictures. We have presented these evenings at Collective: Unconscious, Chez Bushwick, IRT, Launchpad, Green Space, Uniondocs, CRS, 3rd Ward, Fort Useless and The Tank in New York City, as well as at the Institute of Contemporary Art in Philadelphia.
For more info on the current Kinetic Cinema season please visit Pentacle's website.
KINETIC CINEMA is made possible by the New York State Council on the Arts with the support of Governor Andrew Cuomo and the New York State Legislature and the New York City Department of Cultural Affairs in partnership with the City Council.