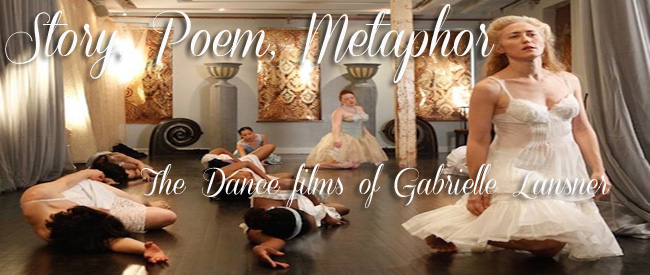 STORY, POEM, METAPHOR: THE DANCE FILMS OF GABRIELLE LANSNER
Dir. Gabrielle Lansner
USA, ca. 90 minutes
THURSDAY, MAY 8 – 7:30 PM
Gabrielle Lansner in attendance!
Choreographer and filmmaker Gabrielle Lansner will screen her emotionally charged and story driven dance films. Coming from a dance/theater background, Gabrielle will discuss her creative process and the challenges she encountered in developing works for the camera that live somewhere between story, poem and metaphor. She will screen, DAD, wishing…, and THE STRONGER which have toured to Festivals in the U.S. and internationally, excerpts of early projects that served as drafts for completed films, and SET BREAKS, from 1980.
Gabrielle Lansner is a critically acclaimed choreographer, award winning filmmaker and artistic director of gabrielle lansner & company. Since 1997, she has been exploring the intersection of dance, film and theater. Her innovative dance/theater works have been presented at The Duke on 42nd Street, HERE, River to River Festival, The Peter Jay Sharpe Theater, among others. Most recently Gabrielle has been exploring the medium of film as another form of artistic expression. Her three short films have screened and received awards both in the U.S. and Internationally.
ABOUT KINETIC CINEMA
Kinetic Cinema is a regular screening series of Pentacle's Movement Media curated by invited guest artists who create evenings of films and videos that have been influential to their own work as artists. When artists are asked to reflect upon how the use of movement in film and media arts has influenced their own art, a plethora of new ideas, material, and avenues of exploration emerge. From cutting edge motion capture animation to Michael Jackson music videos, from Gene Kelly musicals to Kenneth Anger films, Kinetic Cinema is dedicated to the recognition and appreciation for "moving" pictures. We have presented these evenings at Collective:Unconscious, Chez Bushwick, IRT, Launchpad, Green Space, Uniondocs, CRS, 3rd Ward, Fort Useless and The Tank in New York City, as well as at the Institute of Contemporary Art in Philadelphia.
For more info on the current Kinetic Cinema season please visit our website and our blog, movetheframe.com.

KINETIC CINEMA is made possible by the New York State Council on the Arts with the support of Governor Andrew Cuomo and the New York State Legislature. Pentacle's Movement Media programming is supported, in part, by public funds from the New York City Department of Cultural Affairs, in partnership with the City Council.