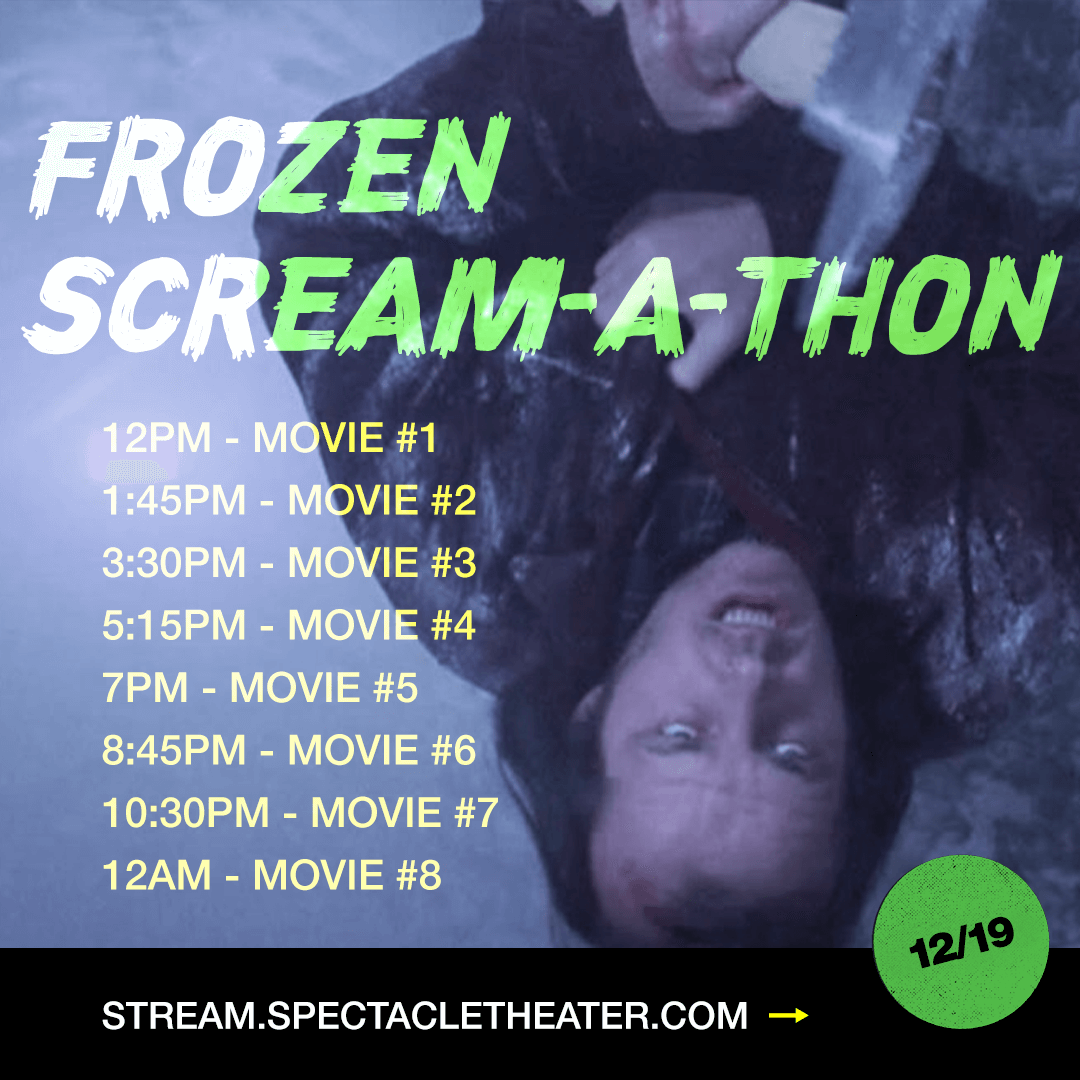 FROZEN SCREAM-A-THON, 12/19/2020
Like Shriek Show, but frozen.
Don't let the holidays get you down – cozy up with Spectacle for 12+ hours of cozy, wintery, Holiday-adjacent murder and mayhem.
12PM – MOVIE #1 – ?????? ???????
Kicking things off is an early 70's weirdo horror-sci fi mashup featuring two extremely recognizable icons of horror on a nightmare train hurtling through Manchuria.
1:45PM – MOVIE #2 – ???? ??????
Next up, a short trip to Scandinavia. A glam rock band heads to a ski resort to film a music video when an avalanche traps them in the resort. Like a very-80's The Hills Have Eyes, but dumber and snowbound.
3:30PM – MOVIE #3 – ???? ?? ????? AKA "?????? ?"
Continuing the longstanding Italian tradition of sequels that have nothing to do with their predecessors, our third offering is a snowed out riff on Black Sunday – bad dubs, adult teens, blind priests, styrofoam snow – a real treat.
5:15PM – MOVIE #4 – ???????????
A moody Canadian offering from the early 80's, our fourth film follows three skiers who stumble into an abandoned (but still mysteriously heated) mountain resort. A slow creeper with plenty of mood to burn, pour a steaming cup of hot cocoa and bundle up for this chiller.
7PM – MOVIE #5 – ??????????
A woman on the run, a snowy cabin, a dorky bio-scientist and mutated lizards – what could go wrong? Equal parts "witty" banter and creature splatter, plus an extremely 90's knock-off-pop soundtrack by 'Plan 9', this New Zealand shot oddity is sure to please.
8:45PM – MOVIE #6 – ????????
Buckle up, because we're headed back to Canada. A genuinely chilling early 80's slasher with a large cast of potential suspects and victims, the less said about this one the better.
10:30PM – MOVIE #7 – ???????????
Feeling spooked? Rinse your brain off with this absolute disaster, a no-budget labor of love from Massachusetts, shot over the course of 6 years on three types of film stock for $10,000. Home brewed splatter and stop motion FX abound, plus a ripping lo-fi synth score.
Content warning: early 90's homophobia, ignorant appropriation of Native American myths and culture
12AM – MOVIE #8 – ??? ??????
Freezing out the marathon is an undersung Christmas horrorshow from the mid-80's that follows a woman haunted by an occult object left by the previous tenant of her apartment. Directed by one of New York's most prolific and underrated exploitation filmmakers, this freakout is on par with Fulci's best, with huge dollops of sleaze and ooze to slide us into the holidays – and a Happy New Year.