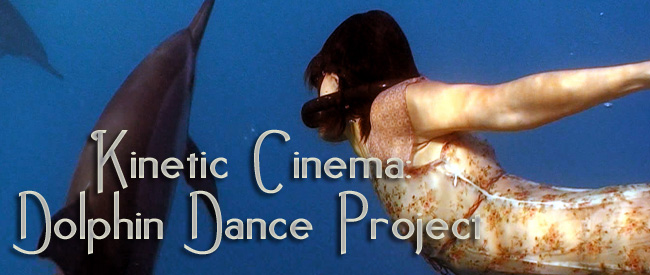 KINETIC CINEMA: DOLPHIN DANCE PROJECT
Chisa Hidaka & Benjamin Harley, Various years
USA, ca. 90 min.
ONE NIGHT ONLY!
THURSDAY, APRIL 10 – 7:30 PM
On April 10, Chisa Hidaka and Benjamin Harley will present a night of films from the Dolphin Dance Project and the works of art that inspired the project. The Dolphin Dance Project is a series of underwater dance films created by the collaboration of human dancers with Atlantic spotted dolphins. Ben and Chisa's influences range from contact improvisation to underwater base jumping films, all of which will be shown at the screening. www.dolphin-dance.org
BIOS:
Inquiry and discovery are the themes that tie together the varied experiences of Chisa Hidaka, MD, Founder and Director of Dolphin Dance Project. Chisa has a 20+ year history in the NYC downtown dance scene and also has experience as a dance educator and musculoskeletal research scientist. Through the Dolphin Dance project, Chisa also brings together her dance and science expertise. She brings to bear her extensive training in improvised dance to interact with wild dolphins through aesthetic choices that are respectful of the dolphins participation as equal partners in the creative process.
Benjamin Harley (producer, co-founder) studied anthropology, philosophy, and theatre at Yale University. After a global career in business development and strategy consulting for the telecommunications and media industries, he settled in New York City and fell in love with dance. Practicing contact improvisation for the last 10 years, he met Dr. Hidaka, and their conversations about her far-reaching insight into the potential for connecting with dolphins through dance inspired him to join her in establishing the Dolphin Dance Project.
ABOUT KINETIC CINEMA
Kinetic Cinema, is a regular screening series of Pentacle's Movement Media curated by invited guest artists who create evenings of films and videos that have been influential to their own work as artists. When artists are asked to reflect upon how the use of movement in film and media arts has influenced their own art, a plethora of new ideas, material, and avenues of exploration emerge. From cutting edge motion capture animation to Michael Jackson music videos, from Gene Kelly musicals to Kenneth Anger films, Kinetic Cinema is dedicated to the recognition and appreciation for "moving" pictures. We have presented these evenings at Collective: Unconscious, Chez Bushwick, IRT, Launchpad, Green Space, Uniondocs, CRS, 3rd Ward, Fort Useless and The Tank in New York City, as well as at the Institute of Contemporary Art in Philadelphia.
For more info on the current Kinetic Cinema season please visit our website and our blog, movetheframe.com.
ABOUT PENTACLE'S MOVEMENT MEDIA
Pentacle's Movement Media provides services, strategies, and opportunities for dance artists to make dance works for screen and use media to promote and enhance their artistic pursuits. The core activities of Movement Media are screenings, consulting services, workshops, and interactive media publications (blogs, social networking, online videos, etc). These services address a growing need for dance artists to engage with Media, particularly online and on new media platforms, in order to reach audiences, grow artistically, and stay relevant in today's media-rich world.
Funding Credits
Pentacle's Movement Media programming is supported, in part, by public funds from the New York City Department of Cultural Affairs, in partnership with the City Council.
KINETIC CINEMA is made possible by the New York State Council on the Arts with the support of Governor Andrew Cuomo and the New York State Legislature.