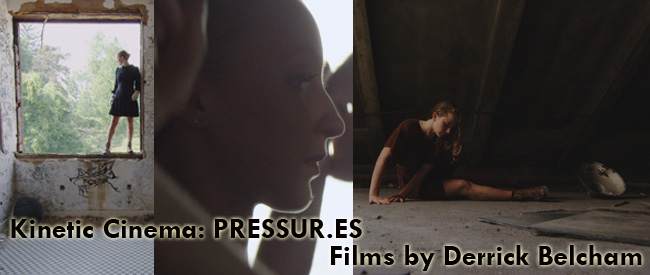 PRESSUR.ES
Dir. Derrick Belcham
USA, 90 min.
THURSDAY, JANUARY 9 – 8:00pm
On January 9th, Derrick Belcham will present a night of excerpts from PRESSUR.ES, a 10 film dance series exploring the interaction of choreography, score and the edit and also select music videos. The night features music by Sarah Neufeld (Arcade Fire), Skye Skjelset (Fleet Foxes), Casey Dienel (White Hinterland), Marissa Nadler and Diane Cluck and choreography by Emery LeCrone, Miguel Gutierrez, Melanie Maar, Mariel Lugosch-Ecker, Lily Ockwell and Emily Terndrup.
Derrick Belcham is a Canadian filmmaker based out of Brooklyn, NY whose internationally-recognized work in vérité music documentary has lead him to work with such artists as Philip Glass, Steve Reich, Thurston Moore and Wilco. He has created works in concert with MoMA PS1, MoCA, The Solomon R. Guggenheim Museum, The Whitney Museum Of American Art, Musee D'Art Contemporain, Brooklyn Academy of Music and The Contemporary Arts Centre of Cincinnati. His work has appeared in outlets such as The New York Times, Vogue, Pitchfork, MTV, NPR and Rolling Stone.