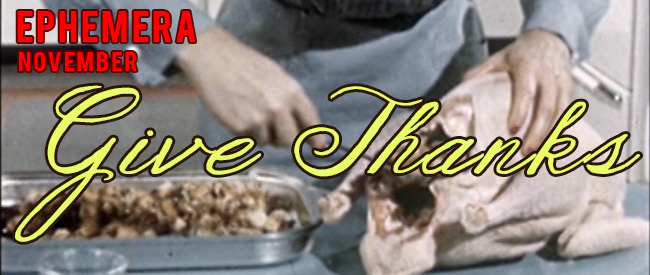 EPHEMERA: GIVE THANKS
Dir. VARIOUS. 1933 – 2009
SUNDAY, NOVEMBER 20 – 5:00PM
WEDNESDAY, NOVEMBER 23 – 7:30PM
Thanksgiving is an American holiday celebrating two things – food and family. Okay, three things – food, family, and culturally whitewashing American history. EPHEMERA: GIVE THANKS showcases all of the above with a convergence of grocery tips, frustrating relatives, meal preparation and awkward historical reenactments. Like your sexist uncle waxing philosophical at the dinner table, GIVE THANKS uncomfortably reminds you though America's social mores and attitudes have come a long way, there's still so much further to go. Featuring a 70s decision on what to eat next framed as vitriolic political debate, a very nervous turkey serenaded by Liberace, so many condescending Dads, and the most disgusting 50s 'salad' recipe put to film ("Lime Jell-o with diced pineapple on watercress, topped with creamed cottage cheese, garnished with radish roses and carrot flowers!").
Let us all bow our heads and be truly thankful this season for the visual bounty freely available to us in the modern age, and that these ephemeral treats have been spared the Memory Hole and dished up for our viewing pleasure.
Including selections from:
THOUGHT FOR FOOD
(Handy (Jam) Picture Service, 1933)
PICK OF THE POD
(Palmer (W.A.) & Company, 1939)
EARLY SETTLERS OF NEW ENGLAND (SALEM 1626-1629)
(Encyclopedia Britannica Films, 1940)
FOOD FOR FIGHTERS
(U.S. Office of War Information, 1943)
KITCHEN MAGIC (1948)
A Brighter Day In Your Kitchen
(Ray Waters, 1949)
LET'S TALK TURKEY
(Armour & Company, 1951)
A DAY OF THANKSGIVING
(Centron Corporation, 1951)
DINING TOGETHER
(Children's Productions, 1951)
SOMEONE'S IN THE KITCHEN
(On Film, Inc., 1960s)
THE FOOD PLATFORM
(Directions Unlimited Film Corporation; Pyramid Films Inc., 1972)
Long Live La Familia – No Hay Nada En El Fridge
(New Mexico State University, 2009)
…and more!