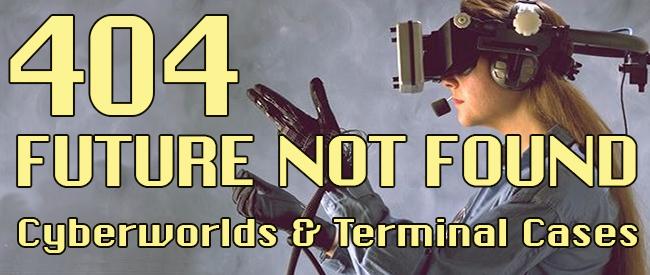 Everything is becoming science fiction. From the margins of an almost invisible literature has sprung the intact reality of the 20th century. – J.G. Ballard
With virtual reality making headlines again, it's time to revisit our past hopes for a projected, bypassed future. During the early 90s, humanity teetered on the verge of enormous innovations that would completely change the way we interfaced with reality and interacted with technology. Fantasy and sci-fi normally tap into an existing zeitgeist, but back then fiction led fact, with J.G. Ballard and William Gibson writing worlds innovators set out to make real.
This series takes a look at the lag between processing power and materials catching up with the half-digital future we strove towards, a technical wonderworld still bound by wires and clunky physical machines, with early CG and cyber-aesthetics influenced by practical effects from 80s films, and neologisms like 'cyberspace' created by an author still writing on typewriter.
As we enter the fourth stage of Baudrillard's full precession of simulacra, let's take a look back at our ham-fisted attempts to make man, machine and reality become virtually one. Consider these films the awkward yearbook photos of our sleeker, detached present-day.
---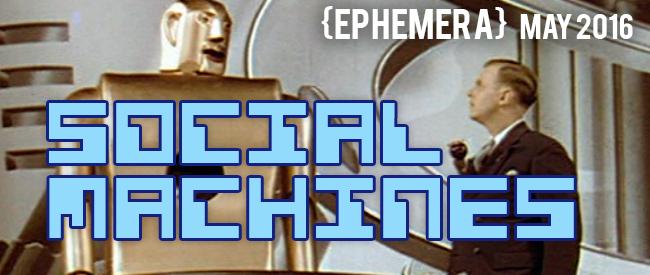 EPHEMERA: SOCIAL MACHINES
Dir. Various, 1939 – 2008
USA. Approx. 75 min.
MONDAY, MAY 9 – 10:00 PM
SUNDAY, MAY 15 – 5:00 PM
SATURDAY, MAY 28 – 10:00 PM
Social machine – n. An environment comprising humans and technology interacting and producing outputs or action not possible without both parties present.
Robo-human relations get a bad rap in media – if it's not machines gaining sentience, rising up and brutally enslaving/destroying human oppressors, it's some human going mad with technologically-enhanced power, with the occasional cyborg killing spree or computer-to-human virus spreading. SOCIAL MACHINES aims to correct this dystopian bias by highlighting decades of positive, if goofy and awkward, man-machine interaction.
Could it be said the still-burgeoning cyberworld is the praxis of humanity's robot hopes? In hoping to improve our fragile, mortal selves we extended our bodies via machine – outsourcing memory to data banks, enhancing strength with bionic prosthetics, building robots in our own image*. Slowly we shifted from bringing technology into the world to work as we do, to building technology to become a world we enter into. We're now extending our minds to a larger digital neural network, using feedback algorithms to tailor our online experiences, and, once again, trying to create a believable virtual reality.
Join us as we take a journey deep into the Uncanny Valley of good intentions and electronic interactions, with humans and machines working side by side to create a better world for all.
*and by 'own image' I mean automatically defaulting to bipedal vertebral structures and YEARS' worth of freaky, mostly female-gendered simulacra.
---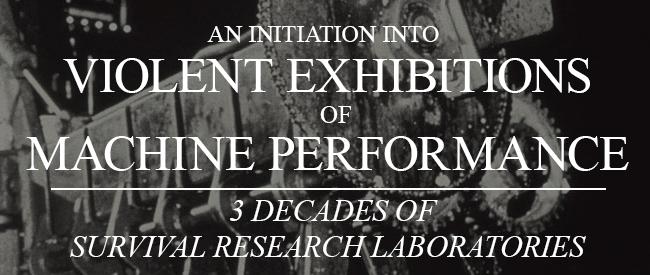 AN INITIATION INTO VIOLENT EXHIBITIONS OF MACHINE PERFORMANCE: THREE DECADES OF SURVIVAL RESEARCH LABS
USA.
FRIDAY, MAY 20 – 10:00 PM
THURSDAY, MAY 26 – 7:30 PM
TUESDAY, MAY 31 – 10:00 PM
For over three decades, Survival Research Labs has awed and intimidated with large-scale, fantastically destructive mechanized performance art. Founded in 1978 by Mark Pauline and joined by a larger organization of engineers, technicians, and artists, SRL literally built a world with humanity marginalized as fragile spectator, completely irrelevant to the chaotic industrial maelstrom at hand. Brutal is incorrect – inhuman is the exact word – these events feature machines turned performers, completely freed from practical use. Names like Flame Hurricane, Shockwave Cannon, Hand O God, Big Arm, and Mr. Satan undersell the intense workmanship and severe destructive capabilities behind each creation – often utilizing sketchily-sourced military-grade parts, these machines are elegant and pragmatic in their operation. Unlike today's everyday appliances, designed to be physically inaccessible to the user, SRL's robots are marvels of hand-built efficient futility.
Spectacle is very proud to present a sampler of SRL's over-30 years and 50 shows of work, each a general dedication to the idea of more is more, with apolitical agenda and displays of terrifying power. Things comes full circle with L.A. MOCA's 2011 installation; featuring the De-Manufacturing Machine from SRL's first show MACHINE SEX, then sprung on an unsuspecting audience at a commandeered gas station, now in a comfortable institutional setting destroying electronic-organic creations (including a crawling baby doll fitted inside a raw chicken), nothing could more perfectly sum up SRL's history of creation and subversion than well-heeled museum patrons attentively waiting to be splattered by guts and wires. SRL continues "producing the most dangerous shows on earth".
With selections from:
A BITTER MESSAGE OF HOPELESS GRIEF
Dir. Jon Reiss, 1987
EXTREMELY CRUEL PRACTICES: A SERIES OF EVENTS DESIGNED TO INSTRUCT THOSE INTERESTED IN POLICIES THAT CORRECT OR PUNISH
Dir. Jon Reiss, 1985
AREA NIGHTCLUB SHOW NYC
Ed. Jon Reiss, 1985
CRIMEWAVE SHOW
Dir. Dave Scardina, 1995
DANGEROUS CURVES
Dir. Dave Scardina, 2005
SURVIVAL RESEARCH LABS AT L.A. MOCA
Ed. Allan Kelley, 2011
THE DOOM SHOW
Dir. Leslie Asako Gladsjo, 1994
---
CYBERPUNK
Dir. Marianne Trench, 1990
USA. 60 min.
FRIDAY, MAY 6 – 10:00 PM
MONDAY, MAY 16 – 10:00 PM
TUESDAY, MAY 24 – 7:30 PM
WEDNESDAY, MAY 25 – 10:00 PM
SUNDAY, MAY 29 – 5:00 PM
FRIDAY, JUNE 10 – 5:00 PM ** BACK BY POPULAR DEMAND! **  Director present!
SUNDAY, JUNE 19 – 5:00 PM ** BACK BY POPULAR DEMAND! **
Itself an artifact of the time and aesthetic being documented, CYBERPUNK is a fun, highly stylized sampler capturing its eponymous subculture still coalescing. Featuring interviews with William Gibson, Timothy Leary, founder of VPL Research/inventor of the Data Glove Jason Lanier, and encompassing musicians, animators, plastic surgeons, crafters, and self-proclaimed hackers, the movie shows and tells simultaneously with talking-head interviews overlaid and interspersed with then-cutting-edge CG animation and graphic effects. Reflecting the range of its subjects' motivations, sometimes this is practical, masking coders casually chatting about illegal data access, and sometimes it's purely for visual flair.
The documentary's timing places it at a unique juncture – there's talk of phone phreaking, VR potential and research, body modification, warez trading, database hacking, but no concrete mention of the internet as we know and use it today. AOL for DOS was released February 1991, Windows in 1992; CYBERPUNK just missed the radical breakthrough that was readily accessible dial-up, existing in a world where text-based intranets with node points were the closest equivalent. Of all people it's a computer theorist outlining the blind spot most clearly; speaking to the (assumed) main fear of technology being how small and powerless it makes the average person feel and citing the military-industrial complex as example, the idea of complete personal connectivity and power doesn't even occur. And yet the possibility is present in the film – one hacker tells how a 14-year-old poking around an AT&T database for kicks had the FBI knocking on his door after he'd inadvertently nudged a satellite out of orbit. In a present with unlimited texting on readily available handheld computers, it's tempting to giggle at one hacker bragging "I make free phone calls…everywhere. You name it…Europe, Asia…..The United States…", but hindsight's 20/20 – CYBERPUNK is a snapshot of those excited for a future they nearly saw coming.
---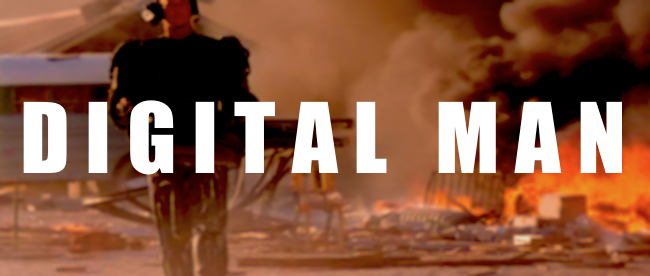 DIGITAL MAN
Dir. Philip J. Roth, 1995
Nevada, 91 min.
In English.
FRIDAY, MAY 13 – MIDNITE
SATURDAY, MAY 28 – MIDNITE
Spectacle offers up this late-night cyberwar curio fielded from the pixelated precipice between Atari and The Matrix. Starring an Altmanesque corps of noteworthy surnames, Philip Roth's Digital Man concerns a glitch in national security so cruel, it'd be divine if it weren't so damn digital: a time-traveling supercyborg touches down in the small-town Southwest just in time to hijack an apocalypse's worth of nuclear launch codes.
Fresh off a realm too insane in its violence and punishment for mere humans to enter, the Digital Man must be stopped – and it's up to a motley crue of wisecracking heavyweights (some military experts, some shotgun-toting salt of the earth) to take him out, analog style. Tons and tons and tons and tons of fireball explosions (replete with slo-mo backflips and brutal, spaghetti-worthy shootouts) ensue, culminating in one night you can't merely "attend" while on your laptop.
Digital Man is a very entertaining movie, with good acting, excellent photography and outstanding F/X. It does suffer from a mediocre script however. A very good, overall effort from a bunch of actors who fall into the category of "where have I seen them before?" A rating of 8 out of 10 was given. – VCRanger, IMDB
lets get down to brass tax where can we get this movie someone upload cmon it cant be ilegal look at it buying it would be a magor crime – Jamie Mcfayden, YouTube
I've seen Digital man almost a decade ago when it came to video. My dad rented me this movie to watch over the weekend since he was leaving with my mom. I loved it so much that I've watched it five or six times in 48 hours !!! – thebigmovieguy, IMDB
Don't just settle for T2 ,experience this equal, yet lower budget Sci-Fi action outing,with martial arts giant Matthias Hues in the lead. – "A Customer", Amazon
I rented this when it came out on video. I remember thinking the special effects and costumes were pretty cool back then. And in the early-to-mid-1990s computer animation was a novelty, so that added to the movie's appeal. (And back then CGI looked cooler with those smooth surfaces.) – felicity4711, YouTube
---

HOLOGRAM MAN
Dir: Richard Pepin, 1995.
USA. 101 min.
FRIDAY, MAY 6 – MIDNITE
SATURDAY, MAY 21 – MIDNITE
LOS ANGELES, THE 21st CENTURY: Slash Gallagher (Evan Lurie), a revolutionary bomber locked in holographic stasis, finally gets a parole hearing. "Relax," the technician transporting Gallagher says: "I'm a genius."
But when Gallagher's corporate handlers get hacked, the vicious terrorist is on the loose again – from prison to prism. As his vengeance is wreaked across the city, innocent blood spilt in multiple dimensions, the only man to stop him is the rookie who put him in the slammer way back when: Kurt Decoda (Joe Lara). Richard Pepin's direct-to-video film is a brain-flattening kaleidoscope of superhighway chases, dusty warehouse explosions, shocking shootouts and gorgeously realized dystopian nightmares. This May, justice isn't blind – it's holographic.