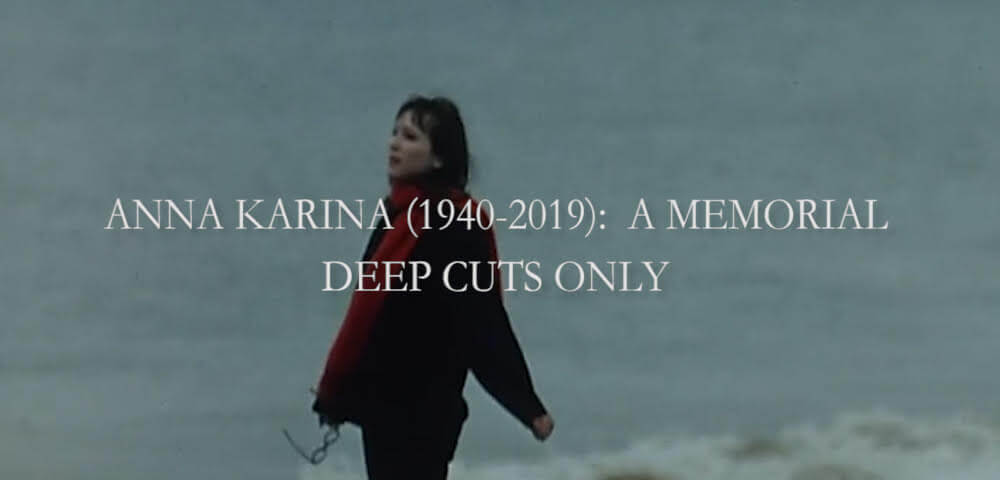 ••• Previously scheduled for March 2020, this program was cut short due to the onset of the Covid-19 pandemic. A year later we are delighted to celebrate Anna Karina and revive this series for online streaming. Full program notes below. •••
On December 14th, 2019, the film community mourned the loss of the iconic actress, director, writer, and quintessential joie de vivre of the French New Wave, Anna Karina. While fellow movie-houses paid countless tributes to the Nouvelle Vague starlet with screenings of some of her most recognizable roles, at Spectacle we decided to memorialize one of our favorite silver-screen icons with the lesser known masterworks, which together along with the Godard films, forged a career that is singular in its breadth and intercontinental impact. Anna Karina who had become the symbol for cinematic revolution in 1960's France had an instinctual command of style, beauty, and mystique that is present in all of her performances.
This series, which selects films made from 1965-1974, is by no means absolute: but it serves to further illustrate Anna Karina's worldwide reach and international stardom while highlighting some of her greatest works made outside the orbit of Jean-Luc Godard. Composed of four languages and produced with five countries, these films while uniquely different are unified by the dear Anna Karina, and it is to her charisma and ever-fascinating career that we dedicate this program of deep cuts and revivals.
Special thanks to: Greg Eggebeen, Cathérine Delvaux, Minerva Pictures, VITTO IT, Cinémathèque Royale de Belgique, and Universal Music.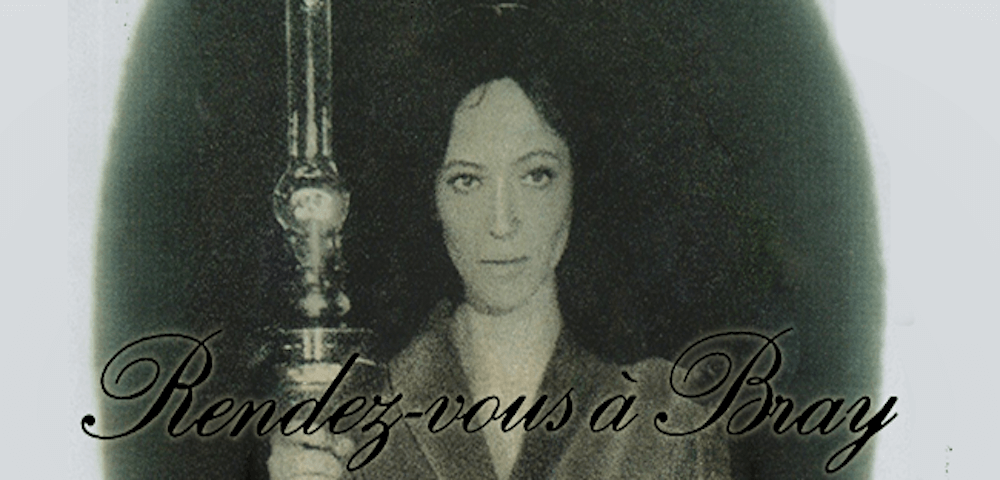 RENDEZVOUS À BRAY
(aka APPOINTMENT IN BRAY)
dir. André Delvaux, 1971
France/Belgium/Weat Germany, 86 min.
In French with English Subtitles
MONDAY APRIL 19 – 7:30 PM EST only at stream.spectacletheater.com
TUESDAY, APRIL 27 – 7:30 PM EST only at stream.spectacletheater.com
"As much as I revere some of the Belgian films of Chantal Akerman, if I had to choose only one Belgian film to take with me to a desert island, I'd have a pretty rough time forsaking this 1971 masterpiece by André Delvaux." – Jonathan Rosenbaum
Paris 1917: a young pianist (Mathieu Carrière) receives a note from an old friend in the Air Force to join him at his lush country estate that happens to be close to the front lines of World War I. He arrives but his friend is nowhere to be found, with only the quiet, beautiful housekeeper (Anna Karina) present. While he spends days waiting for his friend's arrival, his mind wanders to past events. At night, the mysterious woman appears again…
Based on a short story from surrealist Julien Gracq, Belgian auteur André Delvaux marries his trademark amalgam of fantasy and reality to Gracq's shape-shifting text. Much like the film protagonist, Delvaux got his start by playing the piano to silent films in 1950s Brussels, and his musicality is on full display in the film's sonata-like form, weaving variations of memories and moments into an ambiguous, intriguing mood piece. Cloaked in dense Gothic atmospheres and muted colors, RENDEZVOUS À BRAY gives off a melancholy, dream-like aura, subtle in approach but haunted by unspoken desires and half-imagined nostalgia.
Working with Delvaux's daughter, we're honored to re-introduce this classic of Belgium cinema.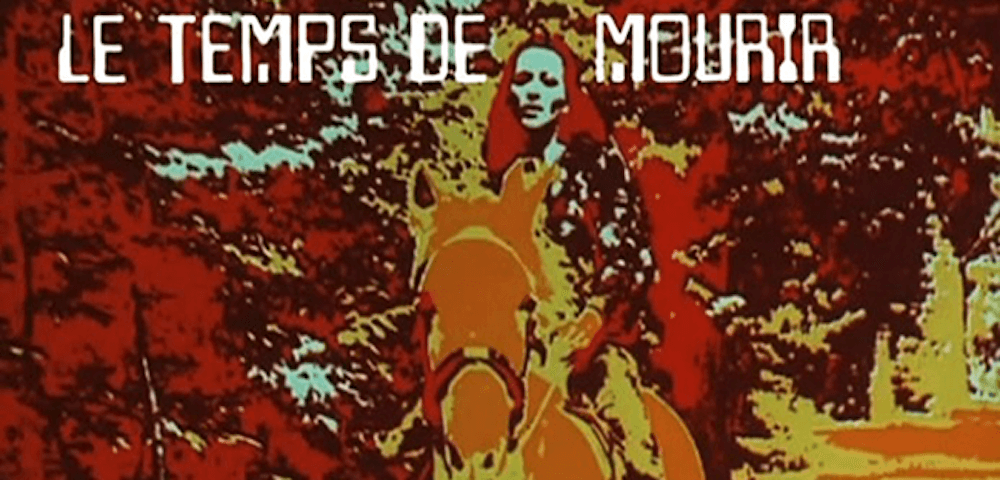 LE TEMPS DE MOURIR
(aka THE TIME TO DIE)
dir. Andre Farwagi, 1970
France. 82 mins.
In French with English subtitles.
TUESDAY, APRIL 20 – 7:30 PM EST only at stream.spectacletheater.com
A stylish, puzzling sci-fi mystery dealing with time travel and destiny, THE TIME TO DIE features loads of retro-cool technology futurisms and immaculate production design, but also manages to treat its subject matter with philosophical seriousness and respect. It supposes that the future is inevitable and the best we can do is hurl forwards towards our fated destiny.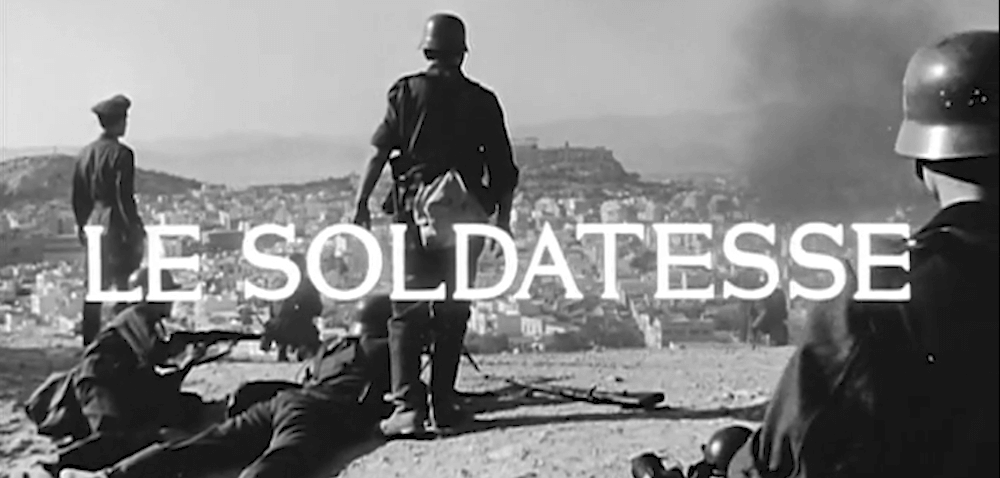 LE SOLDATESSE
(aka The Camp Followers)
dir. Valerio Zurlini, 1965
Italy. 120 min.
In Italian and Greek with English subtitles.
THURSDAY, APRIL 22 – 7:30 PM EST only at stream.spectacletheater.com
FRIDAY, APRIL 30 – 7:30 PM EST only at stream.spectacletheater.com
An intimate anti-war ensemble film about a group of prostitutes (led by Anna Karina & Marie Laforêt) who are being escorted through the treacherous mountains of Albania in order to service the Italian soldiers of World War II.
LE SOLDATESSE (aka, THE CAMP FOLLOWERS) is a Neo-Realist tour-de-force which demonstrates the futility of war and the magnitude of suffering through its black and white photography and its tragic inevitable conclusion. Filmed in a compositional mode evoking the lyricism of Antonioni, the film is also a delicate study on women camaraderie told through shared adversity and collective resistance.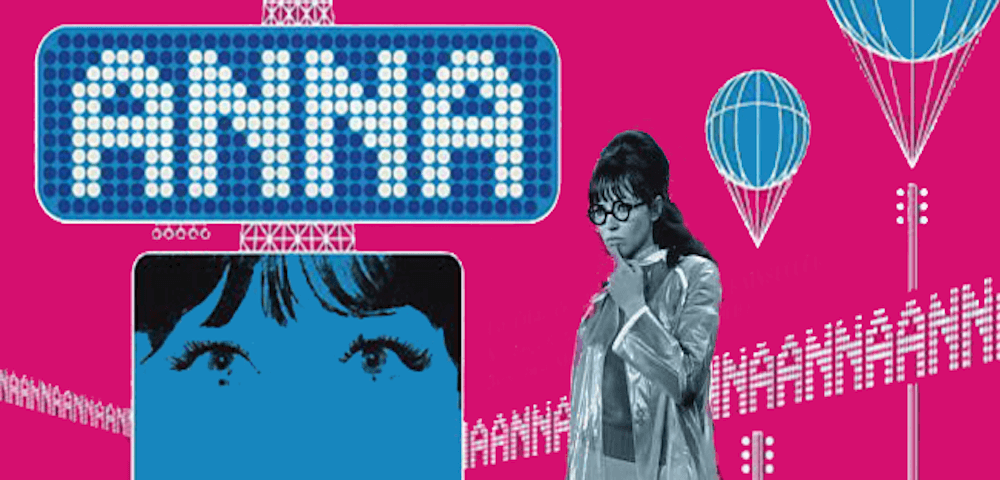 ANNA
dir. Pierre Koralnik, 1967
France. 85 mins.
In French with English subtitles.
FRIDAY, APRIL 23 – 7:30 PM EST only at stream.spectacletheater.com
MONDAY, APRIL 26th – 7:30 PM EST only at stream.spectacletheater.com
A kaleidoscopic, energetic burst of bright colors, infectious musical numbers, and absurdly charming performances, ANNA, which played Spectacle in 2014, is a pop-art musical masterpiece that has been locked away for far too long.
Originally made as the first color film for French TV, Anna Karina stars as a shy artist who is unknowingly photographed one day and soon becomes the obsession of an advertising executive (played by French New Wave stalwart Jean-Claude Brialy).The Yé-Yé music, scored and soundtracked by French pop icon Serge Gainsbourg (who also makes several on-screen appearances), is some of the most infectious and catchy work of his career, with Karina's vocals shining throughout,.Anna Karina also reunited with key Godard personnel, including editor Françoise Collin (BAND OF OUTSIDERS, PIERROT LE FOU, 2 OR 3 THINGS I KNOW ABOUT HER) and DP Wally Kurant (MASCULINE FEMININE).
Impossible to resist, the film feels like a pitch-perfect melding of Godard's A WOMAN IS A WOMAN and Demy's THE UMBRELLAS OF CHERBOURG, with Karina's adorable beauty and effervescent charm as the center of attention. And be on the lookout for a Marianne Faithfull cameo.The film was a hit on French television in the late 60s and received a brief Japanese theatrical run in the 90s, but has since vanished and, to the best of our knowledge, has never screened before in the US. Working with Universal Music, Spectacle is enthralled to once again revive this lost gem of 60s French cinema.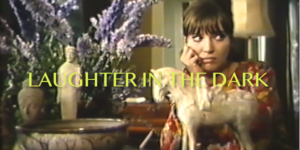 LAUGHTER IN THE DARK
dir. Tony Richardson, 1969
United Kingdom & France. 104 mins.
In English.
SUNDAY, APRIL 25 – 7:30 PM EST only at stream.spectacletheater.com
Adapted from Vladimir Nabokov's novel of the same name, LAUGHTER IN THE DARK deals with the obsession of a middle-aged man (Nicol Williamson) and his younger cunning mistress Margot (Anna Karina)– think Scarlet Street meets the British new wave. Tony Richardson trades Nabokov's 1930's Berlin for the Swinging 60's of London in this lustful thriller of deceit which was never released on home video and has rarely-screened since its 1969 release. Anna Karina shines in her all-English role as the charming irresistible seductress who cultivates something mysterious behind her delicate, wide eyes.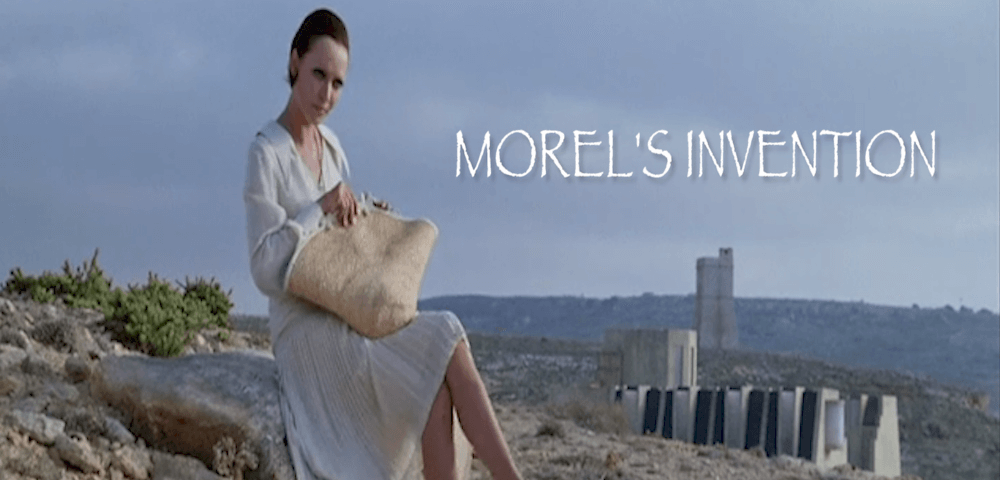 L'INVENZIONE DI MOREL
(aka MOREL'S INVENTION)
dir. Emidio Greco, 1974
Italy. 110 mins.
In Italian with English subtitles.
THURSDAY, APRIL 29 – 7:30 PM EST only at stream.spectacletheater.com
Please note this stream will only appear to viewers based in the United States.

Adapted from the novella which inspired LAST YEAR AT MARIENBAD, Emidio Greco's MOREL'S INVENTION is a chilling slow-burning metaphysical oddity serving as a meditation on time, mortality, and the cinema itself. Starring Anna Karina as Faustine, a sort-of Fellini-esque femme-enigma who is forever lost in the island's haunting secrets of art-deco, socialite costume, and jazz.