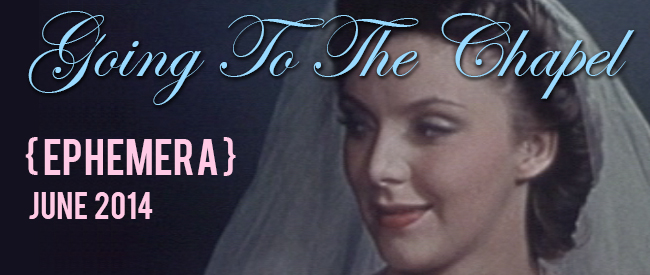 EPHEMERA: GOING TO THE CHAPEL
1940-1967
Approx. 85 min., Color/B&W, USA
RETURNING IN FEBRUARY 2017!!
MONDAY, FEBRUARY 6 – 10 PM
THURSDAY, FEBRUARY 23 – 7:30PM
Our monthly EPHEMERA program aims to present educational films from the post-war era without the usual ironic framing, letting the films' genuine charm and dated sensibilities shine through on their own.
June's series, GOING TO THE CHAPEL, walks you up to the altar and beyond. From getting serious about dating, to picking the proper mate, to dealing with domestic squabbles, these films aimed to teach a generation relationship skills and entice them into domesticity. With marriage an important social and civic institution and major part of the U.S. economy, these films were intended to encourage, reassure, and most importantly, prepare young couples for the realities of marriage.
GOING TO THE CHAPEL spans a narrow slip of time from the end of the 1940s, after two world wars and economic slumps cast doubt on the entire institution of marriage, to the post-war boom of the early 1950s, when the marriage rate skyrocketed to the point of a housing shortage for new couples. It's no surprise then that the films range from neorealist case studies to perky sales pitches.
Today, the median age for marriage is at an all-time high, and the U.S. marriage rate is at an all-time low. In the 1950s, the median age was at an all-time low and marriage rates soared. This generation has the luxury of getting to know potential spouses well before marriage – earlier generations went straight from parental homes to their own households, barely getting a chance to know themselves outside their nuclear family. GOING TO THE CHAPEL showcases the well-intended attempts to patch the gap and warn against rushing into freedom and sex, taking a pragmatic look and optimistic jump into dating and marriage.
Special thanks to the Internet Archive, Rick Prelinger and everyone at the Prelinger Archive.
Rick Prelinger began collecting "ephemeral films"— educational, industrial, amateur, advertising, or otherwise sponsored—in 1982, amassing over 60,000 on physical film before his collection was acquired by the Library of Congress in 2002. Since then, the Prelinger Archive has grown and diversified: it exists in physical library form in San Francisco and is gradually being ported online to the Internet Archive (http://archive.org), where 6,462 of its films are currently hosted (as of this writing).
The contents of the Prelinger Archive's vary in accord with humanity. Historic newsreels, mid-century automobile infomercials, psychological experiments, medical procedurals, big oil advertisements, military recruitment videos, political propagandas, personal home videos, celebrity exposes, amateur narratives, scientific studies, war bulletins, instructional films, special interest op-eds, safety lessons, hobby guides, travel destination profiles and private industry productions all sit comfortably together in one marginalized category.
HOW MUCH AFFECTION?
Crawley Films, Ltd.,1958
IS THIS LOVE?
Crawley Films, Ltd., 1957
HOW DO YOU KNOW IT'S LOVE?
Coronet Films,1950
CHOOSING FOR HAPPINESS
Affiliated Film Producers, 1950
ARE YOU READY FOR MARRIAGE?
Coronet Films, 1950
GOING STEADY?
Coronet Films, 1951
IT TAKES ALL KINDS
Affiliated Film Producers, 1950
SOCIAL-SEX ATTITUDES IN ADOLESCENCE
Crawley Films, Ltd., 1953
WHEN SHOULD I MARRY?
McGraw-Hill Book Co., 1957
ENGAGEMENT PARTY
Sterling-Movies USA, 1956
GOOD GROOMING FOR GIRLS
Cheseborough-Ponds, ca. 1940s
TOMORROW ALWAYS COMES
Lamont-Clemens, Inc., 1941
CONSUMING WOMEN
Jam Handy Organization, 1967
DAYS OF OUR YEARS
Dudley Pictures Corporation, 1955
BRIDE AND GROOM
NBC Television, 1954
MARRIAGE PSA
ABC Television, 1964
UNIVERSAL NEWSREEL: PALISADES PARK, ZIPPY WEDDING
Universal City Studios, ca. 1940s
HOME MOVIE
Unknown, 1940
HOME MOVIE
Unknown, 1944
HOME MOVIE
Unknown, 1942
HOME MOVIE
Unknown, 1955
MARRIAGE TODAY
Affiliated Film Producers, 1950
THIS CHARMING COUPLE
Affiliated Film Producers, 1950
WHO'S RIGHT
Affiliated Film Producers, 1954
WHO'S BOSS?
Affiliated Film Producers, 1950

Runtime: approx. 85 min.