FRIDAY, MAY 1: SATANIS
SATURDAY, MAY 2: SEEDS OF SIN
FRIDAY, MAY 8: REVOLT
SATURDAY, MAY 9: THE PYX
FRIDAY, MAY 15: SEEDS OF SIN
SATURDAY, MAY 16: THE BODY BENEATH
FRIDAY, MAY 22: THE DEVIL'S NIGHTMARE
SATURDAY, MAY 23: SATANIS
FRIDAY, MAY 29: THE BODY BENEATH
SATURDAY, MAY 30: THE DEVIL'S NIGHTMARE
---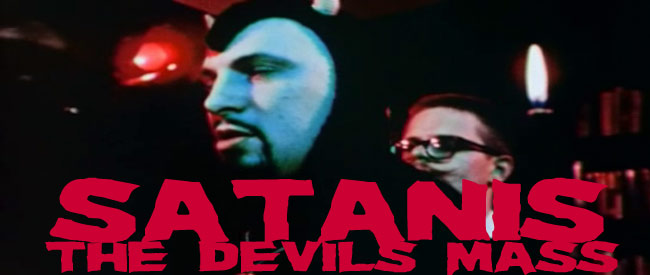 SATANIS: THE DEVIL'S MASS
Dir. Ray Laurent, 1969
USA, 86 min.
FRIDAY, MAY 1 – MIDNIGHT
SATURDAY, MAY 23 – MIDNIGHT
"If you're going to do something that is naughty, do it, and realize that you're doing something naughty and enjoy it"
In 1969 Anton LaVey founded the Church of Satan and outlined the ideals of the Satanic  church in a book he called "The Satanic Bible".  Anton LaVey borrowed rituals, ideology, and symbols from many religions and groups such as Voodoo, the Knights Templars, Norse mythology etc. He took up the image of the Devil because it signifies the antithesis of the restrictive behaviors imposed on society by various religions. The primary message of the Church of Satan is to live life to the fullest without the fear or guilt imposed by "traditional" religion.
The American public had a mixed reaction to the Church of Satan. To some the idea of a church that rejected the "traditional" moral code was a welcomed change of pace. To others, the very mention of the name Satan caused an instant dismissal of the ideas that LaVey was trying to convey and brought down immediate negative judgement. There were still others who saw the Church of Satan as a joke or a publicity stunt. Throughout the years the Church of Satan has become very well known around the world and has helped push Satanism into the mainstream. Unfortunately, a lot of the publicity that the church received throughout the years was in the form of sensationalist hype which for the sake of ratings avoided broadcasting the actual message of the Church of Satan (ex. Satanic Panic of the 1980s).
SATANIS is a documentary about the Church of Satan and its members. The film is comprised of a series of interviews with people both inside and outside of the Church of Satan. The film demystifies the image of the Church of Satan by portraying the organization as a group of individuals from various backgrounds and phases of life. Anton LaVey is interviewed at his home aka the Black House where he is both conducting rituals for the Church of Satan and trying to raise a family in 60s era San Francisco. One of the highlights of the documentary is that it captures a ritual that is performed by Anton LaVey in the Black House. The ritual scene is shot using absolutely fantastic colored lighting and is accompanied by organ music played by LaVey himself. SATANIS is a wonderful film because of all of the interesting viewpoints that it brings together. The members of the Church of Satan are inspiring and funny. The film is worth watching just to hear their stories.
---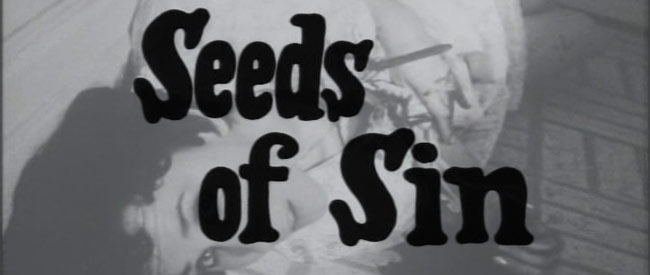 SEEDS OF SIN
Dir. Andy Milligan, 1968
USA, 84 min.
SATURDAY, MAY 2 – MIDNIGHT
FRIDAY, MAY 15 – MIDNIGHT
*MILLIGAN MIDNIGHTS*
"Sown in Incest! Harvested in Hate!"
Carol Manning takes the liberty to invite her siblings to a Christmas dinner at her familial home much to her mother's displeasure. The members of the Manning family have not seen each other in years due to the resentment they have for each other. The only "love" that exists amongst them is limited to the incestuous affairs that they engaged in behind their mother's back as children. The only tie between the siblings is the hatred they feel for their mother Claris. Claris is an aging widow who has survived many marriages and has amassed a large fortune as a result. She "dislikes" her children very much would rather not see any of them ever again. She feels that her children are like vultures flying overhead awaiting for the first sign of her death so they can swoop in and pick her pockets clean! Fortunately for the vultures, death is lurking just around the corner! For there is a murderer on the loose in the Manning estate! This shadowy figure is killing off members of the Manning family by orchestrating a series of "accidents". Who could it be? Will Claris's fortune survive? Who will reap THE SEEDS OF SIN?
SEEDS OF SIN has all of the trappings of a gothic tale. There is a stately familial home, dark secrets, incest, rape, murder and to top it all off there are beautiful roses featured throughout the entire film! Yet, unlike a "traditional" gothic tale, Seeds focuses on a Matriarchy instead of a Patriarchy. The story features several dominant female characters. These female characters greatly exert their power over the male characters in the film. It is a truly refreshing twist to the gothic "formula". Think of it as a version of "Fall Of The House Of Usher", but with more sex and violence and a lessened threat of being buried alive!
SEEDS is one of Andy Milligan's greatest and most personal films. Andy is telling us the story of a broken family that is eerily similar to his own. He is breathing through his wounds in every frame. The overwhelmingly dominant female theme which is often explored in his work is presented here in full bloom in the form of Claris who is very similar to Andy's mother. The character of Buster is like Milligan as a young man. The weak and down trodden paternal figure is a mirror image of Andy's father. Seeds literally is Andy Milligan's horrific family life scarred into celluloid. Sadly, SEEDS, like many other Milligan films has been tampered with badly by the greedy little hands of producers who wanted to make a buck selling sex. There are several "hardcore" scenes that have been edited into the film so that it would be more profitable. As a result certain scenes that were shot by Andy have been lost. Luckily, there is a trailer for the film that has pieces of some of the "lost" scenes from the film.
Always remember "Nothing can kill a bitch like momma!" Long Live Andy Milligan!
---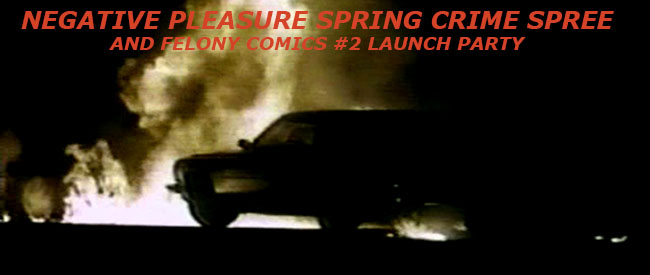 REVOLT
Dir. J. Shaybany, 1986
USA/Iran, 72 min.
FRIDAY, MAY 8 – MIDNIGHT
Written by the enigmatically named Shield, this US-Persian co-production features yet another cop-on-the-edge squaring off against yet another band of ruthless drug dealers, this time set against the racial tensions set off by the Iran hostage crisis.  Shot without sound and weirdly overdubbed, Revolt is a schizophrenic mess of a movie (i.e. perfect for a Spectacle midnight) that can't decide whether it's a hard-hitting, socially conscious crime drama or a goofy, lighthearted action comedy.  Fortunately, the filmmakers lacked the ability to appropriately orchestrate either, and the result is a near-hallucinatory mess of inscrutable plot developments and character flourishes.  Whatever the intent, Revolt is one of the most consistently entertaining hidden gems of 1980s action cinema!
---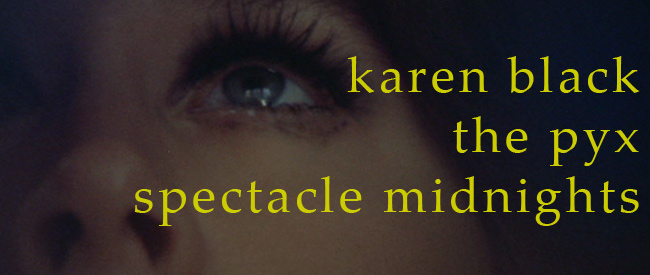 THE PYX
Dir. Harvey Hart, 1973
Canada, 108 min.
SATURDAY, MAY 9 – MIDNIGHT
"You know my name."
Somewhere between Rosemary's Baby and Klute, this Canadian supernatural mystery offers plenty to satisfy police procedural fans as Dr. Sgt. Jim Henderson (played by Christopher Plummer) investigates the murder of Elizabeth Lucy (Karen Black), and as the film moves back and forth between Henderson's investigation and Lucy's last days we learn of her connection to a cult of devil worshipers. While other films would try to drive up the tension, there's a quiet, sullen feel to this film, from the grubby rain-soaked streets of Montreal to Lucy's manipulative madam to the minimal orchestral score, supplemented by Karen Black's songs, all of which build a slower sense of inescapable dread. Lucy's conflagration of sex, heroin and Catholicism drifts through the entire film, a counterpoint to the increasing paranoia and futility of the detectives seeking to understand what remains beyond them as both storylines mirror the downward spiral of the other. Concluding with a backwards-chanting black mass and Henderson's showdown with cult leader Keerson (Jean-Louis Roux), it's a film that perfectly showcases the late Karen Black's singular presence.
---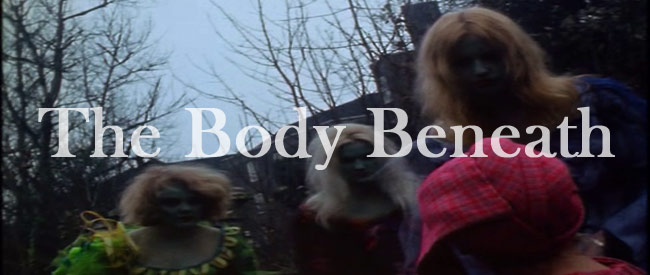 THE BODY BENEATH
Dir. Andy Milligan, 1970
UK, 82 min.
SATURDAY, MAY 16 – MIDNIGHT
FRIDAY, MAY 29 – MIDNIGHT

*MILLIGAN MIDNIGHTS*
"Tonight is the yearly meeting. We must have the sacrifice."
We begin with THE BODY BENEATH, a film Milligan made during his time in the UK. First-timers may find the film "talky" or "chatty" — that's Milligan, and you'll either get into it or you won't. There's a hypnotic slowness to Milligan's films, which is one of the main reasons the "let's see some boobs and blood" crowd never took to him, no matter how much green-faced nightgown action we get. And we get a LOT of it, with vampire lord Reverend Algernon Ford (played by Gavin Reed) realizing his pure bloodline was dying out after centuries of inbreeding. He seeks to find the non-vampire members of his bloodline and convert them, all of which sounds about right for a midnight, but it's Milligan's teeth-grinding misanthropy which brings us to a different level, so far from the laughable kitch it may at first seem. With one of Milligan's best actors, Berwick Kaler, playing the hunchback Spool and a (comparably) larger budget than his earlier films, plus a jaw-dropping orgy of cannibalism that must be seen to be believed, It's arguably one of the best entry points to his work. We have a slew of other Milligans coming up, so don't sleep! Ever! MILLIGAN MIDNIGHTS SHALL NEVER DIE!
"Few filmmakers can boast of having a recognisable style, but when you see a Milligan movie, you are in no doubt whose film it is. He was sort of a Douglas Sirk figure – there's so much subtext in his movies. And the more you get into them, the more you realise that they were made by someone who was very tormented, and very intelligent; a sensitive man who used film as an artform to express his views on life." -Nicholas Winding Refn
---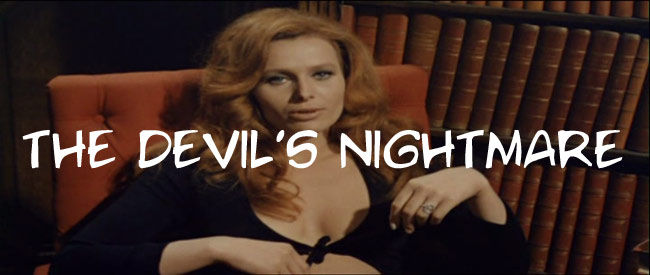 THE DEVIL'S NIGHTMARE
aka La Plus Longue Nuit du Diable
Dir. Jean Brismée, 1971
Belgium/Italy, 94 min.
FRIDAY, MAY 22 – MIDNIGHT
SATURDAY, MAY 30 – MIDNIGHT

"No use running away, Alvin. You will die like the others."
Perhaps the only full-length feature directed by Jean Brismée, THE DEVIL'S NIGHTMARE combines the occult, Naziism, the seven capital vices, baby-stabbing and a gorgeous Belgian castle, not to mention Eurohorror icon Erika Blanc.
We begin in 1945, where SS general Baron von Rhoneberg slays his own daughter in order to prevent the generational curse by which each first-born daughter of the Rhoneberg bloodline shall become a succubus in trade for alchemical guidance from Satan. Some time later, a bus containing seven tourists ends up stranded at the Baron's castle, each with a hidden sin, and while the Baron insists he had no daughter, a mysterious woman joins the party, a woman who may be more than she seems…The woman, of course, is Blanc (KILL BABY KILL, SO SWEET SO PERVERSE, THE RED HEADED CORPSE), and her cat-and-mouse games with the tourists, particularly seminarian Alvin Sorelle (Jacques Monseau), provides a frisson which elevates the film above "soon-to-be victims wandering around a castle" style gothic horror. Blanc modulates between sultry and scary, from seductress to slayer and back again while Alvin tries desperately to understand the nature of the curse, of the secret alchemical laboratory, of the strange man who led the tourists to the castle.
We urge any of you who see this film not to give away the total headfuck ending! A perfect fit for May's Satanic supernatural shenanigans, THE DEVIL'S NIGHTMARE has thrills and chills aplenty for Midnight fanatics.