FRIDAY, JUNE 5: ENDLESS BUMMER: THE VAN
SATURDAY, JUNE 6: ENDLESS BUMMER: VAN NUYS BLVD.
FRIDAY, JUNE 12: LES EBRANLEES
SATURDAY, JUNE 13: DELIRIUM
FRIDAY, JUNE 20: ENDLESS BUMMER: THE VAN
SATURDAY, JUNE 21: LES EBRANLEES
FRIDAY, JUNE 27: ENDLESS BUMMER: VAN NUYS BLVD.
SATURDAY, JUNE 28: DELIRIUM
---
ENDLESS BUMMER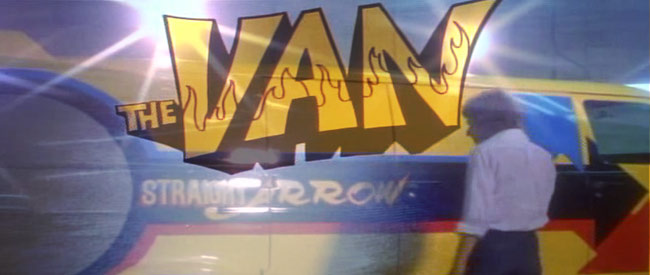 THE VAN
Dir. Sam Grossman, 1977
USA, 92 min.
Later retitled Chevy Van to make the most of the Sammy Johns song in the soundtrack (despite the fact that the van in the film is a Dodge), The Van was the second of the Marimark Pictures series (the first being last year's Superchick) and absolutely the best place to start our Endless Bummer series. Stuart Goetz (who later went on to a long career in film music; he won a daytime Emmy for his work on ALF!) plays Bobby, a red-blooded red-headed Californian who wants nothing more than to graduate high school and invest his life savings in his brand-new custom van, the (ahem) Straight Arrow. Bobby's desperate attempts to turn himself into a van guy and find decadent imbroglios by the moonlit Pacific are not as easy as he hoped; between his increasingly complicated nature of his relationship with Tina (Deborah White — both White and Goetz would go on to be in the brain-rot epic Record City), the bad advice of his best buddy Jack (Harry Moses) and his boss Andy (DANNY DEVITO!), not to mention the constant bullying from local thug Dugan (Steven Oliver, who we'll meet again later in this series) — how the hell is Bobby supposed to do any FUN TRUCKIN'? Van expos, boneheaded pranks, drunk driving, tasteful plot-required nude scenes — no, this is not a hidden gem of west coast cinema verite', it's a drive-in movie about vans, and that's all right with me.
---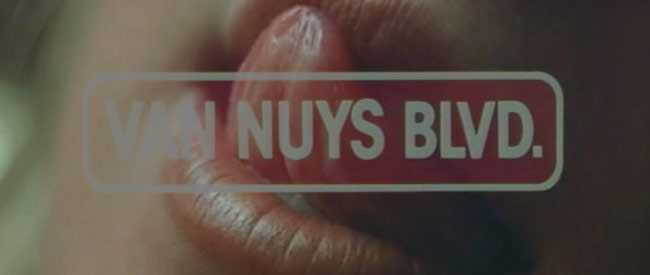 VAN NUYS BLVD.
Dir. William Sachs
USA, 93 min.
William Sachs, probably best known for The Incredible Melting Man and Galaxina, here presents the story of a young man wanting to leave behind his boring life to make the cruising scene on Van Nuys Blvd, from the Santa Monica Mountains at the north through the San Fernando Valley to the Verdugo Mountains in the south. Half American Graffitti, half drive-in beach romp, it's held together buy our lead, Bill Adler, who played Steve in The Van! He's back as Bobby, who spends a crazy weekend meeting the locals: strippers, carhops, dopers and cops, but specifically old-school hot-rodder Chooch (David Hayward), who is sort of the grand master of Van Nuys. Did I mention '74 Playmate of the Year Cynthia Wood plays Moon, and Melissa Prophet (who later had roles in Goodfellas and Casino) as Camille? PLUS go-karts, an adorable beach dog, hassling the man, all the LA cruising action you can handle and a badass disco-funk theme song! C'mon and meet us on the boulevard!
---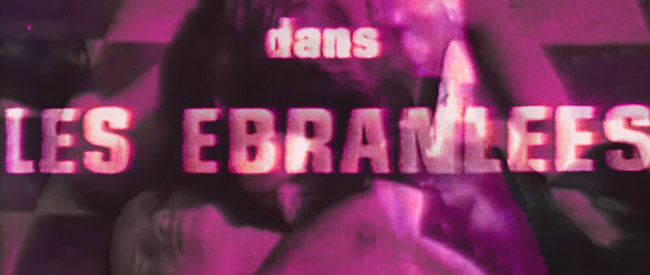 LES EBRANLEES
aka Vibrating Girls
Dir. Jess Franco (as Clifford Brown), 1972
France, 81 min.
In French with English subs.
"You wanted to go to the house of vice. Well, we're going now."
For Franco aficionados, LES EBRANLEES makes an interesting double feature with SINNER–THE SECRET DIARY OF A NYMPHOMANIAC: both released in 1973, both featuring stories of strippers lured into an underworld of crime and violence, both focused on a detective desperately searching for the truth. In the case of LES EBRANLEES, that detective is none other than Franco staple Howard Vernon as Al Pereira in search of the murderer of a prostitute. Definitely a film that lives up to the Eurosleaze tag, it's long been one of the rarest of Franco's 70s films.
---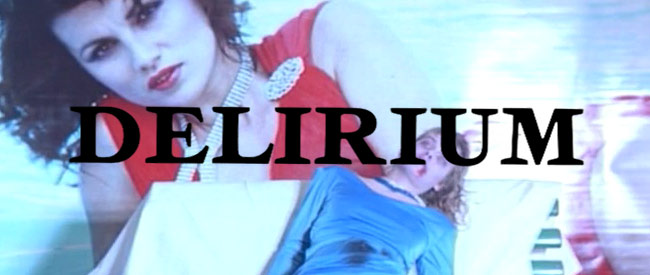 DELIRIUM
aka Le foto di Gioia
Dir. Lamberto Bava, 1987
Italy, 94 min.
In English
Originally helmed by Dario Argento, who dropped out of production at an early date and was replaced by one of his proteges, Lamberto Bava (son of the great Mario Bava, assistant director on everything from Suspiria to A Bay Of Blood to Cannibal Holocaust), DELIRIUM shifts our understanding of what a giallo is from the seventies to the eighties without a hint of nostalgia. Starring the almighty Daria Nicolodi (whose tumultuous marriage to Argento ended in 1985) and the stunning Serena Grandi (who you scuzzballs probably know from Anthropophagus), DELIRIUM is a glossy, flashy mid-80s Italian Vogue spread streaked in crimson. Serena Grandi plays Gloria, one-time prostitute turned head of a men's fashion magazine called Pussycat. She begins receiving photos of her models murdered, disfigured, and displayed with photos of Gloria in the background. While the magazine drastically increases its readership due to the notoriety surrounding the murders, the noose closes in on Serena With lots of demented POV (where the killer imagines his victims with grotesque masks over their heads), lots of extra-sleazy Dynasty-inspired wardrobes, and drum machines aplenty, it's an excellent example of where the giallo was by the mid-eighties, happily delivering all the style, perversity and murder set pieces any fan could want in a style entirely different from (but obviously deeply informed by) the 70s classics we most often think of as giallo. More from Lamberto (and fellow Argento protegee Michele Soavi) hopefully coming soon later this year!