FRIDAY, APRIL 3: ILSA, SHE WOLF OF THE SS
SATURDAY, APRIL 4: ILSA, HAREM KEEPER OF THE OIL SHEIKS
FRIDAY, APRIL 10:
SATURDAY, APRIL 11: 150th CIVIL WAR ANNIVERSARY SPECTACLE-ULAR:
HERSCHELL GORDON LEWIS'S TWO THOUSAND MANIACS! ON 16MM
FRIDAY, APRIL 17: ILSA, HAREM KEEPER OF THE OIL SHEIKS
SATURDAY, APRIL 18: MILL OF THE STONE WOMEN
FRIDAY, APRIL 24: MILL OF THE STONE WOMEN
SATURDAY, APRIL 25: ILSA, THE WICKED WARDEN
---

MIDNIGHT SERIES: FEMME DOMME BABYLON, A TRIBUTE TO ILSA: THE KOMMANDANT, THE KADIN, AND THE WICKED WARDEN

The name Ilsa is synonymous with the image of a dominant female. Since her first appearance as the Kommandant of a "medical" camp in the controversial ILSA, SHE WOLF OF THE SS, Ilsa (Dyanne Thorne), has gained a major cult following as one of the most notorious characters of the nazi exploitation genre. Throughout the course of her "lifetime", Ilsa has been everything from a harem keeper to a warden at a womens' prison. Legions of her fans have plastered her image in everything from songs to S&M club flyers. The first film in the series was so popular that it won an AVN award and ushered in a series of sequels, one of which was directed by the legendary Jesus Franco. This midnight series brings together three of the greatest Ilsa films. All hail the Kommandant!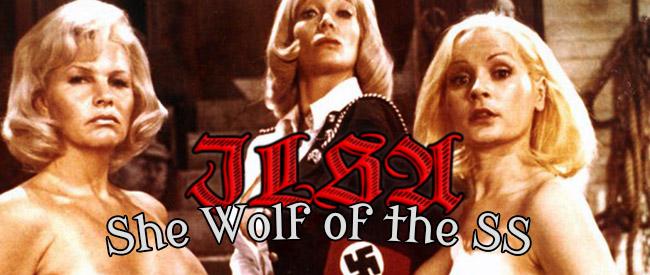 ILSA, SHE WOLF OF THE SS
Dir. Don Edmonds, 1975
USA, 96 min.
FRIDAY, APRIL 3 – MIDNIGHT
FRIDAY, APRIL 17 – MIDNIGHT
"You are strong, stronger than HE."
The period between 1974-1978 was the golden age of Nazi exploitation. Films such as SALON KITTY, THE NIGHT PORTER, RED NIGHTS OF THE GESTAPO and more were very popular across Europe and North America. Nazi exploitation is a type of exploitation film that explores the subject of Nazi cruelty during WW2. These films were usually highly sexualized, highly fetishistic, and rampant with sadomasochistic themes. The majority of Nazi exploitation films were made in Italy, but some were made in France and the United States.
One of the most notorious Nazi exploitation films is ILSA, SHE WOLF OF THE SS. Whereas its other counterparts had story-lines that were considered to be more "historical accurate", ILSA, SHE WOLF OF THE SS is considered to be rooted in pure fantasy. The film is said to be based on a combination of the life of Ilsa Koch, the wife of a concentration commander, and Stalag novels. Stalag novels were a popular type of pulp novel in Israel during the 50s and 60s that depicted sadomasochistic episodes between men and female members of the SS. Over the years the film has generated a lot of controversy due to its subject matter. Despite the controversy, the film has a huge cult following mainly due to the image of female dominance that Ilsa represents. To fetishist Ilsa is the ultimate goddess that they want to worship and worship they do in countless S&M clubs where Ilsa's infamous uniform is popular attire with Dominatrixes. To feminists Ilsa is a symbol of a strong woman holding a typically male dominated role. Actually, the theme of "proving" herself to be just as good as any man at her job is a theme that is explored in several of the Ilsa films. Ilsa is a despicable villain to some, a hero to others, but one thing is for sure, she stands as a dominant, confident woman who is out to prove that not only can women easily hold typically male dominated roles, but they are in fact better than men. This is why the film is such a rarity in the Nazi exploitation genre and why some 40 years after its release it is still being talked about by such diverse groups of individuals.
Ilsa (Dyanne Thorne), is the Kommandant of Camp 9, a 3rd Reich "medical" camp tasked to sterilize women. During the day Ilsa works on various "experiments" to help with the German war effort. Her nights are spent with the company of male prisoners who she uses to try to satisfy her sexual desires. Ilsa seeks to advance her career and ranking in the 3rd Reich by working on a side "experiment", an "experiment" that she believes will help Germany win the war. She wants to prove that "the carefully trained woman can withstand pain better than any man". A theory which her male superiors take as a joke. All she needs is a subject to prove her theory, enter prisoner 332 aka Anna, the subject Ilsa has been looking for all along, a woman who does not fear pain. Will Ilsa break Anna? Will Anna prove Ilsa's theory or will she bring about the downfall of the Kommandant?
---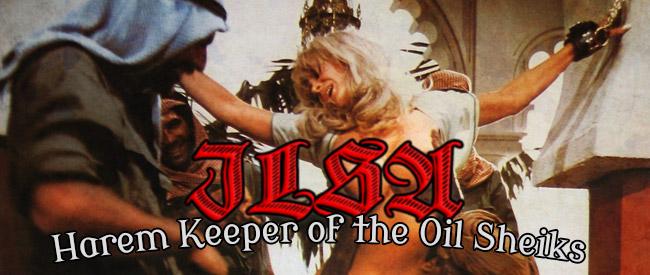 ILSA, HAREM KEEPER OF THE OIL SHEIKS
Dir. Don Edmonds, 1976
United States, 87 min.
SATURDAY, APRIL 4 – MIDNIGHT
"Welcome to my company of eunuchs!"
Sheik El Sharif is a powerful man. What makes El Sharif so powerful you say? He owns land that is capable of producing millions of gallons of oil! Yet Sheik Sharif is only interested in extracting as little oil as he can. Enter Dr. Kaiser and Commander Adam Scott from the USA! They are looking to employ some "personal diplomacy" aka black mail to get El Sharif to produce more oil. What they didn't count on was ILSA! After bidding farewell to the Fatherland, Ilsa fled to Arabia where she found a new job as a harem keeper and advisor aka Kadin to Sheik El Sharif. Ilsa along with her henchwomen Satin and Velvet, do everything from spying on foreign powers to training the women of the harem on how to use their tongues. What will Ilsa do to the Americans? Will she remain loyal to El Sharif or will she use this opportunity to usurp his kingdom?
---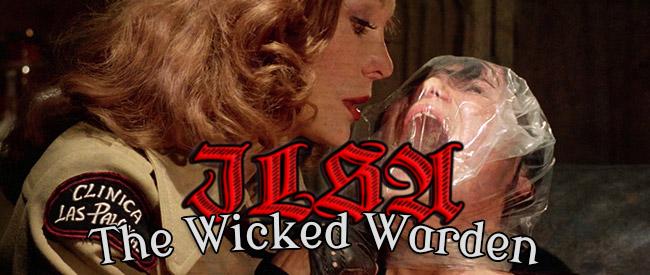 ILSA, THE WICKED WARDEN
aka Greta, The Mad Butcher
Dir. Jesus Franco, 1977
United States, 90 min.
SATURDAY, APRIL 25 – MIDNIGHT
"You know her wound is like a kiss to her body."
ILSA, THE WICKED WARDEN is the prodigal daughter of the Ilsa series. Originally, the film was not meant to be part of the series at all, but due to the popularity of the first three films, the producers took a film named GRETA, THE MAD BUTCHER and changed the title to ILSA, THE WICKED WARDEN. ILSA, THE WICKED WARDEN was directed by the legendary Jesus Franco and co-stars his wife and lifetime collaborator Lina Romay as Ilsa's lover/informant/patient. WICKED WARDEN has a plot that is very similar to the other Ilsa films so it fits perfectly with the rest of the series. What makes it unique is that for the first time in the series Ilsa holds a position of absolute power. Ilsa's "mental health clinic" is for women and run by a woman. Finally, Ilsa got the position she wanted and deserved.
Amy Phillips is desperately searching for answers in the death of her sister Rosa Phillips. Rosa was committed to Las Palomas, a clinic for the treatment of sexually deviant behavior in women, and died under mysterious circumstances. Amy enlists the help of her friend Dr. Arcos to get herself checked into the clinic under false pretenses so that she can investigate Rosa's death. Unbeknownst to Amy the Las Palomas clinic is run by none other than Ilsa aka Dr. Greta! Dr. Greta is an expert at treating everything from sexual to political deviations. She uses a combination of electro-shock therapy, a leather whip, and the help of Juanna, her lover/patient, to keep her patients on the "right" path. Will Dr. Greta become wise to Amy's plot? Will Amy ever find out what became of her sister?
---
TWO THOUSAND MANIACS!
Dir. Hershell Gordon Lewis, 1964
The Southern United States, 87 min.
16mm Print Courtesy of Brian Darwas
SATURDAY, APRIL 11 – MIDNIGHT
"This centennial is a centennial of blood vengeance!"
"YEEEEEEEEE-hooooo! / Oh the South's gonna rise again!"
"There's a story you should know from 100 years ago," begins the infectious, self-penned title song to Herschell Gordon Lewis's TWO THOUSAND MANIACS!—which turned 50 last year. In fact, this April 12 marks the exact 150th anniversary of the Confederate bombardment of Fort Sumter, which ignited one of the bloodiest chapters in American history: The Civil War.
So to that end, as the clock strikes midnight on Saturday, April 11, we'll screen one of the bloodiest chapters in cinematic history: TWO THOUSAND MANIACS!, HGL's outrageously bonkers and indescribably gory 1964 trashterpiece about bloodthirsty southern rednecks unleashing Hell on unsuspecting passersby during the centennial commemoration of their town's destruction by Union forces. The Yankee tourists, while initially charmed by the kind hospitality of their hosts, soon find themselves maimed and dismembered one-by-one through a series of cartoonish grand guignol games including live barbecuing, drawn-and-quartering by horses, and nail-filled barrel rolls. Will any of them survive the nightmare?
Though unabashedly lurid, grotesque, irreverent, and exploitational, TWO THOUSAND MANIACS! is one of the most compelling historical revisionist fantasies about the Civil War ever filmed, acknowledging the deep wounds, cultural rift and racial tensions that still existed one hundred years after the fact—and persist to this day. Unlike recent films like DJANGO UNCHAINED or TWELVE YEARS A SLAVE, racial violence is not depicted, and yet the evil racial underpinning of the white-on-white violence is clearly understood. There is also the difference that this film's resolution leaves little catharsis or reassurance that this evil has been in any way defeated.
In the spirit of conservative values, we'll forgo high definition projection in favor of sterling 16mm, the people's film format, based on photocehmical technology that dates to approximately the same time as the Civil War, the first major conflict to be extensively photographed. Rise again!
---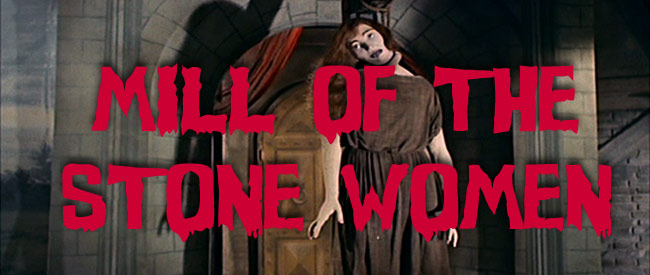 MILL OF THE STONE WOMEN
Dir. Giorgio Ferroni, 1960
Italy, 90 min.
SATURDAY, APRIL 18 – MIDNIGHT
FRIDAY, APRIL 24 – MIDNIGHT
"All I wanted to do was go on dreaming I wanted the dream to continue I never want it to end."
The 60s brought about the resurrection of all things "Gothic" in Horror Cinema.
Whereas many films from the decade looked toward to the future, "Gothic" films reminisced about a torturous past. Gothic Horror is typified by old stately mansions, haunted corridors, torture devices straight out of the crusades, phantasmagoric dream sequences, and phantoms galore. The Gothic style was like a cinematic plague that spread throughout Europe and North America. In the UK, Hammer Studios and Christopher Lee brought us a new vision of Dracula. In the US, Roger Corman and Vincent Price were resurrecting the tales of Edgar Allan Poe to much fanfare. In Italy, Mario Bava and Barbara Steele were haunting every corridor with elaborate optical illusions and spiderwebs galore.
Which brings us to Italy's own Giorgio Ferroni who directed the gorgeous film MILL OF THE STONE WOMEN. MILL OF THE STONE WOMEN centers around a young man named Hans who is tasked to assist in writing a piece about the centennial of a waxwork carousel that features statues based on murderesses, martyrs, and queens aka "The Stone Women". Hans is sent to the studio of Professor Wahl, the grandson of the carousel's creator, to gather information about the history of the carousel . In true "Gothic" fashion Professor Wahl's studio just happens to be a labyrinthian windmill near a cemetery. While working at the studio Hans is distracted by the attentions Professor Wahl's daughter Elfy, a statuesque young lady who suffers from a strange disease that keeps her from leaving the windmill. Also completing for Hans's attentions is Lisa Lotter, Hans's childhood friend who is a student of Professor Wahl. Strange things begin to happen as Hans starts hearing screams coming from basement of the windmill and some of his friends begin to disappear, including the lovely Lisa Lotter. Who is behind these disappearances? Has Elfy's love for Hans turned into madness or is Professor Wahl hiding a dark secret in the windmill?
MILL OF THE STONE WOMEN is a beautiful film. One of the things that makes the film so alluring is its usage of color. The usage of the color red throughout the film is like a nod to the "gore" films of the era. The interior of the windmill is a dark foreboding red. The roses Elfy leaves for Hans are a rich bright blood red that appear as though any minute they would begin to drip. The reds are rivaled by the usage of sickly jaundice-like yellows that are scattered throughout the film in the form of flowers and gowns. This film is truly a feast for the eyes and essential viewing for fans of Gothic horror.