FRIDAY, MARCH 6: SHE SHOULDA SAID NO
SATURDAY, MARCH 7: THE MASTER TOUCH
FRIDAY, MARCH 13: WITCHCRAFT 70
SATURDAY, MARCH 14: GOLDEN TEMPLE AMAZONS
FRIDAY, MARCH 20: THE MASTER TOUCH
SATURDAY, MARCH 21: SHE SHOULDA SAID NO
FRIDAY, MARCH 27: GOLDEN TEMPLE AMAZONS
FRIDAY, MARCH 28: WITCHCRAFT 70
---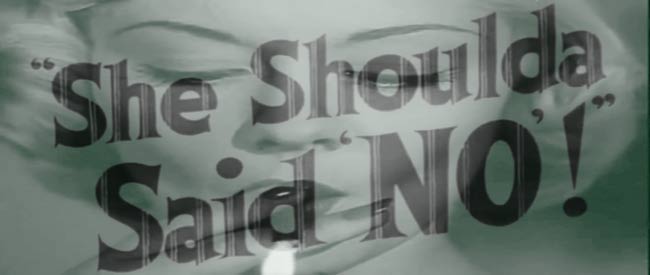 SHE SHOULDA SAID NO!
Dir. Sam Newfield, 1949
USA, 70 min.
FRIDAY, MARCH 6 – MIDNIGHT
SATURDAY, MARCH 21 – MIDNIGHT
How bad can a good girl get?
Dateline, August 1948: Actors Robert Mitchum and Lila Leeds busted for drug possession (Leeds had three joints and eight Benzedrine tablets — STARS BUSTED IN POT ORGY! read the tabloids — and while Mitchum was knocked down to conspiracy while Leeds spent two months in prison. Mitchum's career may have been over were he not fast friends with Howard Hughes, but Leeds had only been working in Hollywood for a few years and no high-powered friends, so upon her release in '49 the first job offered her: Wild Weed, a Reefer Madness-style shock film directed by Sam Newfield (just one of the 277 films he directed: MST3K fans know him from JUNGLE GODDESS and I ACCUSE MY PARENTS). The film went nowhere and was quickly snapped up by master roadshow producer and Forty Thieves member Kroger Babb, who changed the name to SHE SHOULDA SAID NO!, put a salty picture of Leeds undressing on the poster, Babb fabricating a story that the film was made with the assistance of the United States Treasury and ran the film as a midnight in as many theaters as he could book, promising the true story of Leeds' licentious liaisons.
As always with roadshow films, the truth is a bit different than the promise: Leeds plays Anne Lester, struggling to pay for her brother's college costs, when she meets Markey (Alan Baxter), a dope dealer who invites her to a "pot party". As expected, things quickly go from bad to worse as Anne loses her inhibitions, starts selling drugs, becoming estranged from her brother and trying to steer clear of the law. With a small role by character actor Jack Elam, some excellent montages, all the stoned giggling you can handle and a total bummer ending, SHE SHOULDA SAID NO! will hopefully steer young people back onto the straight and narrow. As Babb himself would say, WHY STAY DUMB?
---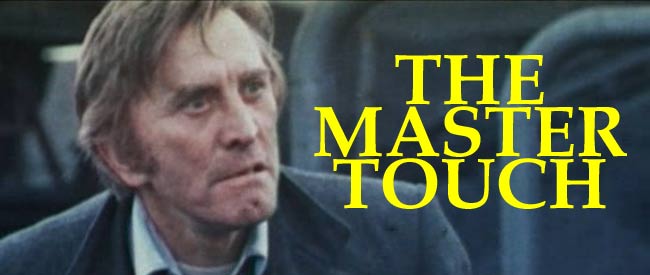 THE MASTER TOUCH
aka Un uomo da rispettare
Dir. Michele Lupo, 1972
Italy/West Germany, 112 min.
SATURDAY, MARCH 7 – MIDNIGHT
FRIDAY, MARCH 20 – MIDNIGHT
There's a reason why standards are standards, just as there's a reason there's so many "one last job" heist films — it's the perfect recipe for car chases, double crosses, showdowns and schemes, and THE MASTER TOUCH offers not only all of the above, but some big-time actors. Steve Wallace (Kirk Douglas) is our genius safecracker, home from prison after three years, who wants only to settle in with his wife Florinda Bolkan (who could blame him), but is immediately offered a job — a heist involving an alarm system so sensitive the slightest sound can set it off. Douglas and Giulino Gemma (The Leopard, Tenebre, A Pistol For Ringo) know they have all of Hamburg's police watching them, so they devise a clever alibi before taking down the biggest score of their lives — but we wouldn't want to give away too much now, would we? With one of Ennio Morricone's most brooding scores, THE MASTER TOUCH is a film not to miss.
---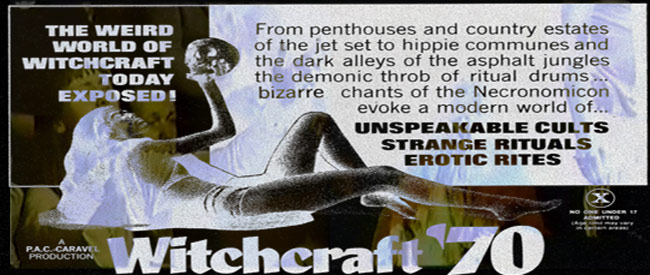 WITCHCRAFT 70
Dir. Luigi Scattini/Lee Frost, 1970
Italy/United States, 95 min.
Mostly in English with Italian in English subtitles (sometimes)
If you've read anything on the internet about this film not written by Tenebrous Kate, it's wrong, wrong, wrong (Shame on you, IMDB hacks! SHAAAAAAME!) so let's try to stick to the facts: In 1969 director Luigi Scattini released Angeli Bianchi Angeli Neri (White Angel, Black Angel), a documentary about various occult practices around the world. This film was recut into two versions for English speaking audiences: The Satanists UK (for the British set) and our feature presentation WITCHCRAFT 70 for American audiences. These three films are not simply different dubs, but nearly different films altogether,. each not only containing exclusive material but entirely different narration. Of the three, WITCHCRAFT 70 is certainly the most Mondo, and for that we have our old pal Lee Frost to thank. If Luigi Scattini's original film brings a wiggy mod sensibility (and copious nudity) to Satanic weddings and grave robbing, and The Satanists UK brings a cynical bent to the proceedings, WITCHCRAFT 70 brings us material more in line with other Lee Frost films like Mondo Bizzaro, Mondo Freudo, and the US version of The Forbidden. Plenty of everything you'd expect — Anton Lavey makes an entirely-suspected appearance, various black masses, voodoo practices, Baal worship, hippie cults, witches of all stripes and and more, much much more. With narration by Edmund Purdom (Pieces, Don't Open 'Til Christmas) and a good chunk of the original Piero Umiliani score, WITCHCRAFT 70 combines its source material with a post-Manson California vibe and a real/staged/who even knows aesthetic sure to please anyone who ever binge-watched In Search Of… episodes while incapacitated on Quaaludes. Those of you looking for a fact-checked detailed overview of the supernatural get exactly what you deserve. Those of you in the know on the whole Spectacle Midnights scene, however, are in for a deeply weird, nudetastic freakout you're not likely to soon forget.
---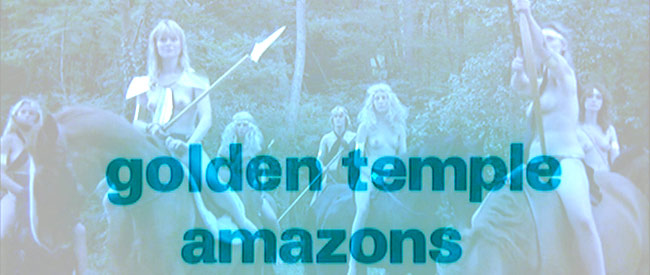 GOLDEN TEMPLE AMAZONS
aka Les amazones du temple d'or
Dir. Jess Franco1, 1986
France, 86 min.
Dubbed in English
SATURDAY, MARCH 14 – MIDNIGHT
FRIDAY, MARCH 27 – MIDNIGHT
For many fans, the truly great works of Jess Franco took place in the sixties and early seventies, and everything he did since then doesn't measure up. Fuck those dudes. This isn't so say a film like GOLDEN TEMPLE AMAZONS stands next to Venus In Furs, Nightmares Come at Night or Female Vampire — this is Franco at his jungle pulpiest, far more H. Rider Haggard than Bram Stoker. Thirty seconds into GOLDEN TEMPLE AMAZONS and it's an army of topless women on horseback galloping in slow-motion to synth-pop, which should give you a good idea of what you're in for. Said amazons keep a fortress deep in the jungle, sitting atop a huge gold mine. A family of explorers set out to investigate the mine and were slaughtered by the Amazons, leaving only young Liana (Analia Ivars) alive. The tribe raised her as one of their own, never telling her the fate of her parents. Time passes, and Liana, now fully grown, learns the truth, and in order to get revenge on the Amazon tribe joins forces Imagine a role-reversed Greystoke and you're on the right path, but add a healthy dollop of Franco-style humor (think Robinson and his Wild Slavegirls — there's even a hilarious monkey named Rocky!), all the questionable sadism you'd expect from late 80s Eurocine Franco, the drum machine wizardry of Norbert Verrone and a few truly problematic performances and it's almost like a role-reversed Greystoke, only, well, *not*. Welcome to the return of The Franco Files!
1 To what extent this film was directed by Jess Franco (who we guarantee wrote the screenplay) or Alain Payet (director of Nathalie: Escape From Hell among a ton of French porn) is a matter of some dispute. If there are any film scholars who wanna get into this, please let us know, but for everybody else: if it walks like a Franco, and talks like a Franco…