Spectacle is pleased to present a series of screenings celebrating the life and work of electronic music and avant-garde legend Conrad Schnitzler. Schnitzler (1937-2011) came to popularity as a founding member of Tangerine Dream and Kluster, and went on to an influential and prolific career of unmistakably personal intermedia artistry. The programs are organized in collaboration with artist "Gen Ken" Ken Montgomery, friend and collaborator of Schnitzler, and founder of Generator, NYC's "first sound art gallery."
These screenings are part of a larger CON-MYTHOLOGY 2015 series of CONcerts and events throughout August, taking place at Academy Records, ALLGOLD at the MoMA PS1 Print Shop, and Control. Please check the website www.con-mythology.com for more information.
---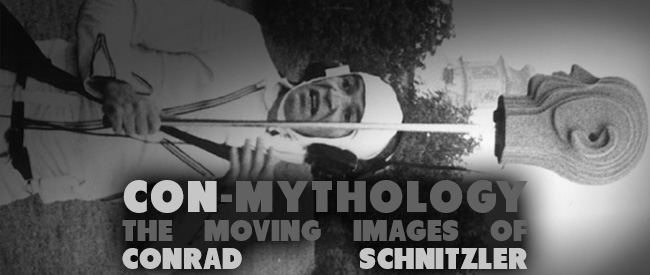 CON-MYTHOLOGY
Dir. Various, 1937-2011
Various, 90 min.
FRIDAY, AUGUST 21 – 8 PM w/ intermission
ONE NIGHT ONLY!
HOSTED BY GEN KEN MONTGOMERY!
A special one-night-only screening event CON-MYTHOLOGY, hosted by Gen Ken Montgomery, featuring a survey of numerous shorts and works in and around Conrad Schnitzler and his fascinating life and work.
Premier CON/TACT by Julien Perrin (2009) 12:00 min.
TAKE OFF 4:18 min.
Die Spur Karawane 7:01 min.
Ballet 4:20 min.
Electric Garden 8:36 min.
Zug 5:35 min.
Wer im Laden die Schulschachteln Zaehlt 3:39 min.
Schöne Aussicht 1 4:27 min.
Hexer 2:51 min.
WTC 6:26 min.
Videoconcert 1 (1973) 29:53 min.
Winterscene 1:33 min.
---
CON-MEDITATIONS
There will be three programs of CON-MEDITATIONS, what we're calling the series of long-form video works by Schnitzler himself from the 60s through the 80s, many of which have not been screened publicly. Often shot at home on film and video utilizing multiple experimental techniques, these works offer abstract visual accompaniment for Schnitzler's epic electronic soundtracks. The screening programs are handpicked by Gen Ken from Schnitzler's vast video archives for maximum CON-immersion. Perfect for zoning out on a hot summer evening. (Titles for each program TBD).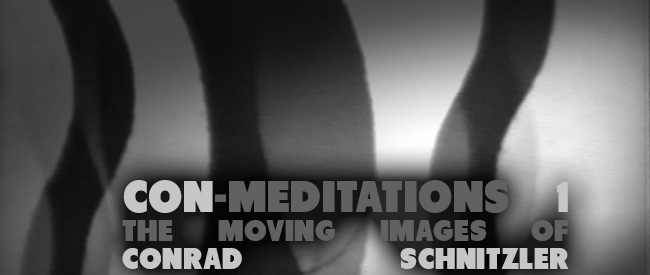 CON-MEDITATIONS 1
Dir. Conrad Schnitzler, 197?-198?
Germany, 85 min.
TUESDAY, AUGUST 4 – 7:30 PM
MONDAY, AUGUST 17 – 7:30 PM
SUNDAY, AUGUST 30 – 5:00 PM
Program includes:
UPTOPIA MESSE 30 min.
SCHMINK I 30 min.
CON FILM #2 4 min.
KRATZ RHYTHMIC 16 min.
TAKE OFF (1980) 4 min.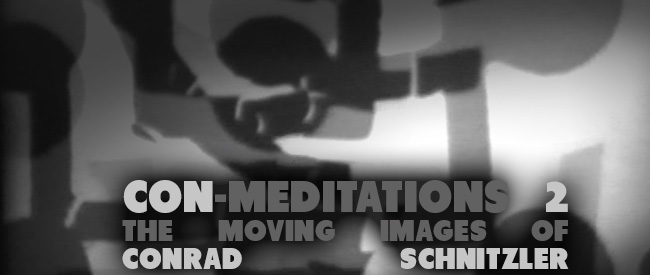 CON-MEDITATIONS 2
Dir. Conrad Schnitzler, 197?-198?
Germany, 86 min.
TUESDAY, AUGUST 4 – 10:00 PM
MONDAY, AUGUST 17 – 10:00 PM
SUNDAY, AUGUST 30 – 7:30 PM
Program includes:
DISCO DANCE 1 29 min.
CON FILM #1 4 min.
ABSTRAKTION 30 min.
RAINER ZUFALL 19 min.
TAKE OFF (1980) 4 min.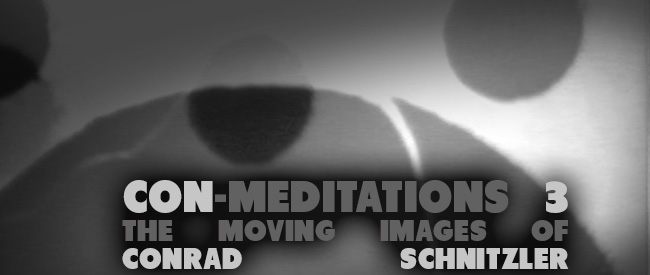 CON-MEDITATIONS 3
Dir. Conrad Schnitzler, 197?-198?
Germany, 88 min.
WEDNESDAY, AUGUST 5 – 7:30 PM
TUESDAY, AUGUST 18 – 7:30 PM
TUESDAY, AUGUST 25 – 10:00 PM
Program includes:
ON THEIR WAY 60 min.
CON FILM #2 4 min.
ZUG BERLN-KÖLN (1978) 19 min.
TAKE OFF (1980) 4 min.
Conrad Schnitzler (1937-2011) is legendary in the German electronic and avant-garde music scene as a founding member of Tangerine Dream and of Kluster. His work as an intermedia artist is less-known yet equally legendary. Schnitzler studied sculpture with Joseph Beuys at the Düsseldorf Academy of Art, exhibited his black and white metal sculptures in Berlin, and participated in performances and "happenings" in the same circles as many well-known Fluxus artists, although never identified himself as part of any group or movement. He preferred to create his own individual mythology.
In the early 70s Schnitzler became a composer when he abandoned all of his sculptures in an open field in decision to devote himself to sculpting with sound. His self produced stark electronic music, often presented as multi-channel concerts using as many as 12 cassette players and self published his music on vinyl and cassettes. Schnitzler gradually found an international cult following from his prolific output of musical ideas, However Schnitzler's immense creative energy could not be limited to one medium. He continuously experimented with moving images to accompany his music and even painted, collaged or scratched patterns directly on 8mm film. He experimented with stop-motion animations and designed and costumes for his films. By the 80s Schnitzler had become increasingly reclusive, shooting long meditative videos accompanied by his distinctive electronic musical scores. Preferring to stay at home and work in his studio he created multi-channel Cassette Concerts that could be sent through the post for others to perform and "CONduct" concerts of his music. Schnitzler conceived of sonic programs he called Musik in the Dark intended to be heard in darken movie theaters, churches, stadiums and other venues without him having to travel. Although he rarely left his Berlin home after 1980, Schnitzler came to New York City in 1989 and 1990 to visit the Generator Sound Art Gallery in the East Village.
"Electronic music appears to be a field developed by few who did not deplete it of originality within a few years. While many are consumed by their own technology or starved for fame, only a small number have approached it as a personal communicative craft rather than as an intentional development of traditional Western classical or commercialized music. Conrad Schnitzler remains at the forefront of a handful of artists willing to take chances with possible yet underdeveloped forms." – David Prescott 1989
Gen Ken Montgomery (1957) is a New York-based artist whose involvement in the cassette-culture and mail-art movements of the late seventies led to the creation of Generator, New York's first sound art gallery (1989). At Generator Montgomery amassed what is now a time capsule of internationally produced art in the form of cassettes, records, zines and ephemera from the days before the internet when artists collaborated and corresponded internationally by post. In 2013 at Audio Visual Arts in New York City, Montgomery exhibited his collection from that era and re-created Generator by curating events with artists whose work was shown at the Generator in the late 80s and early 90s (see www.audiovisualarts.org/5973/generator). In 2014 Montgomery re-launched the Generations Unlimited label that he co-founded with Conrad Schnitzler and David Prescott in 1987. (http://www.generationsunlimited.net)