JAKARTA SCREAMS: HORROR & EXPLOITATION CINEMA OF INDONESIA
During the 1980's the field of Indonesian cinema was undergoing significant changes that would pave the way for what is now known as the golden age of Indonesian exploitation cinema. After the brutal anti-communist purges of the 1960's under the iron-fist of the archipelago's strongman and dictator Suharto, the Indonesian working class and blue-collar laborers sought an escape from an oppressive reality.
In JAKARTA SCREAMS we will review the new Indonesian escapist cinema that ultimately delivered them from their authoritarian reality. This new style of regional filmmaking provided the high adrenaline violence and sexuality of Western cinema hybridized with the region's traditional folkloric and mythological stories, archetypes and themes resulting in a form of cinema unlike any other in Southeast Asia or the globe. While some theorists claimed this form of filmmaking was only a bread and circus to maintain the control held by Suharto's political regime, others claimed that the filmmakers exercised subversive symbolism, depicting government figures as the criminals and villains ultimately punished and destroyed in these epics for the small cinemas of villages and small towns.
This prolific period is the largest footprint Indonesian filmmakers have made to this day in the course of film history. Its surrealist fantastical horror films populated with shape-shifting martial arts warriors, demon-sorceresses and serpent-women invite the viewer the explore the depths of its sensual, absurd, tropical cinema.
---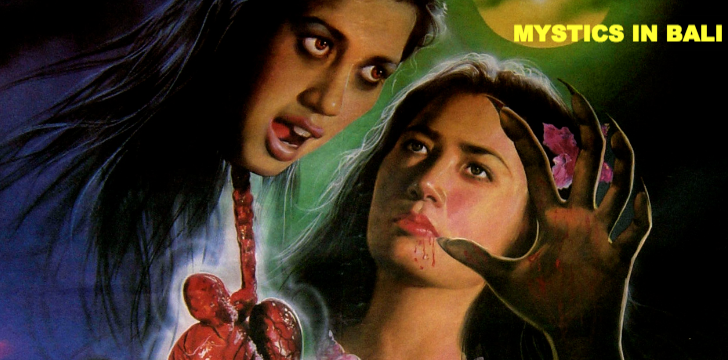 MYSTICS IN BALI
1981, Dir. H. Tut Djalil
Indonesia. 86 min.
SUNDAY, AUGUST 2 – 5PM
THURSDAY, AUGUST 6 – 10PM
TUESDAY, AUGUST 18 – 10PM
SATURDAY, AUGUST 29 – 7:30PM
In H. Tut Djalil's Indonesian horror-exploitation classic MYSTICS OF BALI, American anthropologist Catherine Keene seeks out training in the ways of the leyak, a cult of demonic Balinese sorceresses imbued with powerful and ancient magic. Having been seduced by the promise of mastery in the ancient tradition of leyak sorcery however, Cathy becomes trapped in the form of a penangalan, a floating disembodied vampiric head, spine and entrails with a fondness for devouring pregnant women and fetuses. With Cathy in the thrall of the leyak queen and unable to return to human form her lover Mahendra consults a local shaman to undo the leyak's subversion and restore Cathy to her human form.
Djalil's MYSTICS OF BALI,results in a compelling hybrid of Western cinematic style and the impromptu style of Indonesian cinema. Using non-actors and unconventional narrative structure, maestro of the Indonesian horror canon H. Tjut Djalil brings a campy fusion of American-style b-movie horror and action and Indonesian folktale to the screen resulting in a cannibalistic jaunt through the mountains of rural Bali.
---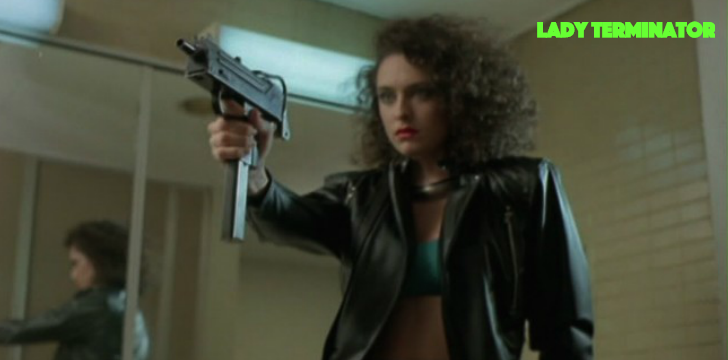 LADY TERMINATOR
1989, Dir. H. Tjut Djalil
Indonesia. 82 min.
MONDAY, AUGUST 3 – 10PM
SUNDAY, AUGUST 9 – 7:30PM
SUNDAY, AUGUST 23 – 7:30PM
FRIDAY, AUGUST 28 – 7:30PM
H. Tjut Djalil's LADY TERMINATOR is based on the Javanese legend of Nyai Roro Kidul or the South Sea Queen, an enchanting siren-like figure that was said to be not only a powerful courtesan to the sultans of the islands but also a naga spirit, a Southeast Asian snake nymph, imbued with powerful and deadly magic.
Upon a research gathering assignment on a remote Indonesian island an American anthropological student becomes possessed by the spirit of the South Sea Queen, a long deceased witch with a powerful sexual endowment fatal to the men she seduces. Determined to rise again and seek revenge against the great grand-daughter of the man who stole her serpentine magic and return to her former power, the South Sea Queen seizes the body of this unsuspecting tourist in a strange land as her new host and begins wreaking chaos throughout the urban landscape of Jakarta. Leaving a trail of male bodies in her wake she is unstoppable until she meets local police detective Max McNeil.
In Djalil's LADY TERMINATOR the classic myth of the South Sea Queen is brought into the context of the exploitation cinema genre's that animated cinema and filmmaking in 1980's Indonesia. Djalil's twisted mash-up of American action and adventure films, LADY TERMINATOR, Indonesian folktale and martial arts b-movie genres results in something familiar and yet altogether unique, wonderful and strange.
---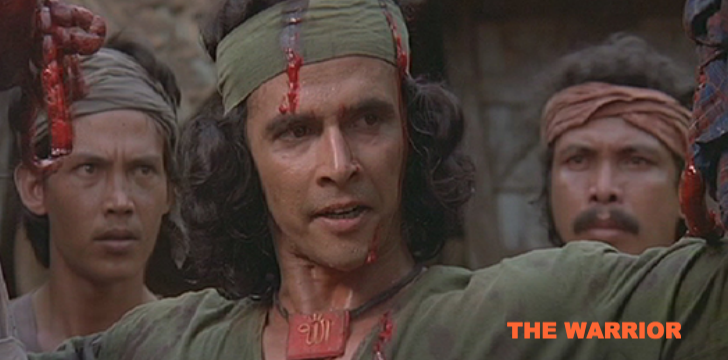 THE WARRIOR
1981, Dir. Sisworo Gautama Putra
Indonesia. 92 min.
SUNDAY, AUGUST 2 – 7:30PM
SATURDAY, AUGUST 15 – 10PM
MONDAY, AUGUST 24 – 10PM
TUESDAY, AUGUST 25 – 7:30PM
In Sisworo Gautama Putra's THE WARRIOR, Jaka Sembung is the champion of the province of Kandanghaur against the colonial oppression of the Dutch imperial machine in the Indonesian archipelago. Played with swagger and conviction by Barry Prima, after the title character Jaka Sembung leads a small uprising against a forced labor edict by the Dutch imperial forces, a local Dutch commander seeks to quell the rebellion through challenging Jaka Sembung to a contest of strength. Jaka Sembung overcomes this and a great many other challenges through the aid of traditional folk magic and his will to resist, including treacherous villagers, spies and the soldiers of the Dutch imperial army. After facing brutal torture and near defeat Jaka Sembung is transformed by his master into a boar to escape his captors and so he may hide before he leads his final assault against their imperial overlords.
Sisworo Gautama Putra's THE WARRIOR is a notable masterpiece of Indonesian exploitation cinema particularly in that it is one of only a few films to address the brutality and trauma of Dutch occupation, albeit with a light heart and a great deal of homage in equal measure both to Indonesian folk tradition and to the martial arts films of Bruce Lee.