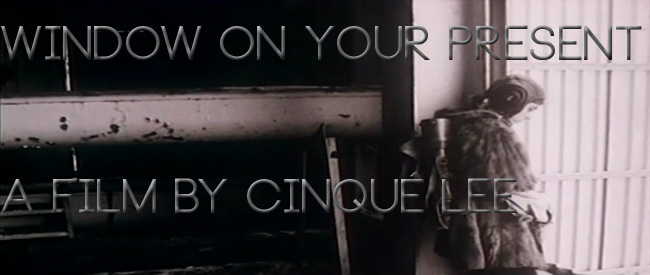 WINDOW ON YOUR PRESENT
Dir. Cinqué Lee, 1988
USA, 60 min.
SUNDAY, NOVEMBER 2 – 7:30 PM
MONDAY, NOVEMBER 10 – 10 PM
SUNDAY, NOVEMBER 23 – 7:30 PM
SATURDAY, NOVEMBER 29 – 7:30 PM
"Genetically much closer to maudit French literature than to mainstream American cinema, Cinqué Lee's visually haunting 1980s post-apocalyptic narrative tone-poem should be regarded as a true underground classic!" – Jim Jarmusch
Filmed in the late 1980s, but remaining virtually unseen before its release on DVD in 2010, WINDOW ON YOUR PRESENT is a breathtaking, experimental vision of a post-apocalyptic future where love – and color – don't exist. Director Cinqué Lee (Spike's brother), a Brooklyn actor and writer who has collaborated with Jim Jarmusch as well as his brother, filmed his powerful vision of a terrible future in an unrecognizable Brooklyn. With no dialogue, the plot is related to us through a monotone, haunting voiceover by leading lady Maria Pineres, the film delivers the story of Europa and Leber, a young couple who occupy a sad, drab world where suicide and depression are constantly foregrounded. Among all the despair, Europa and Leber discover that there is more to the world than their colorless existence.
WINDOW ON YOUR PRESENT is a true product of the late 1980s NYC film scene. The film combines poetry, unforgettable visuals, and a minimal jazz score by Bill Lee, into something unforgettable – a truly experimental vision of the future. Recently discovered and released on DVD for the first time, Cinqué Lee's story of a world full of misery and pain, and two people's desire to find something else, is a No Wave treasure, and a reminder of the old, weird NYC.
Special thanks to Brink Vision.