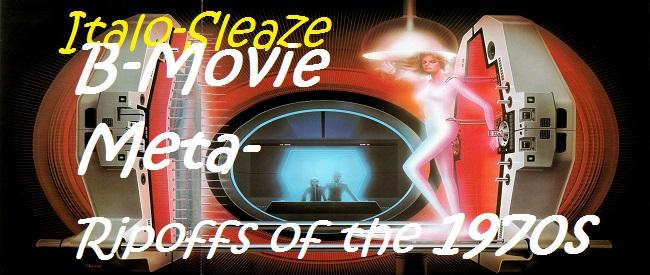 It's a mini-fest of crazy Italian B-movies created to cash in on more successful brethren, but taken to the nth degree—where the initial source material, the cinematic urtext as it were, is forgotten, and what we have left is the fun-house reflection of a reflection of a reflection. And each reflection must keep getting crazier to top what came before, until all conscious ties to THE FRENCH CONNECTION, George Lucas's cash machine, or any Hollywood westerns are forever lost.
You can also witness the evolution of the B-movie as the marketplace's tastes change over the years—and check out some of the madness imitation has created! See a PCP-psychosis Spaghetti Western; a brutal indictment of sexism disguised as a crime exposé; and a Star Wars rip-off so blatant, it's actually charming…
Much in the same way kids play with random toys without thought, having G.I. Joe and Spider-Man confront each other in the backyard, Italian Space Operas shamelessly and often obviously mash-up chunks of different styles and genre. But when you look at it, all of the films in this mini-series are doing this, some more obviously than others…
---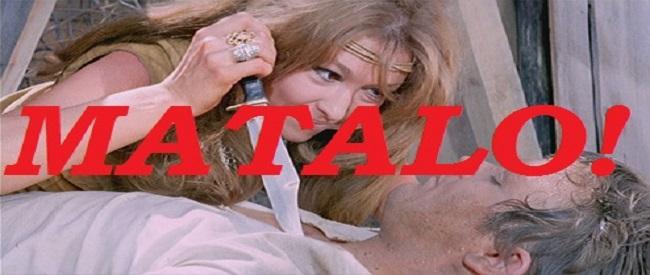 MATALO!
Dir. Cesare Canevari, 1970
Italy, 92 min.
Dubbed into English.
SATURDAY, NOVEMBER 1 – 10 PM
SUNDAY, NOVEMBER 9 – 5 PM
MONDAY, NOVEMBER 24 – 7:30 PM
FRIDAY, NOVEMBER 28 – 10 PM
Like EL TOPO's meaner, stupider, more drug-addled little brother, this Spaghetti Western is in some ways even more mysterious and insane than Jodorowsky's classic—because EL TOPO knows what it is doing, while often MATALO! does not.
To understand MATALO!—if you dare—consider this: It's the B-Maestro's tribute to the late-'60s Biker Movie (where the Hells Angels ride in and trash a town) disguised as a Spaghetti Western. More The Wild Angels than The Wild Bunch!
Never not entertaining (if your tastes dovetail with old-school 42nd Street sleaze), MATALO! spits in the eye of all things Hollywood. Our "hero" backstabs everybody, and then the "good guy" is one of those movie-pacifists who lets himself get stomped again and again before realizing that, gosh, he should use his magical powers to fight back. Meanwhile, the psychedelic influence seems perhaps more behind the camera—how high were they when making this? But thankfully the incoherence is balanced with a vibe of pure hippie hate: These Manson-esque longhairs suck.
After being rescued from a hanging, scumbag protagonist Burt (Corrado Pani) guns down his buddies—because who wants to share the loot?—and hightails it to a ghost town to meet up with his violent and incestuous kin who are just as awful as he is.
Italian superstar Lou Castel (who probably wishes he was back in BULLET FOR THE GENERAL) is the "good guy," who doesn't carry a gun, but a bandoleer full of…boomerangs, and why he's here is anybody's guess, but somebody had to show up and teach Burt a lesson…
As long as you're willing to deal with utterly corrupt and ruthless cowboys taking a hot dump all over your John Ford/Howard Hawks preconceived notions of what a western should be, you'll be fine. Every frame of MATALO! oozes that grimy, gritty vibe that usually you only get from a dirtbag late-1960s biker flick…while looking super—like any western shot in Spain should be…
MATALO! is a technically perfect movie, with crisp long-lens cinematography and a very mobile camera, sharp editing and an awesome "in your face" fuzz-guitar/electronico musical score, by Mario Migliardi—having all these technical aspects so top-notch, makes all the madness on-screen that much more odd and disturbing: Did they really know what they were doing with this movie?
---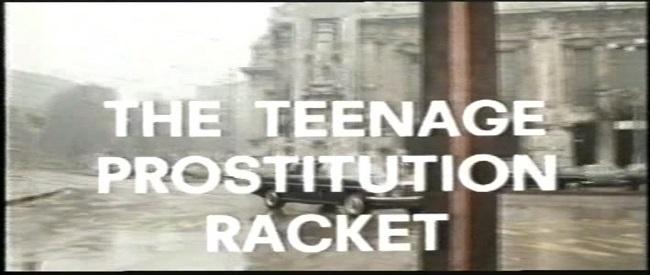 TEENAGE PROSTITUTION RACKET
Dir. Carlo Lizzani & Mino Giarda, 1975
Italy, 123 min,
Dubbed into English.
MONDAY, NOVEMBER 3 – 10 PM
FRIDAY, NOVEMBER 14 – 7:30 PM
SUNDAY, NOVEMBER 23 – 5 PM
Meandering, schizoid and evil-minded, this film is three intertwined tales of lost virtue whose essential message is "Italian men are irredeemable pigs"—and if you're a chick stupid enough to get involved with them, they will fuck you over both literally and figuratively. Jumping on the bandwagon of "realistic, but ultraviolent crime/cop movies" that Italy churned in the wake of THE FRENCH CONNECTION, while adding exploitation elements from the "Schoolgirl in Trouble" and "Stewardess/Nurse" genres, directors Lizzani & Giarda deliver a movie Lars von Trier wishes he'd made…
TEEN PROSTITUTION RACKET is a must-see for connoisseurs of "feel bad" movies. This film's overt subtext ("men suck") is hammered home with depressing regularity: you witness the almost-artless creation of an awful world of sexual Darwinism. Nasty, intense stuff, that's borderline depressing, really. Shot semi-cinema verite in an around Milan, it's a film that makes you feel DIRTY while watching innocent economically deprived young woman after innocent economically deprived young woman being utterly corrupted by some slick pimp.
What's worse is that sometimes that pimp is Grandma…
---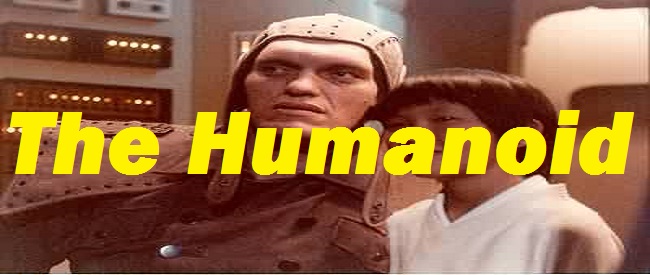 THE HUMANOID
Dir. Aldo Lado (as George B. Lewis), 1979
Italy, 100 min.
Dubbed into English
SUNDAY, NOVEMBER 9 – 7:30 PM
TUESDAY, NOVEMBER 18 – 10 PM
MONDAY, NOVEMBER 24 – 10 PM
Needs to be enjoyed—not only for the kinda decent effects (created by Antonio Margheriti—a.k.a. Antony M. Dawson—the director of those legendarily bad Italian space exploration flicks from the 1960s), or the second unit direction of Enzo G. Castellari (!!!), or the space opera score by Ennio Morricone (!?!), but for the goofy attempt to turn Bond villain Richard "Jaws" Kiel (R.I.P.) into a family-friendly gentle-giant good guy! It's as if someone from the Sunn Classics studios managed to sneak into Cinecittà for a little while and started messing with the formulas.
A deliriously stupid rip-off of Star Wars that actually seems more like a "lost" episode of NBC's Buck Rogers in the 25th Century, THE HUMANOID also tries to ride the coattails of James Bond by casting Kiel alongside his sex-bomb costars from The Spy Who Loved Me, Barbara Bach, and Moonraker, Corrine Clery. As such, the flick often resembles a sober, sort-of-kid-friendly Barbarella, Roger Vadim's made-in-Italy "Space James Bond" spoof, especially with THE HUMANOID's combination of nonsensical dialog and "secret mission" action set pieces.
But THE HUMANOID has the added joy of a Hollywood legend chewing the scenery. In one of his last roles, veteran Arthur Kennedy tears it up as a mad scientist seeking intergalactic revenge—the actor needed the paycheck obviously (he doesn't look too well), but still goes for the gusto. This movie also rips off 1970s mystical martial arts TV show Kung Fu with a little Asian wise child—who is actually a Yoda figure one year before The Empire Strikes Back was released! Hmmmm….
The film's best value is nostalgia: although THE HUMANOID may have never gotten a stateside release (depending on whom you ask), it's very much like other colorful and semi-unique rip-offs/tributes to Star Wars that we grew up with, like Battle Beyond the Stars, The Black Hole, Flash Gordon, Message From Space and, of course, everybody's favorite Starcrash!
BLAST OFF!!! Avanti!