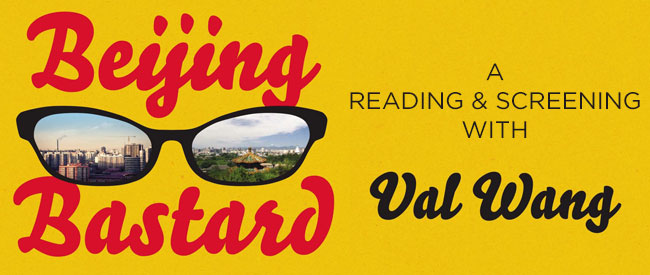 BEIJING BASTARD
Talk/Reading and Screening with Author Val Wang
Books will be available for purchase
WEDNESDAY, NOVEMBER 19 – 8 PM
Author Val Wang will present the works of China's Sixth Generation filmmakers in conjunction with the publication of her memoir BEIJING BASTARD.
Seeing the underground Chinese film Beijing Bastards in 1995 led the American-born Wang to move to Beijing in the late 1990's, where she worked as a journalist and became a subtitler and friend to a cohort of Chinese filmmakers whose use of all-new digital videocameras was revolutionizing the country's filmmaking.
Shot in a loose, observational style, the documentaries and feature films told intimate stories of people whose lives were unfolding against the backdrop of the country's unprecedented historical transformation into capitalism, people from young rockers to old grandpas.
In Wang's coming-of-age story BEIJING BASTARD, the filmmakers play a central role in her development as an artist and writer. She will talk and read from her book, as well as screen clips from the works of seminal filmmakers such as Zhang Yuan, Wu Wenguang, and Yang Lina.
View the trailer for Val Wang's book: