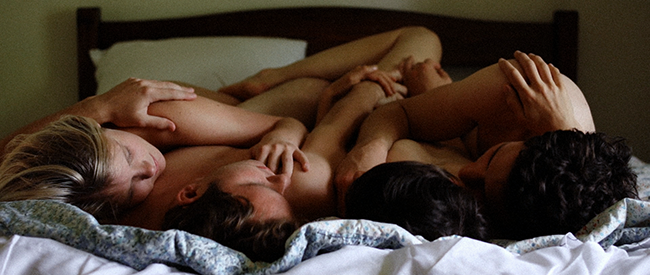 HIDE AND SEEK
Dir. Joanna Coates, 2014
UK, 80 min.
THURSDAY, NOVEMBER 20 – 8 PM
SNEAK PREVIEW! ONE NIGHT ONLY!
Followed by a Q&A with producer Daniel Metz and actress Hannah Arterton!

*WINNER – MICHAEL POWELL AWARD – BEST BRITISH FEATURE*
2014 EDINBURGH FILM FESTIVAL
In an isolated English cottage, four young people from London move in together, seeking to challenge social conventions and their own tolerances by engaging in scheduled partner-swapping. As their inhibitions and past traumas fade, they achieve a unique kind of collective happiness, but the durability of their new living arrangement is tested by the arrival of an outsider who fails to get in tune with the foursome's radical spirit.
Beautifully shot and thematically captivating, this unique portrait of sexual exploration warmly invites us to contemplate our own self-imposed boundaries. HIDE AND SEEK never jumps to conclusions about its characters, instead giving them space to grow organically through four remarkable lead performances and exquisitely captured imagery.
"Hide and Seek is one of the most bewitching and elegant British films of the last decade." -Front Row Reviews
"A tangled web of flesh and desire." -Cine Vue