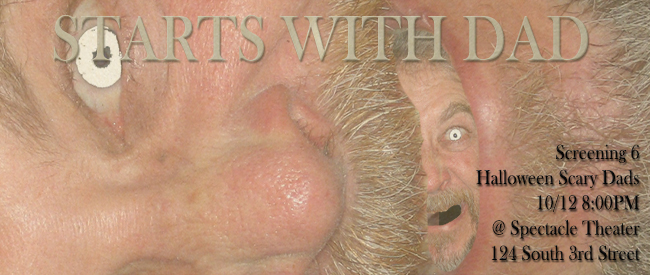 STARTS WITH DAD: HALLOWEEN SCARY DADS!
One night only!
SATURDAY, OCTOBER 12 – 8:00 PM
STARTS WITH DAD is a loose group with two goals: shoot something, show something. No need to be a filmmaker, an artist, or an actor. It's all about the impulse to create, no matter how unprofessional.
This month it's Halloween, so expect a whole new slate of short films SATURDAY, OCTOBER 12, AT 8 PM. All the spooky Dads will be out. The theme is Advance and Ascent… into hell, probably. We expect fright and other loathsome feelings to prevail. But, as usual, Starts with Dad is all about the unexpected.
You can see previous Starts With Dad films at www.startswithdad.tumblr.com. You will find human tissue obsessed housewives, deicidal squirrels, claymation testicles, jump rope gurus, blatant plagiarism, and lots else besides.
If you'd like to make something for our next screening contact Will at wswelles@gmail.com for additional details. Or just come and watch all the films. Some very well may be creepy, but all will be created by creeps, for creeps.