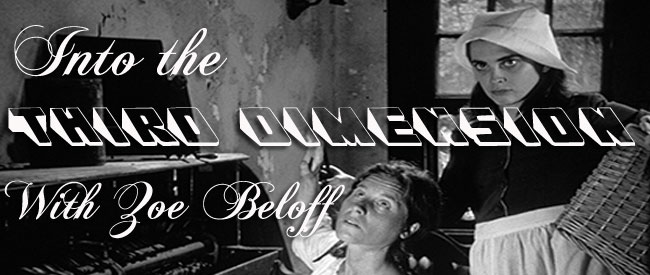 INTO THE THIRD DIMENSION WITH ZOE BELOFF

CHARMING AUGUSTINE (2005) in Stereoscopic 16mm!
SHADOW LAND OR LIGHT FROM THE OTHER SIDE (2000) in Stereoscopic 16mm!
MONDAY, OCTOBER 14 – 8:00PM

One night only! Director Zoe Beloff in attendance!

Spectacle is proud to welcome back Zoe Beloff, whose Coney Island Amateur Psychoanalytic Society Dream Films combined found footage, early Freudian analysis and the history of Coney Island into a series of films by turns hilarious, poignant and mysterious. She returns with further journeys into possession, hysteria and the virtual with two 16mm films in 3D! Rarely seen in this format, this is an opportunity to experience these films as originally intended, an opportunity not to miss.
CHARMING AUGUSTINE, 2005
Stereoscopic 16mm B/W, 40 min.
Beloff's works regularly combine historical research and flights of imagination, both of which play into Charming Augustine, an exploration of the effect the invention of motion pictures had on psychology. Augustine, an inmate at the Parisian asylum the Salpetriere, suffers from hysterical attacks of a very theatrical nature. Over the course of the film, what begins as a medical document of a patient's attacks changes into a subjective examination of her own experience as she becomes the "star" of the film at a time when notions of how cinema works had yet to be codified, finally concluding with her removing herself from the role she had created. Utilizing the stereoscope format similar to daguerreotype images, the viewer looks into a world where Sarah Bernhardt, D.W. Griffith and Eadweard Muybridge find connections in ways we in the 21st century might not otherwise find.
SHADOW LAND OR LIGHT FROM THE OTHER SIDE, 2000
Stereoscopic 16mm B/W, 32 min.
Inspired by Elizabeth d'Esperance's autobiography, this investigation of spiritualism, projection (in multiple senses) and the virtual looks at how subjective notions of insanity can be. It's also a look at the parallels between early cinema and stage magic, as "spook shows" incorporated lenses and projections to create the illusion of spirits interacting with the living. A young girl conjures imaginary friends, finding companionship until she is declared mad, later discovering her madness has a home in the vast spiritualist movement of the late 19th century. Compiled from magic lantern slides, stereoscopic recreations of documentary films and glass negatives, Shadow Land examines the female medium from both the passive sense (in that women were considered ideal subjects for possession due to their "docile" nature) and active, even transgressive sense (much of spiritualism connected with sexuality in ways terrifying to Victorian sensibilities).