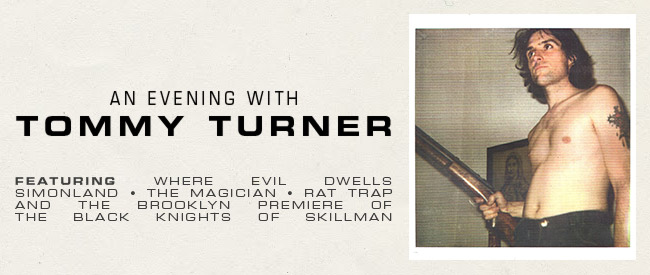 SATURDAY, OCTOBER 19 at 7:00 and 9:30 PM
Two shows! One night only! Turner in attendance for discussion at both shows with Rebecca Cleman, Distribution Director, Electronic Arts Intermix
Tickets available at the door
Spectacle is pleased to welcome Tommy Turner for a very special screening of works made in the mid-1980's and the Brooklyn premiere of his latest video, THE BLACK KNIGHTS OF SKILLMAN. Among the other work, we're pleased to offer a pristine, restored 16mm presentation of WHERE EVIL DWELLS, made in collaboration with David Wojnarowicz.
An artist working in print, performance, photography, and film, Turner is considered a key figure of Downtown No Wave Cinema. The New York native rose to prominence through his zine Redrum and collaborations, both in front of and behind the camera, with David Wojnarowicz and Richard Kern. In the mid-1980's, Turner directed a number of arresting small gauge films that have in the intervening years only gained the ability to inspire shock, awe, revulsion, and — depending on the audience member's orientation — deeply satisfying laughter. In a cinematic oeuvre running approximately feature length, his subject matter has touched upon Satanism, family dysfunction, heresy, taxidermy, addiction, dismemberment, dumbshit rock 'n' roll, arcane mysticism, torture, Evangelicism, murder, and misspent teenhood, all rendered in sadistically graphic detail that verges between clinical detachment and sardonic irreverence.
Among them is WHERE EVIL DWELLS (Super 8-to-16mm, 1986, 31 min.), co-directed with Wojnarowicz. The pair of friends became fixated on the recent story of Ricky Kasso, teenage heavy metal fan and self-described "Acid King" of Northport, Long Island, who became the subject of media hysteria when he committed the pseudo-ritual-satanic murder of a fellow teen in the woods while wearing an AC/DC t-shirt. Shooting off a script based on interviews with Kasso's friends, the pair ultimately edited their footage into a 30-minute "trailer" that represents an anarchic, assaultive, and wildly expressionistic take on what Wojnarowicz described as "the imposed Hell of the suburbs." It's complemented by a spectacular title song by Wiseblood (a collaboration between Roli Mosimann of Swans and J.G. Thirlwell of Foetus) and distorted hard rock radio jams.
In the unsettling, absurdist SIMONLAND (Super 8-to-video, 1984, 11 min.), made with Richard Kern, a televangelist leads his studio audience and isolated viewers through a psychotic game of Simon Says with grotesque results. THE MAGICIAN (Super 8-to-video, 1998, 9 min.), shot with Rick Rodine, features a chaotic melange of documentary, performance, and found footage to riff on the destruction of elements fire, water, air, and earth.
The program culimates in the Brooklyn premiere of THE BLACK KNIGHTS OF SKILLMAN, an HD experimental narrative shot on location at Flynn's Garden Inn, a neighborhood pub in Sunnyside, Queens, located around the corner from Turner's current residence. Cast with a colorful selection of roughneck regulars and freaks, SKILLMAN is an off-the-wall, gory gangster fantasy that is as much a neighborhood portrait as a journey into Hell. Having more in common with Blood Feast than Cheers, SKILLMAN has the feel of a collaborative effort while maintaining Turner's distinctive signature.
The films in this program are graphic and disturbing. Audience discretion is strongly advised.