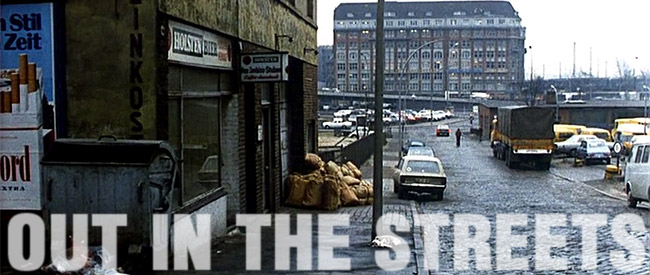 As a companion to our Anti-Valentines series, Spectacle finds company among the denizens of the streets: star-crossed hustlers, runners, cons, pushers, and peddlers. Taking a dimly romantic perspective of its subject, the films are mostly about a kind of damp, guttural love — a love marked by its elusiveness, its conflation with co-dependency, its ability to hurt.
Among the work is DUFFER, a staggering recent rediscovery about a bisexual London hustler torn between a loving prostitute and a wretched sadist. In THE DEVIL QUEEN, one of the first films about drug pushing in Rio's favelas, a gang war erupts after a ruthless queen tries to frame a common criminal to take the fall for his boyfriend. For this series, German cult classic SUPERMARKT also returns to Spectacle, following a young hood rolling through the gutters of the Reeperbahn turning tricks and plotting heists. Leonardo Favio's CHRONICLE OF A BOY ALONE is sort of an Argentinian take on ZÉRO DE CONDUITE, following a street kid who escapes reform school and returns to the streets. In THE ROSE SELLER, a fictional narrative is formed around incredible performances by impoverished Colombian youths selling drugs to the party-going leisure class. And A VIOLENT LIFE, which just barely predates Pier Paolo Pasolini's directorial career, is an unheralded adaptation of his controversial novel of the same name, featuring the similarly-themed ACCATONE's then-unknown star, Franco Citti.
Special thanks to The Shangri-Las for the inspiration.
---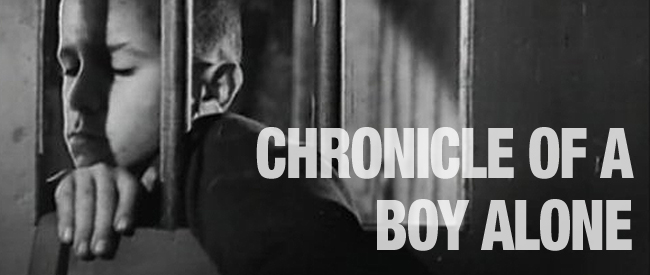 CHRONICLE OF A BOY ALONE
aka Crónica de un niño solo
Dir: Leonardo Favio, 1965
Argentina, 79 mins.
In Spanish with English Subtitles
SATURDAY, FEBRUARY 8 – 7:30 PM
SUNDAY, FEBRUARY 16 – 7:30 PM

Leonardo Favio was a popular Argentine singer and film director with a long-standing affiliation with a third-position corporatist political movement known as Peronism. In 1976, after the last military coup of the Dirty War—a period of state terrorism that led to the disappearance of tens of thousands of alleged dissidents—Favio fled Argentina and spent 11 years in exile. He returned to massive national popularity and recognition by Argentine film critics, and in 2010 the current Peronist-oriented president Cristina Kirchner appointed him Ambassador of Culture. He died two years later in 2012.
In 1965, while Argentina was in a nearly two-decade long state of exception during which the elections were staged by the military and Peronism was officially outlawed, Favio made his directorial debut, CHRONICLE OF A BOY ALONE. Banned for 30 years on suspicion of being an intentional wholesale critique of the military junta, CHRONICLE follows 11-year old Polin, who is sent to an orphanage where the children are abused and berated by the tyrannical staff. The institution functions as a sort of reform school where the children are conditioned to live normal, obedient lives. Virtually every adult figure is fascistic, and Polin is driven to act out against his oppressors. After a brief stint in prison, he escapes and returns to the slum where he grew up, only to discover that for those that society has deemed dispensable, freedom exists as only a name.
Although it is occasionally compared to Truffaut's 400 BLOWS and Vigo's ZERO FOR CONDUCT, CHRONICLE is far more brutal. There is no redeeming humanity in the authoritarian adults, no whimsical soundtrack, and no promise of salvation. Like Truffaut and his iconically ambiguous closing freeze-frame, Favio ends CHRONICLE with Polin gazing directly into the camera. But unlike Antoine Doinel, who experiences an uncertain freedom when he reaches the sea, Polin is carried off by a policeman, and his gaze is certain. Certain that he will never be free.
---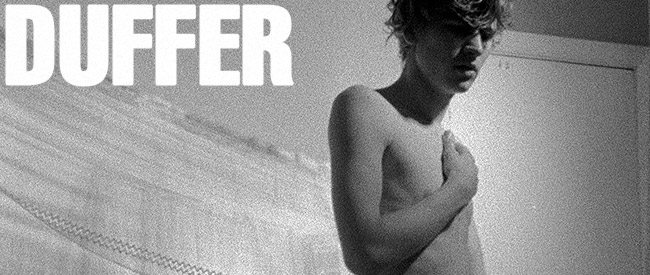 DUFFER
Dir. Joseph Despins & William Dumaresq, 1971
UK, 72 min.
MONDAY, FEBRUARY 3 – 10:00 PM
TUESDAY, FEBRUARY 11 – 10:00 PM
SATURDAY, FEBRUARY 15 – 7:30 PM
Note change in showtimes: the February 21 show has now been rescheduled for Saturday, February 15 at 7:30 pm.
A revelatory, recent re-discovery, DUFFER is an independent British psychodrama that plays like an unholy melange of Hubert Selby Jr. and David Lynch. In his only acting role, Kit Gleave plays the title character, a wayward hustler who wanders the London streets between two lovers: Your Gracie (Erna May), a tender, matronly prostitute, and Louis-Jack (co-director and writer William Dumaresq), a wretched sadist who's determined to control Duffer by having him bear his child. (You've read correctly.) As he contemplates love and codependency, Duffer's world grows increasingly unhinged, culminating in a number of whimsical and disturbing episodes traversing gutters, bedrooms, and back alleys.
Narrated entirely in voiceover, with Dumaresq himself reading in the voices of the characters, DUFFER is delivered in an amiable cadence that, like the literary voices of Humbert Humbert or the narrator of Poe's "Tell Tale Heart," belies the gradual exposure of paranoid fissures. It might be simply described as a dark comedy, but the rough and wistful DUFFER contemplates the darkest recesses of the aching heart and disturbed mind.
Special thanks to Joseph Despins and James King.
---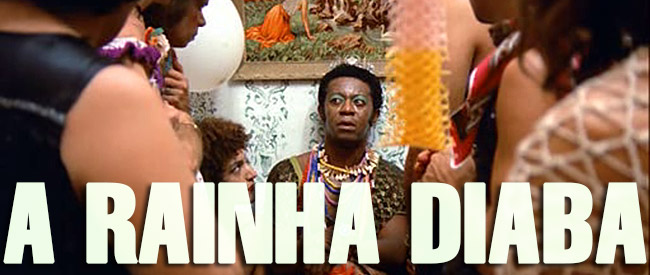 A RAINHA DIABA
aka The Devil Queen
Dir. Antonio Carlos da Fontoura, 1974
Brazil, 99 min.
In Portuguese with English subtitles
FRIDAY, FEBRUARY 7 – 7:30 PM
TUESDAY, FEBRUARY 18 – 7:30 PM
TUESDAY, FEBRUARY 25 – 10:00 PM
It was six years between Antonio Carlos da Fontoura's stunning debut, COPACABANA ME ENGANA, and it's follow-up, A RAINHA DIABA. If the former film bears the stylistic tropes of François Truffaut, then it might be said that the later was clearly influenced by weed. In a stunning change-up, the gritty, black-and-white, often loosely-choreographed cinematography is abandoned in favor of a shocking explosion of bright color to tell the story of The Devil Queen, a ruthless, pansexual, drug-pushing queen who runs Rio de Janeiro's favelas with a velvet-gloved fist.
A RAINHA DIABA is loosely based on the persona of Madame Satã ("Madam Satan," a name adapted from the Cecil B. DeMille film), ex-slave, drag performer, self-described homosexual, biological father of seven, convicted murderer, and legendary cabaret performer who was an outlaw hero in Rio's 1930's underground. Fontoura's contemporary seventies riff is also shaped by the director's admission that every time he smoked a joint, he wondered about the bloodshed that came with it. And the movie has no shortage of it, in garish, Hershchell Gordon Lewis red, chronicling the war that erupts in the streets after The Queen and his henchmen attempt to frame a small-time street hustler to take the fall for his boyfriend. Milton Gonçalves dominates the title role with a ruthless, wry performance that garnered him Brazil's preeminent Best Actor award. And Odete Lara (star of COPACABANA ME ENGANGA and Glauber Rocha's ANTONIO DAS MORTES) is also spectacular as the hustler's nightclub singer girlfriend.
Just as COPACABANA predates Scorsese's soundtracks and self-styled tough guys (motifs further developed here), A RAINHA DIABA is startlingly prescient of Pedro Almodóvar's subject matter and kitschy aesthetic approach, populated with a cast of hustlers, street walkers, addicts, and outcasts that would make fine Warhol superstars. (Come to think of it, this film also predates the Scorsesean montage where people run around with guns and slaughter each other over a thin wire of searing, acid-rock guitar.) A RAINHA DIABA was one of the first films to chronicle the culture of drugs and criminality that existed in Rio's favelas, but it forgoes the neorealist approach in favor of a nicely toasted version of Late Cinema Novo expressionism; there are oblique feats of subtly fried cinematography that appear as if they were processed not through the camera lens, but somehow willed into existence by tetrahydrocannabinol itself.
Basically, if you like weed, drag, and violence, then good news from Earth: you have a higher purpose this month.
[Trigger warnings: drug use, violence, sexual slurs, and a disturbing scene of torture.]
---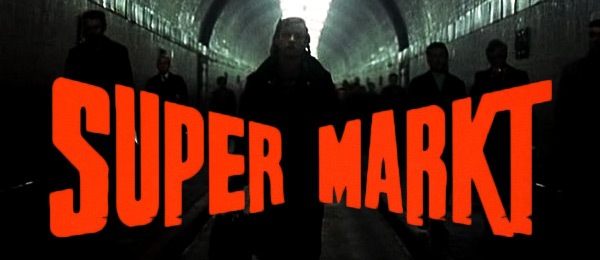 SUPERMARKT
Roland Klick, 1974
Western Germany, 80 min.
In German with English subtitles
SATURDAY, FEBRUARY 1 – 7:30 PM
SUNDAY, FEBRUARY 16 – 5:00 PM
Two years after packing the house during our Roland Klick retrospective, SUPERMARKT returns to Spectacle.
A growing cult classic among upcoming German filmmakers and writers, Klick's gritty masterpiece follows a young hood through the gutters of the Reeperbahn as he and other smalltime crooks plot a shopping mall heist to escape their welfare existence. Pitched somewhere between REBEL WITHOUT A CAUSE and TAXI DRIVER, this hugely stylized movie includes stunning photography by Jost Vacano (DAS BOOT, nearly all Paul Verhoeven movies), who essentially invented the steadicam on SUPERMARKT's set—two years later Garrett Brown would introduce his version on BOUND FOR GLORY to enduring fanfare. The proof is on screen, and audiences are treated to some richly choreographed, visceral sequences that veer between bare-knuckle social realism and sleekly orchestrated action.
Initially achieving a degree of commercial success, Klick was ostracized by the contemporary Young German Cinema filmmakers, whose smear campaigns essentially saw him written out of German film history both at home and abroad. Though we formerly described Klick as ripe for rediscovery, it's now underway: earlier this year, Klick was the subject of a documentary premiering at the Berlin Film Festival and shot partially at Spectacle during its 2011 retrospective.
Special thanks to Frieder Schlaich, Alex Jovanovic, and Filmgalerie 451.
---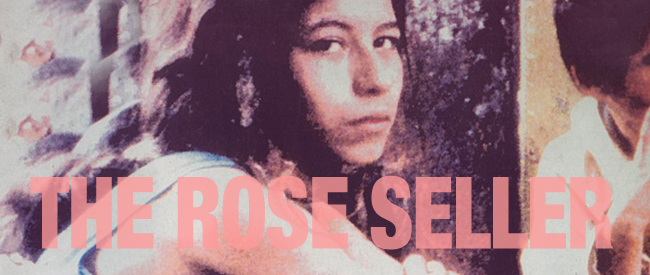 THE ROSE SELLER
aka La vendedora de rosas
Dir. Victor Gaviria, 1998
Columbia, 118 min.
In Spanish with English subtitles
SUNDAY, FEBRUARY 9 – 5:00 PM
TUESDAY, FEBRUARY 18 – 10:00 PM
Victor Gaviria became internationally known in 1988 for his Palme d'Or-nominated homage to Italian neorealism, RODRIGO D. NO FUTURE, which portrayed life in the slums of his hometown of Medellín, the second largest city in Colombia and one-time base of operations for Pablo Escobar's powerful drug cartel. Ten years later, Gaviria returned to Medellín, this time to give expression to the daily struggle of a group of teenage boys and girls who live in the city's peripheral shantytowns and survive through the informal economy, selling drugs and roses to clubgoers and the city's leisure class in the Carrera 70 and La Bolera districts.
Gaviria used Hans Christian Andersen's short story "The Little Match Girl" as a narrative framing device, expanding the temporal scope of the original story and significantly complexifying it, while retaining and adapting many details from Andersen's tale, replacing the titular matches with sparklers and having the young protagonist's vision of her grandmother be occasioned by a glue high. In a statement smacking of Christian charity, Gaviria described this framing device as a means of lending universality to the particular and untold story of the street children of Medellín, "a way for them to become complete people, in the sense of being recognized."
Of course, despite Gaviria's charitable gesture of granting the teenagers a way to temporarily direct their lives away from petty crime and the fleeting relief of cheap drugs, it did not fundamentally change the material conditions of their lives. After two years of getting to know the children and writing the script with them, and after the ensuing sixteen-week shoot, Gaviria nonetheless left, and the twin forces of poverty and state repression claimed the fates of his beneficiaries. Many of the teenagers died within a few years of the film's production, and star Leidy Tabares was sentenced to 26 years in prison in 2003.
---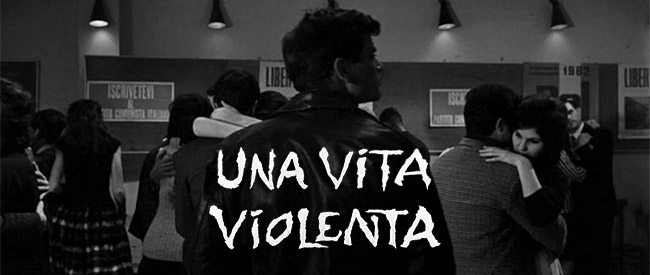 UNA VITA VIOLENTA
aka A Violent Life
Dir. Brunello Rondi & Paolo Heusch, 1961
Italy, 103 min.
In Italian with English subtitles
FRIDAY, FEBRUARY 14 – 7:30 PM
MONDAY, FEBRUARY 17 – 10:00 PM
Virtually forgotten, A VIOLENT LIFE is Brunello Rondi & Paolo Heusch's adaptation of Pier Paolo Pasolini's 1959 novel, one completed before Pasolini had begun directing his similarly-themed first film, ACCATTONE. Franco Citti, who also stars in that and other Pasolini films, plays Tommaso, a young hood living on the outskirts of Rome, flirting with Fascists and Communists, stealing garbage, assaulting strangers, visiting prostitutes and going to the movies. When he falls in love with a young woman, his life takes an unexpected turn.
A VIOLENT LIFE is an exceptional film overshadowed mostly by Paoslini's subsequent success as director. In the U.S., co-director Bruenllo Rondi is an unsung figure in Italian cinema. He was a career-spanning collaborator of Fellini who served as both writer and artistic advisor on 8 ½ and LA DOLCE VITA while also writing scripts for Rosselinni (THE FLOWERS OF ST. FRANCIS, EUROPA '51) and De Sica (A PLACE FOR LOVERS). His directorial career is almost entirely ignored: after UNA VITA VIOLENTA, he went on to direct the neo-realist exorcism movie IL DEMONIO. Following their dismal critical and commercial receptions he returned primarily to scriptwriting before helming a string of exploitation films in the 1970s.