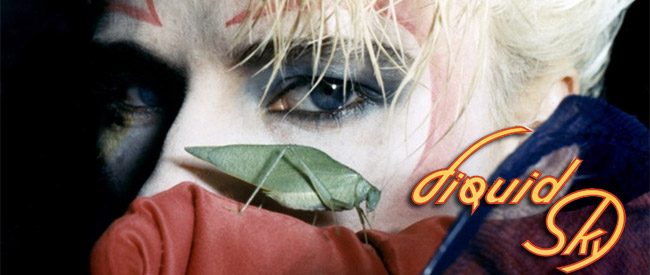 LIQUID SKY
Dir. Slava Tsukerman, 1982
USA, 112 min.
SATURDAY, FEBRUARY 1 – 10:00 PM
FRIDAY, FEBRUARY 7 – 10:00 PM
SATURDAY, FEBRUARY 15 – 9:30 PM
FRIDAY, FEBRUARY 21 – 8:00 PM (TSUKERMAN IN ATTENDANCE!)
Note: Due to a change in Mr. Tsukerman's schedule, he will now be appearing on Friday, February 21. Note also the change in showtimes on the Saturday, February 15 and Friday, February 21 shows.
Spectacle is honored to present the unforgettable cult classic LIQUID SKY—the story of a weekend in New York's hyperrealist, queer, neon, drug fueled, dangerous, and dystopian 1980s featuring cast of underground models, electroclash singers, shrimp-obsessed housewives, scumbag clubbers, addicts, necrophiliacs, and a German Ufologist. Deadpan humor and eroticism, satire and horror, camp and realism make LIQUID SKY several bolts of lightning striking the same bottle.
Tsukerman is currently working on LIQUID SKY REVISITED, a documentary about the film's production and cult history. Check out the IndieGoGo campaign.
Trigger warnings: Graphic Sexual violence and drug use.