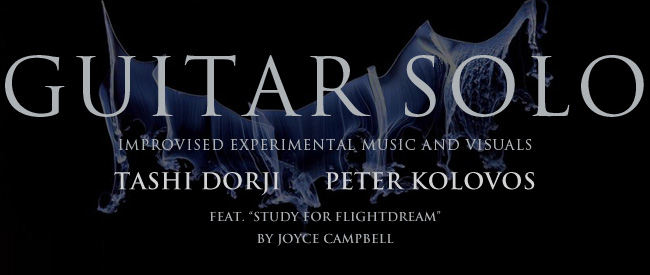 MONDAY NOVEMBER 18
PERFORMANCES FROM BOTH ARTISTS AT 8 AND 10 PM
STUDY FOR FLIGHTDREAM
Dir. Joyce Campbell, 2013
NZ/US. 20 min.
TBD
Dir. ???, ????
??. ?? min.
Music and movies, movies and music.  Unless you're of Stan's (Brakhage) Blood, you'll agree that film has Milo'ed (or Oti'ed) organized sound since pretty much the beginning.  What is cinema's favorite instrument?  I see you back there, waving to drop the Russian ANS Synthesizer.  For the purposes of this evening, I'm going to go with the GUITAR.
Join us for an evening of live scores with two unorthodox and exploratory slingers exemplary amongst the unorthodox and exploratory.  Dudes on guitar jamming to films?  Spectacle absolutely promises you no silly string – we like to think we know our jams and this jammy will be berry sweet and twangy.  Love dissolving to a smooth blues lick?  These sick six-squeezed and strangled sounds guarantee a ride into the sunset most avant.
Los Angeler Peter Kolovos makes a rare New York visit celebrating the recent release of his massive triple-LP release BLACK COLORS; he'll be tackling a new moving visual study by New Zealand artist Joyce Campbell.  Bhutan-born, Asheville NC-based Tashi Dorji handplucks _TITLE_TBD_ from the Spectacle yolodex; this will be Tashi Dorji's debut live performance in Brooklyn.
Tashi Dorji
"Tashi Dorji arrived in Asheville, North Carolina as an international student in 2000. He quickly fell in with the vibrant punk rock community, which flowed into free jazz, noise, experimental and other avant garde music.  His spirited improvisations—recorded live without any loops or effects—evoke a composite of influences from Derek Bailey to Mauritanian pulaar to the traditional music of his native Bhutan." – Free Music Archive
"Growing up in Bhutan with little access to music except random bootlegged cassettes and shortwave radio, I listened to anything i could find. We didn't have music school, TV or internet back then in Bhutan, so we had to use a lot of imagination and improvise what we thought we heard off of a tape player." – Tashi Dorji
"Guitar skill is tough to judge. Some covet Eddie Van Halen, others Sandy Bull, most droll work from The Edge or those guys in all the bands that sound happily alike. Tashi Dorji wants it all and none of it." – Tiny Mix Tapes
Peter Kolovos:
"Over more than a decade Peter Kolovos has created an incredibly physical and dynamic musical language using the electric guitar. He plays music that unpredictably flows from electrified fragments of sound which fold and expand in dense layers… Rather than set harmonic or rhythmic structures, he draws form from open sequences of sound events merged and propelled by a distinct internal logic. In his music Kolovos attempts to erase the line between intent and impulse and to create sounds that are immediate and unrepeatable." – courtesy of the artist
"Kolovos molds his tactile guitar noise into such an array of shapes, it sounds like some kind of monstrous hybrid of electronics, acoustics, and otherworldly machinery… a sonic kaleidoscope." – Pitchfork
"It's hard to think of anyone who has so convincingly disassembled the entire goddamn instrument with this kind of bloody-minded intent." – Volcanic Tongue
Joyce Campbell:
Joyce Campbell is an interdisciplinary artist based in Auckland and Los Angeles working in sculpture, photography, film and video installation whose recent work utilizes anachronistic photographic techniques to examine the collision of natural and cultural systems.  "Study for Flightdream" is a digital video short from a longer piece loosely based on a short story "Flugtraum" by the science fiction writer Mark von Schlegell.  The story charts the journey of a nameless protagonist as he plummets in a bathyscaphe into the ocean's greatest depths, searching for a monstrous creature and his own certain erasure in a climactic illuminated instant of consumption that is both visual and corporeal.  Both narrative and abstract, "Flightdream" draws on the techniques of structuralist and experimental film to create the illusion of dropping though a richly textured liquid environment populated by biomorphic objects.  Campbell has previously worked with Peter Kolovos on the artwork for his 2008 album "New Bodies" and this is the first opportunity Kolovos and Campbell will experiment with sound and image in the context of a live performance.