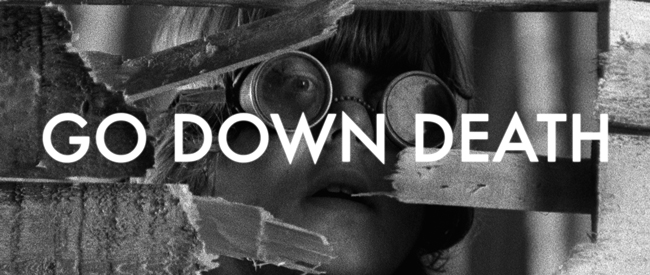 GO DOWN DEATH
Dir. Aaron Schimberg, 2013.
87 min. USA.
ONE WEEK WORLD THEATRICAL PREMIERE RUN!
FRIDAY, MARCH 28 – THURSDAY, APRIL 3, 2014

FRIDAY, MARCH 28 and SATURDAY, MARCH 29
10:00 PM (Filmmakers in attendance!) and MIDNIGHT (In Smell-o-Vision!)
NOTE: Advance tickets for 10:00 PM & Midnight on Saturday, March 29 are SOLD OUT online, but limited seating will be available at the door ($5 cash only).
SUNDAY, MARCH 30 through WEDNESDAY, APRIL 2
7:30 PM DAILY (Special Guests and Live Performances at All Shows TBA)
THURSDAY, APRIL 3
7:30 and 10:00 PM
For its first–and only?–narrative feature run, Spectacle is pleased to present Aaron Schimberg's staggering debut feature GO DOWN DEATH. Acclaimed as one of the most distinctive, visually stunning, and greatest undistributed films of the past year, it sits uneasily among rote indie festival programming. Naturally, we feel we make a great pair.
GO DOWN DEATH is a wry, sinister realization of a strange new universe, a cross-episodic melange of macabre folktales supposedly penned by the fictitious writer Jonathan Mallory Sinus. An abandoned warehouse in Greenpoint, Brooklyn, stands in for a decrepit village haunted by ghosts, superstition, and disease, while threatening to buckle under rumblings of the apocalypse. Soldiers are lost and found in endless woods, a child gravedigger is menaced by a shape-shifting physician, a syphilitic john bares all to a young prostitute, and a disfigured outcast yearns for the affections of a tone-deaf cabaret singer. Highlighted by offbeat narrative construction, stunning black-and-white 16mm cinematography, and immaculately detailed production design, GO DOWN DEATH is a distinctively original film informed by American Gothic, folk culture, and outsider art.
Accompanying the weeklong run will be appearances by writer/director Aaron Schimberg, producer/editor Vanessa McDonnell, and other surprises and performances including a pair of live SMELL-O-VISION midnights concocted specially for Spectacle's audiences.
Distributed by Factory 25
---
PRESS
'Go Down Death' is a Frightening Mainline into the Subconscious on VICE
Interview: 'Go Down Death' Director Aaron Schimberg Talks Structure, Reviews, And 'The Da Vinci Code' on IndieWire's The Playlist
Contemporary as Repertory: Aaron Schimberg and Jon Dieringer on Go Down Death at Spectacle on Filmmaker Magazine
CRITICAL PRAISE FOR GO DOWN DEATH
CRITICS PICK! "A captivating excursion into surrealist Americana…certain to leave audiences thinking, arguing, rejecting, celebrating."
-Alan Scherstuhl, Village Voice
#1 Best Undistributed Film of 2013
– Christopher Bell, IndieWire's The Playlist
"AN ASTONISHING, OUT OF NOWHERE FILM. Amidst all the cookie-cutter indies, Aaron Schimberg's Go Down Death casts a mysterious spell. A dreamy, highly stylized affair recalling early David Lynch. Highly recommended."
– Scott Macaulay, Filmmaker Magazine
"A UNIQUE, STRANGE, UNFORGETTABLE FILM, a half-remembered dream that will trouble and beguile the subconscious long after you've moved on. (A-)"
– Gabe Toro, IndieWire's The Playlist
"One of the best films of the year! An uncompromising feast of vision and atmosphere."
– Kentucker Audley, NoBudge
"Robert Altman meets Tod Browning…an immaculate, offbeat triumph. Rarely do homespun independent filmmakers convey such a distinctly original vision."
– Jon Dieringer, Screen Slate
"Irresistible! Evokes the great novels of William Faulkner, even as Go Down Death offers us a resolutely modern filmic experience. Schimberg appropriates the language of cinema and obeys only the rules he sets out for himself. The result is a thrilling leap into the unknown."
– Simon Laperrière, Fantasia
"Go Down Death is as eccentric and daring as American indie cinema gets."
– Matthew Campbell, Starz Denver