Spectacle is proud to present three films from New York underground film legend Beth B. To celebrate the opening of her new burlesque documentary EXPOSED, Spectacle takes a look back with Beth at earlier works in her long and illustrious career. Beth B will be in attendance at Spectacle on March 6 to do a post-screening Q&A for TWO SMALL BODIES, and an introduction to BREASTS and REVISITING DESIRE!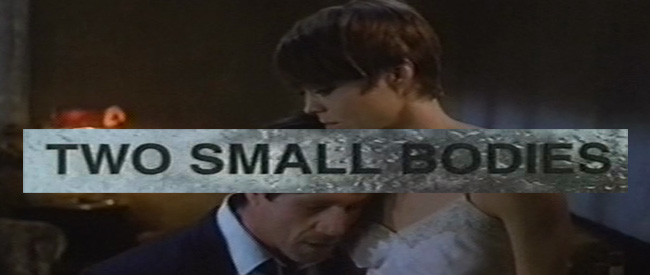 TWO SMALL BODIES
Dir. Beth B, 1993
USA, 89 min.
THURSDAY, MARCH 6 – 7:30 PM Followed by a Q&A with BETH B!
MONDAY, MARCH 10 – 10:00 PM
THURSDAY, MARCH 20 – 7:30 PM
Based off the 1977 Neal Bell play of the same name, TWO SMALL BODIES is an intense, two-person psycho-sexual power play of a movie. Suzy Amis plays a suburban mother (and strip club hostess) whose son and daughter mysteriously go missing, and Fred Ward is the trench coat-wearing detective whose job it is to find out what happened. As the investigation goes on, the two switch roles as hunter and hunted back and forth, and darker motivations are revealed.
The film is a theatrical-cinematic interpretation of the two-person play; most of the film takes place in a single location, and the two characters might as well be the only two people in the world. The two actors play off one another in subversive, thrilling ways, playing the audience as they play each other during the investigation. TWO SMALL BODIES is a taut, smart, riveting hour and a half.
---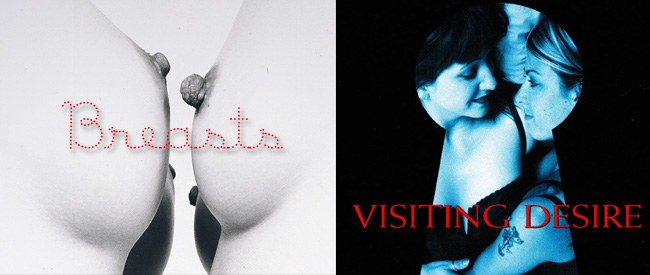 BREASTS
Dir. Beth B, 2001
USA, 9 min.
VISITING DESIRE
Dir. Beth B, 1996
USA, 70 min.
THURSDAY, MARCH 6 – 10:00 PM With an introduction by BETH B!
THURSDAY, MARCH 20 – 10:00 PM
SUNDAY, MARCH 30 – 5:00 PM
BREASTS, a short film produced and directed by Beth B for PBS, features interviews with author Francine Prose, Nerve.com's Publisher Rufus Griscom, and artist Martha Rosler. This 9-minute film examines the historical, religious, and cultural attitudes surrounding the most fetishized part of the female body — the breasts.
VISITING DESIRE, a feature documentary, first premiered at the 1996 Toronto Film Festival and Berlin Film Festival, and was then released theatrically. Beth B creates an unconventional documentary where people come together to act out a fantasy with a stranger. Visiting Desirefeatures Kembra Phahler, Lydia Lunch, Chloe Dzubilo and others.
"Edgy and compelling stuff–an unpredictable mix of comedy, drama and nervous energy."
–Bill Hoffmann, New York Post
"A thoroughly fascinating, sometimes excruciating, peephole-look at several unscripted encouters…walking a thin line between playfulness and perversity." — Linda Yablonsky, Time Out NY
"…a clever and revealing, amusing and serious experiment in which a group of people are invited to act out their fantasies with a stranger." — Kevin Thomas, Los Angeles Times