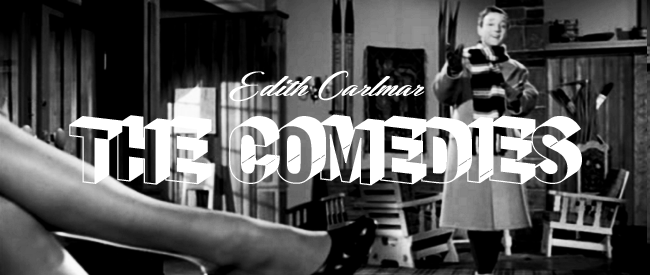 A singularly witty and dexterous auteur, Norway's pioneering female filmmaker Edith Carlmar is ripe for a reappraisal in world cinema. Carlmar and her husband Otto co-managed their own production company, Carlmar Film A/S, with which they collaborated with a diverse community of technicians, artists and performers – including the then-teenage Liv Ullman, whose debut lead at 21 was Edith's final film as director, The Wayward Girl. Making ten movies in as many years, the Carlmars built an astonishing resume in the 1950s before abandoning filmmaking forever when they were at the top of their game.
Today Edith's legacy suggests a nearly clear split between flinty, ice-cold film noirs – often evincing a rare female perspective – and romantic comedies that'll make your jaw drop even today with their sexual candor. She was in particular a master of eroticized close-ups and devastating quiet moments, never flinching from emotions (pleasurable or painful) most American directors wouldn't touch with a fork.
That said, Carlmar Film A/S was an unabashedly commercial enterprise, at a time of deeply felt prudishness in Norway. The Carlmars made hits for a popular audience, and proudly paid all their grants back to the government. Never betraying her blue-collar roots, Edith left the distribution rights to her entire catalog to FILMVETERANENE, a union of Norwegian industry veterans. Alongside them, Spectacle is thrilled to team up with the Norwegian Film Institute to blow the dust off these classics of Scandinavian cinema this autumn.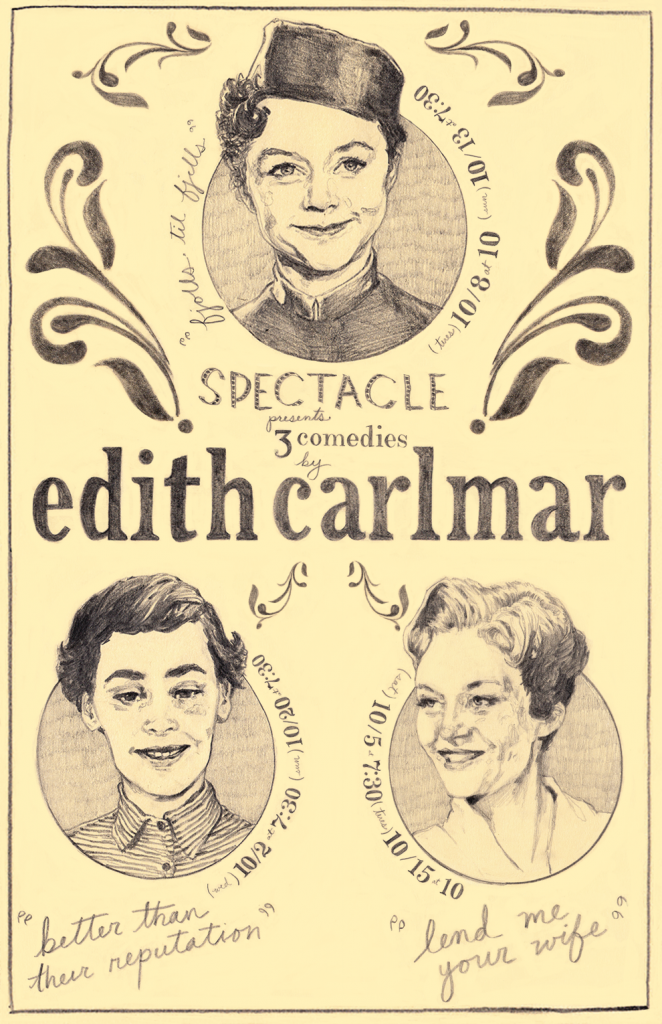 ( Series poster by Adria Mercuri )

---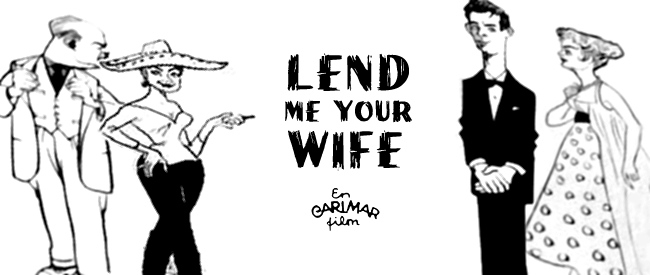 LEND ME YOUR WIFE
(Lån meg din kone)
dir. Edith Carlmar, 1958
83 mins. Norway.
In Norwegian with English subtitles.
SATURDAY, OCTOBER 5 – 7:30pm
TUESDAY, OCTOBER 15 – 10pm 
Bjorn, a clueless and coiffeured young executive in Norway's most prestigious company for all things baby – toys, diapers, pacifiers – is angling for a promotion. There's just one little problem: his company trades on an especially conservative imprimateur, and no young executive can advance himself without proving beyond a shadow of a doubt his own family-man status. For poor Bjorn, this means going out and finding a fake "wife" whom he can bring to company functions. Anita, the wife of Bjorn's woebegotten best friend, is more than game – but her addition to the seedy society of top-brass cocktail parties proves too much for both her husbands (fake and otherwise) to bear. As the young businessman falls deeper and deeper into his "innocent" white lie, his "wife" becomes the toast of the company for the widowed, horndog CEO – while his daughter falls head over heels for Bjorn, in a classic "complication comedy".
Carlmar's final comedy approaches male-female relations with a razor-sharp skepticism, immediately sniffing out both the perverse (the boss' obsession with his young, hotshot executive's sexpot wife) and profound (Bjorn's longing for a sweet, innocent girl) in equal measure. The filmmaker pulls no punches in her depiction of a backwards society that calls on men to be fake-macho and women to be fake-whorish in order to achieve higher career aspirations, the only relief doled out to the audience who are (rather generously) in on all the jokes. Lend Me Your Wife is a bruising, scintillating comedy in the tradition of Billy Wilder and Preston Sturges, sure to resonate with anyone ducking for cover in the eternal war between men and women.
---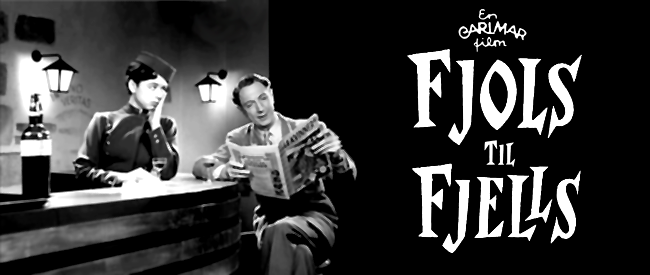 FJOLS TIL FJELLS
(Morons in the Mountains)
Dir. Edith Carlmar, 1957
90 mins. Norway.
In Norwegian with English subtitles.
TUESDAY, OCTOBER 8th – 10pm
SUNDAY, OCTOBER 13th – 7:30pm
"You are a disgrace to the Norwegian hotel trade."
Fjols til Fjells concerns an overworked concierge named Poppe (Leif Juster) at the swankiest ski lodge in the country, who takes on a bellboy to mitigate his stresses. Unbeknownst to Poppe, young "Rudolf" is actually Ruth, the bored socialite daughter of the lodge's owner, out to prove herself to her skeptical parents and get a taste of the working stiff's life. At the same time, renowned actor and playboy Teddy Winter checks in – ostensibly for some fresh mountain air, but in fact to prey on his legions of adoring female fans on skiing holiday.
A dour ornithologist checks in as well – only wrinkle is, Poppe can't tell him and the movie star apart (both characters are played by the same actor.) Hijinks, highballs and even a little romance ensue. Warm-hearted yet remarkably saucy, Fjols Til Fjells was one of the most biggest box office successes in Norwegian cinema and has endured as a cherished TV staple every Easter.
---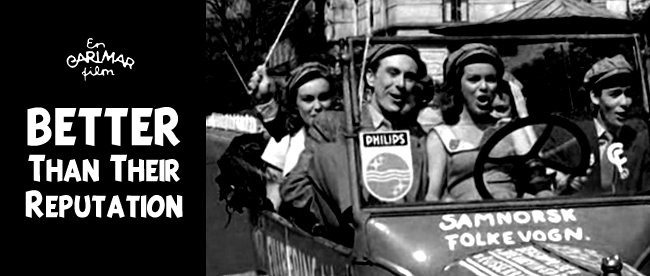 BETTER THAN THEIR REPUTATION
(Bedre enn sitt rykyte)
Dir. Edith Carlmar, 1955
87 mins. Norway.
In Norwegian with English subtitles.
WEDNESDAY, OCTOBER 2nd – 7:30pm
SUNDAY, OCTOBER 20th – 7:30pm
A high school story every bit akin to Dazed and Confused or Can't Hardly Wait, Better Than Their Reputationfollows a sweet-natured French student named Dag in love with his 20-something teacher Tone. But Dag's love is complicated by his hard-charging overachiever ex, Karin – and her ongoing liaison with Roald, Dag's best friend. Dag's classmates are quick to tease, but the film explores the ins and outs of the concept that their skepticism might have more to do with jealousy.
The screenplay (written by Carlmar and her husband Otto) doesn't miss a step, giving every character just enough gravity to make every class period and Friday night get-together loaded with the potential for an emotional – or comedic – blowout. Encircling the exam-obsessed final month of senior year, Carlmar paints a tender portrait of solidarity among friends nevertheless subject to change. Her teenagers are neither monsters nor squeaky-clean; just, the boys are boorish, and the girls are bored.