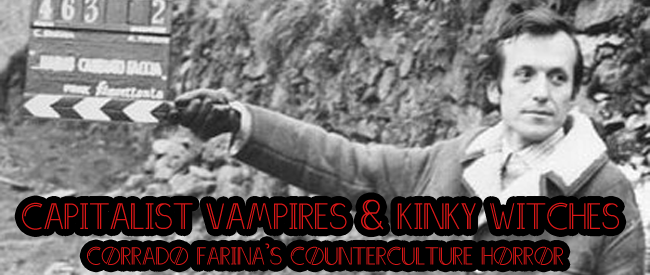 In the spirit of our annual Spectober horror film series, we present a retrospective on the Italian director Corrado Farina. Primarily known in his native Italy for his work as a novelist and a plethora of directing gigs outside of the film industry (television, news, documentary, industrial, advertising, etc), Farina also made two feature horror films in the early 70s that perfectly encapsulate the era's counterculture headiness in surreal fashion.
Following a stint at an advertising agency as a copywriter and commercial director, Farina moved to Rome to concentrate on pitching films. THEY HAVE CHANGED THEIR FACE, his first feature, transported the Transylvanian Dracula myth to the Italian countryside for a scathing satire of 'vampires-as-capitalists.' His follow-up, BABA YAGA, was even more ambitious, adapting adult comic legend Guido Crepex's surreal adventures of sexy Valentina and her be-witching compatriots to the big screen.
Farina faced difficulty in getting his third feature off the ground (the subject mater of his proposed third film- a variation on The Phantom of the Opera– eventually became his first novel, A Place In The Dark). Following his dissatisfaction, he soon returned to the world of advertising and documentary, and to this day remains active in Italy's media landscape: in 2006, Farina and his son, Alberto, completed a documentary called "Motore!" designed to be shown in Turin's "Museo del cinema" during the Winter Olympic Games!
His successful career notwithstanding, it's a shame that Farina wasn't able to secure financing for a third proper horror effort, as both THEY HAVE CHANGED THEIR FACE and BABA YAGA are unique anomalies in Italian horror. Less concerned with scares than exploring themes like anti-establishment and repressed sexuality, Farina employed the classic horror tropes of vampires and witches to channel the political, social, and sexual turmoil of early 70s Italy into two deliciously strange and subversive films.
Working with Italian distributor Videa CDE and US distributor Blue Underground, Spectacle is proud to present a two-film retrospective on a bold but neglected genre contortionist.
Special thanks to Corrado Farina, Alberto Farina, Federica Funaro, and William Lustig

---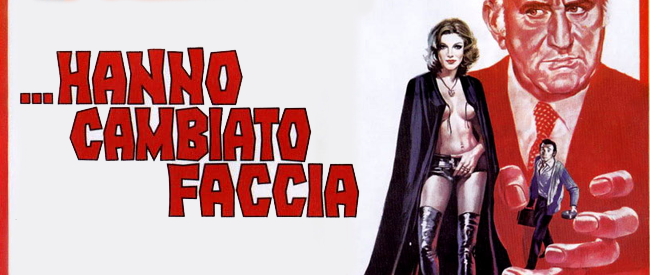 THEY HAVE CHANGED THEIR FACE
(aka …Hanno Cambiato Faccia)
Dir: Corrado Farina, 1971.
91 min. Italy.
In Italian with English subtitles.
Special thanks to Videa CDE
U.S. PREMIERE!
WITH CUSTOM ENGLISH SUBTITLES CREATED BY SPECTACLE!
FRIDAY, OCTOBER 4TH – 7:30PM
SUNDAY, OCTOBER 20TH – 10PM
Mild-mannered Dr. Alberto Valle is a diligent but low-level employee of a car company. Out of the blue, he is summoned to the estate of Giovanni Nosferatu, the company owner, to discuss a potential large promotion. Following an encounter with a topless hippie hitchhiker, Dr. Valle arrives at the gothic mansion and exchanges pleasantries with Nosferatsu, but then the boss mysteriously disappears for large chunks of time, leaving Dr. Valle to enjoy the company of Nosferatu's obedient, extremely pale secretary Corrina (played by Deep Red's Geraldine Hooper). Soon enough though, Dr. Valle discovers a casket crypt on the outskirts of the villa and a mysterious chamber with newborn children and a large book containing his own baby photo with an inscription: C.E.O.
Complimented by classic vampire film staples (endless heavy fog, superstitious villagers), Farina manages to breathe new life into the genre with a strong current of sly humor throughout the film, including an eerily foretelling running gag involving advertising slogans blasting through speakers whenever Dr Valle uses a household appliance. However, the film's dark nature comes not from the amount of on-screen deaths, but its scathing political tone.
While infused with a devilish wit and satirical edge (including a showstopper boardroom scene that brilliantly riffs on organized religion, deceptive sloganeering, legalized drug use, Jean-Luc Godard, Federico Fellini, AND Marquis de Sade), THEY HAVE CHANGED THEIR FACE unveils itself as a harsh critique of consumerism as vampirism, portraying corporate heads as bloodsucking capitalists hellbent on ensuring marketplace dominance and the eradication of individual freedom. Instead of biting necks to keep living, its to convert the free spirits to a submissive, business-minded lifestyle. Ultimately, Farina suggests the true horror is that the current system will never be defeated, but inevitably grow and accumulate more lobotomized victims.
Unreleased in America for over 40 years, Spectacle is proud to host the US premiere of a vital piece of 70s Italian horror cinema, complete with custom English subtitles created exclusively for these screenings!

---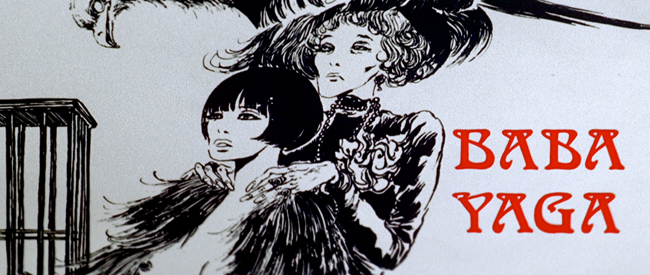 BABA YAGA
(aka Kiss Me Kill Me)
Dir: Corrado Farina, 1973.
91 min. Italy.
Dubbed into English.
Special thanks to Blue Underground
THURSDAY, OCTOBER 3RD – 10PM
SUNDAY, OCTOBER 27TH – 7:30PM
Loosely based on the incredible black & white erotic fumetti comics of Guido Crepax, Farina brings to life the story of Valentina (doe eyed Isabella de Funes), a liberated fashion photographer who finds herself unwittingly thrown into a psychedelic nightmare of sapphic proportions.
On her way home from a soiree one evening, Valentina is almost struck by a vehicle while attempting to save a stray dog. It's there she crosses paths with the peculiar Baba Yaga (legendary sex symbol Carroll Baker), a mysterious, brooding woman who soon fixates upon her. Unsettled by their encounter, Valentina begins to suffer a surreal collection of erotic and fetish-inspired dreams featuring executions, Nazi soldiers and dark holes with no bottom.
One of the most stylish and hallucinatory horror offerings of the 70s, BABA YAGA sees Farina trying out bold editing techniques (including a sex scene that incorporates Crepax's comic strips) and interweaving Valentina's reality with her dreams until their indistinguishable, leading to a kinky and mind-bending climax.
Awash in impeccable, zeitgeist-y costume design and a slick layer of soft core playfulness, BABA YAGA is Euro-mod-sleaze at its most entertaining and bizarre.