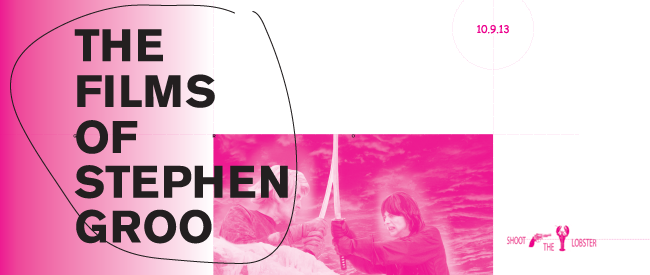 WORLDS WITHOUT NUMBER: THE FILMS OF STEPHEN GROO
A Shoot the Lobster event
Organized by Jason Metcalf (will be in attendance!)
WEDNESDAY, OCTOBER 9 – 7:30 PM & 10:00 PM
Spectacle Theater and Shoot the Lobster are pleased to present a selection of music videos, shorts, and a feature film by the Utah based filmmaker STEPHEN GROO. Many of the selected works will be screened publicly for the first time.
Creating his work as Utah Wolf Productions for over fourteen years in the city of Provo Utah, Stephen Groo has been described by the filmmaker and artist Chris Coy as "an enigma—a highly prolific filmmaker with a body of work that speaks to his force of will and creative vision while exposing the limitations of the backyard blockbuster. His 125+ short films, music videos, feature films, and training videos have it all: mermaids, vampires, elves, angels, sailors, schoolgirls, devils, damsels, zombies, soldiers, she-hulks, and real-life action heroes. These figures populate worlds without number, a pastiche of popular culture collaged from Michael Bay movie posters and Saturday morning cartoons.
As a viewer, it's natural to laugh at the limitations of a film by Stephen Groo. We laugh as we recognize the obvious imperfections in his homespun narrative fabrics. We laugh at the production gap between Hollywood and Utah County. We laugh because Fantasy is uglier than casting agents have led us to believe. We laugh (nervously) at the possibility of our own inclusion as actors in a Utah Wolf Production. We laugh, immensely pleased with our advantaged position as passive spectators. Like the royals in Shakespeare's A Midsummer Night's Dream, we laugh as Bottom's amateurish theatre troupe faithfully performs "a most lamentable comedy." But if we succumb to laughter only, we miss what's crucial: the implicit belief that art can save the world. That imagination is real.
Art is, in fact, saving the world for Stephen Groo. It's saving the world for his players, too. It's saving all of our worlds—circumscribing them inside a shared universe that desperately needs Fantasy to fight back the Dark Lords of Reality. Like Bottom, Groo freely cavorts with the humans and the fairies, modeling the transformative potential of art and the euphoric freedom of abandonment to the wildness of make-believe.
From "Groo and His Players" Chris Coy, Utah Biennial Catalogue, 2013. Utah Biennial: Mondo Utah curated by Aaron Moulton at Utah Museum of Contemporary Art

WEDNESDAY, OCTOBER 9 – 7:30 PM
SELECTIONS FROM MUSIC VIDEOS, VOLUME ONE
Dir. Stephen Groo, 2010
USA. 15 min.
From clones to European Men in Black, this selection from Utah Wolf Productions' Music Videos Volume 1 features some of the earliest works of Stephen Groo. The special effects and 3D animations are out of this world. Sit back and enjoy the ride!
RUBI
Dir. Stephen Groo, 2012
USA. 75 min.
The most recent Stephen Groo film, Rubi is the story of a young woman who has everything taken from her that she holds dear by the evil criminal Richard Lions (Dallin Haws). After mourning the loss of her family, and under the guidance of the skilled mercenary Henry (Stephen Groo), Rubi (Hailey Nebeker) trains to destroy her nemesis, ultimately preparing for the battle of her life. Utah Wolf Productions has announced that Rubi will their "last full length feature".
WEDNESDAY, OCTOBER 9 – 10:00 PM
MUSIC VIDEOS, VOLUME 2
Dir. Stephen Groo, 2010
USA. 28 min.
Music Videos, Volume 2 features some of the best music videos of Stephen Groo. In Tribute to Utah, (publicly broadcasted on a local Utah television news station) Groo travels with his wife and children to a significant number of towns in the Beehive State in order to stand in front of welcome signs that bear the name of each municipality, all in sync with his lyrical adaptation to the Beach Boys' Kokomo. Other music videos from Volume 2 feature Groo and company dancing and singing to popular songs as sailors, boy bands, fairies, and frogs.
LION BEAR WHALE?
Dir. Stephen Groo, 2008
USA. 4 min.
Lion Bear Whale? was Utah Wolf Productions' first commercial project, commissioned by the Provo Utah based band, Mathematics Etcetera. The video literally interprets Mathematics' song by casting the band members as a lion, a bear, and a whale as they sing lyrics that coincide with their costumes. Lion Bear Whale? is one of Utah Wolf Productions' only works that does not feature Stephen Groo.
TALE OF MERMAIDS
Dir. Stephen Groo, 2006
USA. 4 min.
In Tale of Mermaids, a New York City reporter Will (Aaron Parker) is sent to Ireland to catch the story a lifetime. While investigating the legend of mermaids, fantasy and reality meet as he falls in love with a mysterious woman who isn't what she seems. Will must decide what matters most, his heart or his career.
SHIKITO
Dir. Stephen Groo, 2007
USA. 10 min.
Anime realms come to life in this classic Stephen Groo film pitch trailer. While mourning and forgiving himself for the loss of his wife, Shikito must face his evil rival Drachen with the aid of his friends Connor and Tenki. Filmed in the snowy alpine mountains of Utah, Shikito is filled with action-packed samurai sword fighting, suspenseful confrontations and powerful energy balls.