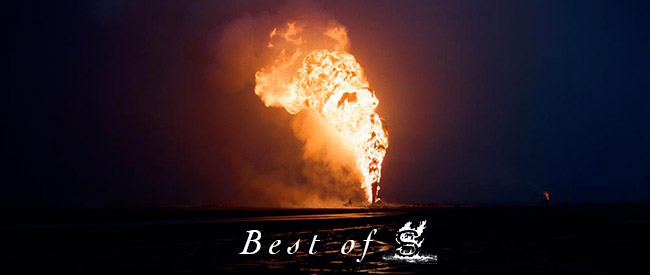 To mark the conclusion of Spectacle's 5th full calendar year of operation, our programming collective has selected their favorites from among our regular series features shown throughout the past 12 months. The result, BEST OF SPECTACLE (aka BoS2K15), provides an opportunity to revisit some of 2015's greatest discoveries, thrills and audience-pleasers.
As the year draws to a close, Spectacle would like to acknowledge the audiences, artists and distributors who have pitched in their support, vision and feedback. Thank you for another brilliant year! We'll save you a seat in 2016.
LIVING STARS
HARD TO BE A GOD
YOU CALL THIS PROGRESS!? ALYCE WITTENSTEIN AT SPECTACLE
PULGASARI
HEAD SPACE: AN ANIMATION SHOWCASE
FERAT VAMPIRE
DOROTHEA'S REVENGE
AKOUNAK TEDALAT TAHA TAZOUGHAI
WHITE OF THE EYE
BAKENEKO: A VENGEFUL SPIRIT (aka THE CURSED SWAMP)
TROUBLE EVERY DAY
GOLEM
---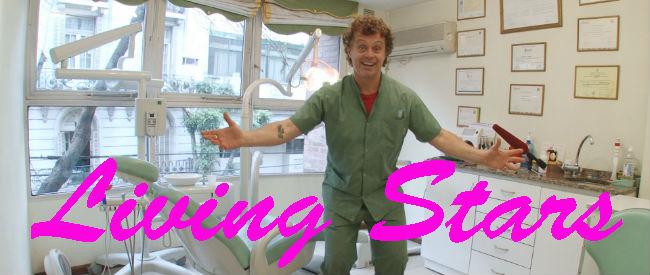 LIVING STARS
Dir. Mariano Cohn & Gastón Duprat, 2014
Argentina, 63 min.
TUESDAY, JANUARY 12 – 10 PM
SATURDAY, JANUARY 23 – 7:30 PM
SUNDAY, JANUARY 31 – 5 PM

This remarkable, moving documentary presents dozens of real people in Buenos Aires, in long static tripod takes, simply dancing to pop music. In their kitchens, offices, and garages, identified in the film by their name and occupation, they include all ages, diverse lifestyles and all levels of talent, each with a common and infectious enthusiasm. In the background, their pets, families and friends go about their lives – playing video games, welding, reading magazines, watching with amusement or joining in. Everything in the frame, both incidental and carefully arranged, contributes to a loving portrait of each person, and of the universal qualities of all people. The seemingly simple premise has an overwhelming cumulative effect of shared humanity and pure joy, consistently surprising and endlessly fascinating.
"There's a world of backstory in the details: the mom willing to steer a fan so her son's cape will flap in the breeze, the brother who rolls his eyes as his older sister gets sexy, the daughter who can't stop laughing as her dad shakes it to the Spice Girls. I've never seen anything that gave me more hope for equality and tolerance than a young man in his kitchen in full drag grinding it to "Toxic" in front of his entire family. When his wig flies off, grandma leaps to hand it back, and as he slipped it back on with a diva flourish, the crowd around me burst into applause." – LA Weekly
---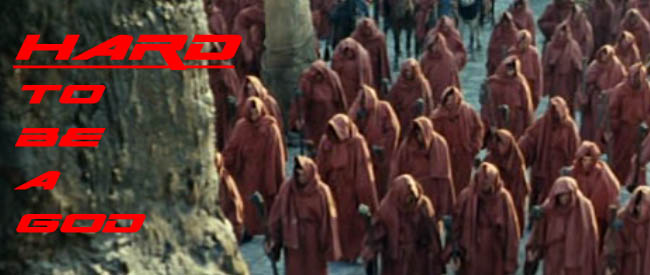 HARD TO BE A GOD
aka Es ist nicht leicht ein Gott zu sein
Dir. Peter Fleischmann, 1989
West Germany/France/Switzerland/USSR, 119 min.
In German with English subtitles
TUESDAY, JANUARY 5 – 7:30 PM
FRIDAY, JANUARY 15 – 10 PM
TUESDAY, JANUARY 19 – 7:30 PM
THURSDAY, JANUARY 28 – 7:30 PM
Part of Peter Fleischmann: Trolling the Backwaters series.
Featuring "I Offer Unto Thee Something Beautiful, Something Burnt" by Antoni Maiovvi from the "Battlestar Transreplica" EP released on Seed Records.
Following the recent release of Aleksei German's long-awaited, grimly visceral masterpiece and testament, HARD TO BE A GOD, Spectacle is proud to present Peter Fleischmann's much less lauded, sometimes heavily ridiculed, adaptation of the same source novel. With a broader color palette, a more intelligible narrative, a more merciful runtime, and bigger hair, Fleischmann's version is more likely to draw comparisons to HIGHLANDER and CONAN THE BARBARIAN than to THE COLOR OF POMEGRANATES.
On a distant planet with a human civilization centuries behind that of Earth, the warrior Rumata—who is really Anton, an earthling scientist in disguise—is forced to assume the throne of the city-sate of Arkanar, which has just been vacated by King Pierre Clémenti (LES IDOLES, THE YEAR OF THE CANNIBALS, PIGSTY). Anton is on a quest to reach the city of Irukan to find the fabled scholar Budach, who he believes can single-handedly launch a Renaissance and pull this violent world out of its dark ages.
Co-written by Jean-Claude Carrière (frequent collaborator of Pierre Étaix and Luis Buñuel and screenwriter of THE TIN DRUM) and featuring Werner Herzog as a scheming merchant, Fleischmann's HARD TO BE A GOD offers a lusher, giddier rendition of the legendary Strugatsky brothers' novel.
---

YOU CALL THIS PROGRESS!? ALYCE WITTENSTEIN AT SPECTACLE
THURSDAY, JANUARY 7 – 7:30 PM
FRIDAY, JANUARY 12 – 7:30 PM
TUESDAY, JANUARY 19 – 10 PM
SUNDAY, JANUARY 24 – 7:30 PM
Alyce Wittenstein has been called the "Queen of the New York Underground" and once again, Spectacle is pleased to play host to the films making up her MULTIPLE FUTURES trilogy. These films are jam packed with familiar faces, exquisite set pieces, snappy dialogue, and dazzling costumes. While the films have indeed been shown the world over, these encore screenings will be the first second in New York in almost two decades. Join us for these remarkable films in a celebration of science fiction, hilarity, character actors, and ghastly view of a not-too-distant world.

BETAVILLE
Dir. Alyce Wittenstein, 1986
20 min.
The first in what would come to be known as the MULTIPLE FUTURES trilogy, BETAVILLE – a post-modern nightmare – finds a down and out detective Coman Gettme (played by Wittenstein mainstay Steve Ostringer) returning to his hometown after a chance meeting with The Girl (Holly Adams). Once the two arrive in Gettme's Cadillac things immediately go from bad to worse for this gumshoe when he learns, over a slice at Stromboli's, that High Fashion is the new law in town. Gettme becomes obsessed with The Girl and is determined to meet back up with her and "save" her from the these fashionable fascists.
BETAVILLE kicks off the trilogy in a pitch perfect send up of the French New Wave and science fiction, and turns noir on it's ear while (literally) running through some familiar parts of NYC. Holly Adams is nothing short of dynamite and Ostringer's distinctive production design would lay the groundwork for the look of the films to come. Years before becoming Brewmaster at the Brooklyn Brewery, Garrett Oliver was co-producer on the film. The short would go on to be nominated for a number of awards at festivals and play all over the world – often (unsurprisingly) alongside Godard's ALPHAVILLE.
"Most of the detective narrator dialogue is clever, the cinematography is excellent, and I liked the (sort of) industrial music and the song by the Singing Squirrels." – Michael J. Weldon, Psychotronic Magazine#2, 1989.

NO SUCH THING AS GRAVITY
Dir. Alyce Wittenstein, 1989
40 min.
In the not too distant future the LaFont corporation has all but taken over Earth. The company has revolutionized all elements of style, beauty, education, and housing but in the process (progress?!) has shipped many of Earth's more "useless" inhabitants to the mysterious man made planet – and the largest scale experiment in human history – known as Nova Terra. Two scientists – Kay Zorn (Holly Adams) and Albert Leenhardt (Steve Robinson) are about to receive a prestigious award for their work on the LaFont Facelifter when they learn that Nova Terra is disrupting the Earth's gravitational pull and will soon collide if it's not destroyed. A headstrong lawyer and Kay's boyfriend – Adam Malkonian (a scenery chewing Nick Zedd) – mouths off to a judge (the incomparable Taylor Mead – RIP) while defending a human teacher and is ordered to be relocated to the doomed planet. After meeting with the ambassador of Nova Terra (Emmanuelle Chaulet of Eric Rohmer's BOYFRIENDS AND GIRLFRIENDS), Malkonian learns that perhaps the LaFont Corporation hasn't been entirely truthful about what really happens on Nova Terra and vows to stop the destruction.
Wittenstein's first sync sound film is overflowing with amazing set pieces and incredible performances. Some scenes were shot at the New York Hall of Science – including an Ames room and a number of other dazzling optical illusions. Look out for cameos from Michael J. Anderson (TWIN PEAKS), Wittenstein's father as the insidious Andreas LaFont, and the director herself on Nova Terra.

THE DEFLOWERING
Dir. Alyce Wittenstein, 1994
40 min.
"The crisis consists precisely in the fact that the old are dying and the new cannot be born; in this interregnum a great variety of morbid symptoms appear." – Antonio Gramsci, Prison Notebooks.
The quote above opens Wittenstein's third and final film – THE DEFLOWERING. Again featuring some of Wittenstein's tried and true players – Holly Adams, Emmanuelle Chaulet, Taylor Mead, and more – the film concerns yet another evil corporation this time HUXLEY BIO-TECH and their means to sanitize/beautify this world of ours. This time Wittenstein (with Ostringer back on production design) takes the costuming helm as well.
The TIB (Total Immune Breakdown) virus has left the planet reeling and lethal allergic reaction are at an all time high. Huxley's efforts to produce perfect, designer children that are immune to viruses have had the side effect of hyper-allergic reactions. Why isn't anything being done about allergies? No one wants to fund it! With the mortality rate skyrocketing, can mankind bounce back and feel the soft caress of skin against skin ever again or will the line at the Holo-Memorial Funeral Home grow ever longer?
---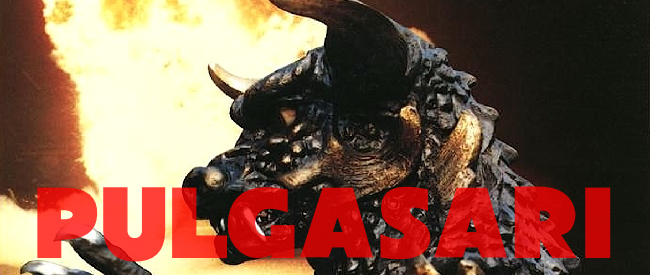 PULGASARI
aka Bulgasari
Dir. Sang-ok Shin, 1985
North Korea, 95 min.
In Korean with English subtitles
SATURDAY, JANUARY 9 – 10 PM
THURSDAY, JANUARY 14 – 7:30 PM
MONDAY, JANUARY 18 – 10 PM
THURSDAY, JANUARY 28 – 10 PM
Part of the Juche Your Illusion I: Cinema of North Korea series.
Over the span of 20 years, Sang-ok Shin – sometimes called "the Orson Wells of South Korea" – made upwards of 60 films but all that changed in 1978 when the studio closed. Things would go from bad to worse when in what should be an unbelievable turn of events, Shin and his wife (actress Choi Eun-Hee) were kidnapped by Kim Jong-il. Kim's intent was to have Shin create films showcasing the power and might of the Korea Workers Party for all the world to see, with Choi Eun-Hee as their star. Before their escape to Vienna in 1986, and after years in prison camps, they would make 7 films – PULGASARI being a crown jewel among them.
While seemingly an obvious Godzilla rip-off, the film is about an evil king in feudal Korea who learns of a coming peasant rebellion. The king gathers all the metal he can find – farming tools, cooking pots, etc – to make into weapons to squash the small army. A dying blacksmith uses the last of his strength to create a monster made of rice – Pulgasari. When his daughters blood hits it, the monster comes to life and traverses the countryside, eating iron – as monsters are wont to do.
Not seen outside of Korea for over a decade after its release, the film has gained a cult following for its special effects – with Kenpachiro Satsuma who was Godzilla for over a decade in the Pulgasari costume!
---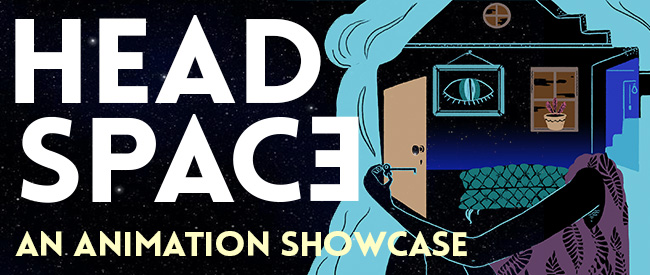 HEAD SPACE: AN ANIMATION SHOWCASE
Various, 1978-2015
66 min
FRIDAY, JANUARY 8 – 7:30 PM
WEDNESDAY, JANUARY 13 – 10 PM
THURSDAY, JANUARY 21 – 7:30 PM
SUNDAY, JANUARY 24 – 5 PM
FRIDAY, JANUARY 29 – 10 PM
Spectacle is proud to present HEAD SPACE, a showcase of animated works exploring dimensions both interior and outlying. Featuring an extremely talented and creative group working in a diverse array of styles, the shorts wander through strange and sometimes sketchy landscapes, including alternate-universe appliance stores, the ramblings of Charles Manson, environmental catastrophes in the Dutch style of painting, and a houseplant's musings. Some, like Sally Cruikshank's Make Me Psychic, are established classics; others feature newer animators working in looping GIF format, presented away from the small screen's momentary pleasures to fully appreciate the art that it is. Occasionally gross, often beautiful, and always interesting, HEAD SPACE is a sampler of the thoughts happening inside and out of each frame.
Featuring works by:
---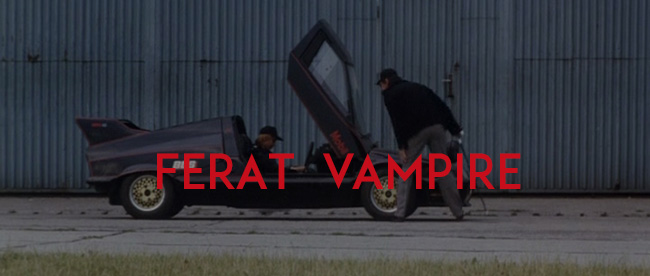 FERAT VAMPIRE
A.k.a. Upír z Feratu
Dir. Juraj Herz, 1981
Czechoslovakia, 94 min.
In Czech with English subtitles.
TUESDAY, JANUARY 5 – 10 PM
SATURDAY, JANUARY 16 – 10 PM
MONDAY, JANUARY 18 – 7:30 PM
WEDNESDAY, JANUARY 27 – 7:30 PM
Part of the Bohemian Delirium: Czech Horror in the 80s and 90s series.
While Juraj Herz honed his horror chops on THE CREMATOR and gothic-psychedelic past Spectober favorite MORGIANNA, FERAT VAMPIRE may actually be his best. A sinister car corporation prepares to launch the Vampire, a flashy, modernist sports car with very peculiar engineering, mysteriously low gas requirements, and a flurry of marketable rumors of death and danger that international press constantly eats up. An ambulence driver (director Jiri Menzel, who snagged one of those 60s Best Foreign Film Oscars for CLOSELY OBSERVED TRAINS!) suspects something is up after his ex-racecar driver partner (Dagmar Havlová, later first lady of the Czech Republic!!) falls under the spell of the prototype. Soon, both are drawn deep into a stylish surrealist noir of hidden motives, doubles, corporate marketing machinations, and Cronenbergian bio-mechanical terror (actually arguably referenced by Cronenberg for Videodrome two years later!) As reality dissolves, even the logical linking scenes get taken over by absurdist vignettes of our uneasy symbiosis with the automotive world.
---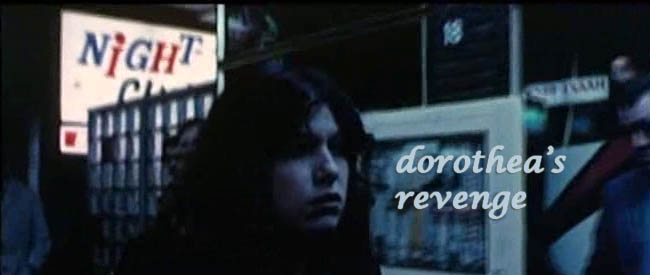 DOROTHEA'S REVENGE
aka Dorotheas Rache
Dir. Peter Fleischmann, 1974
West Germany/France, 92 min.
In German with English subtitles
WEDNESDAY, JANUARY 6 – 7:30 PM
MONDAY, JANUARY 11 – 10 PM
FRIDAY, JANUARY 22 – 10 PM
WEDNESDAY, JANUARY 27 – 10 PM
Part of Peter Fleischmann: Trolling the Backwaters series.
The shortlist of fans for Fleischmann's sex satire is nothing to scoff at. Among its most ardent fans were several household names of European arthouse: Bernardo Bertolucci, Pier Paolo Pasolini, and Claude Chabrol. Then there's the post-surrealist group the Panic Movement (comprised of Fernando Arrabal, Alejandro Jodorowsky, and Roland Topor) who liked the film so much that they even decided to bestow upon the film a little reward—the "prix du group panic."
Dorothea is a 16-year old girl from Hamburg, brought up in a typical, bourgeois family. This changes one day when she comes down for breakfast and her parents find her completely disheveled—a Martian has just raped her. So begins Dorothea's sex odyssey, as she seeks to understand her body and its various uses in an incereasingly consumerist society. The key to the film is that she approaches these question of sex with every ounce of naiveté common to a young girl. She tries to make softcore porn with her friends, and when that doesn't work, she gives prostution a turn, and so on and so forth. There's seemingly no end to this excursion.
Fleischmann proved that he could produce biting political commentary within the confines of fiction in HUNTING SCENES FROM BAVARIA. Eschewing the traditional narrative scaffolding and riding on the back of a sex wave in European cinema—Vilgot Sjöman's I AM CURIOUS (YELLOW), Dušan Makavejev's WR: MYSTERIES OF THE ORGANISM, and the films of Walerian Borowczyk are key predecessors—Fleischmann enlists a slew of experimental techniques, like having the characters routinely break the fourth wall and construing a hodge podge of stylistically contradictory scenes, from conversations with Christ on the cross to BDSM rituals. Moreover, humor is a constant presence, something that can't be said for many of the period's Eurotrash sexploitations. In one scene, there's a shot of three men getting an erection, played to brassy, courtly music. It's the promise of entertainment that gives an otherwise powerful political satire its enduring glow.
---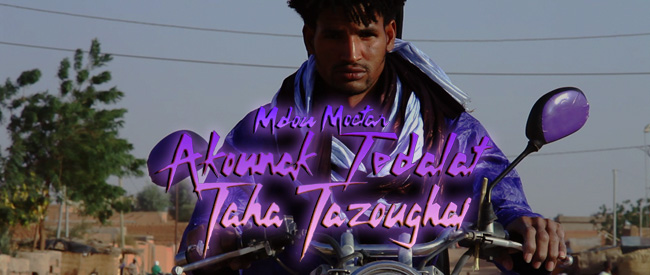 AKOUNAK TEDALAT TAHA TAZOUGHAI
aka Rain the Color of Blue with a little Red in it
Dir. Christopher Kirkley
Niger/United States
2015, 75 min
In Tamashek with English subtitles
SATURDAY, JANUARY 9 – 7:30 PM
TUESDAY, JANUARY 12 – 7:30 PM
SUNDAY, JANUARY 17 – 5 PM
TUESDAY, JANUARY 26 – 10 PM
In 1979 Roger Corman wanted a disco movie, so his staff made sure that he was the only one on the production with a script that said "Disco High School." Two weeks before shooting, director Allan Arkush broke it to his producer that everyone else's scripts were called Rock 'n' Roll High School, and the Ramones were a punk band. "Why can't they be disco," Corman asked. Arkush responded, "You can't blow up a high school to disco music."
Since at least 1956, when Bill Haley & His Comets starred in Rock Around the Clock, the musician-centered rock drama has been one of the most versatile vehicles for pop proselytizing. There have been many tweaks to the Rock Around the Clock formula—musical genres, locales, vérité aesthetics—and Prince's Purple Rain might be called the capitalist variant. In 1975 the New York Time's Vincent Canby famously asked, "What is Jaws but a big-budget Roger Corman film," and by 1984 Corman's operation had effectively been steamrolled by appropriation of exploitation formula's amid Hollywood's economies of scale. Purple Rain is also a big-budget Corman film, but despite its unabashedly generic construction it towers above other rock dramas as a true watershed: the genre's first steroidally capitalistic Hollywood blockbuster.
So, it's at least patently funny that the first fiction feature ever produced in the Tuareg language, which is spoken by about 1 million people in parts of Algeria, Libya, Mali, and Niger, is nominally a remake of Purple Rain. Or, sort of: there is no Tuareg word for "purple," so Akounak Tedalat Taha Tazoughai actually translates to "rain the color of blue with a little red in it." Constructed around the personality of naturally charismatic lead Mduo Moctar and set in the world of Tuareg guitar music in Agadez, Niger—most internationally recognized for the work of Bombino (who is, come to think of it, signed to a subsidiary of Prince's former record label)—Akounak gushes with pure, earnest enthusiasm for its sweded source material. Shrouded in mystery and kicking up desert sands on his purple motorcycle while riding between home recording studios and guitar parties, Moctar is a brilliant and even more likable analog to Prince's "The Kid." Whereas Purple Rain is premised about calculated obfuscation of ostensibly autobiographical detail—I learned as much about Minneapolis and Prince from Purple Rain as I did string theory—Akounak's filmmakers take a Rouch-lite approach to their collaboratively produced riff on social mores, religiosity, and third world distribution models.
Make no mistake: Akounak Tedalat Taha Tazoughai works as blissful, effervescent entertainment, and it's beautifully shot and edited like a fiction film even as its DIY production and documentary ethos shine through. Like the conglomerate clockwork strategies underpinning Purple Rain, it will make you a believer and a fan. —Jon Dieringer (Screen Slate)
---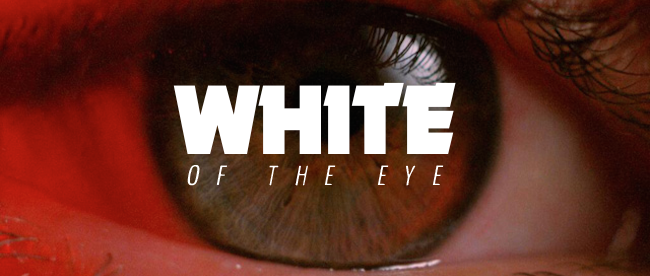 WHITE OF THE EYE
Dir. Donald Cammell, 1987
U.K./U.S., 110 minutes.
WEDNESDAY, JANUARY 6 – 10 PM
THURSDAY, JANUARY 14 – 10 PM
SATURDAY, JANUARY 23 – 10 PM
MONDAY, JANUARY 25 – 10 PM
Part of the Cammell After Dark series.
"The only difference between a hunter and a killer…. is his prey."
While Cammell's producers were merely seeking to capitalize on the 80s brood of lurid cheapies, he and Kong would take an utterly different tack; the director described his adaptation of pulp author Margaret Tracy's Mrs. White as "an artistic exploration of man's need to destroy." A family man (David Keith) is suspected of being a gated-community serial killer; Cathy Moriarty (RAGING BULL) stars as his wife. Scored by Pink Floyd's Nick Mason, WHITE OF THE EYE is an unmissable gem, a unique case study in onscreen violence, alienating Southwestern landscapes and characters carrying aching – insane, even – contradictions.
"As the action twists a benign homestead into a domestic nightmare, signature Cammell forms resurface—startling flash-cuts between the recent past and present creating schizoid sensations, an exaggerated emphasis on the eyeball as visual fulcrum for transitional delirium, and a soundtrack that announces invocation and possession." – Chris Chang, Film Comment
"By far the most accomplished thriller I have seen this year. Deserves to be feted." – Derek Malcolm, The Guardian
"A mesmerizing mosaic of a film." – Nigel Andrews, Financial Times
---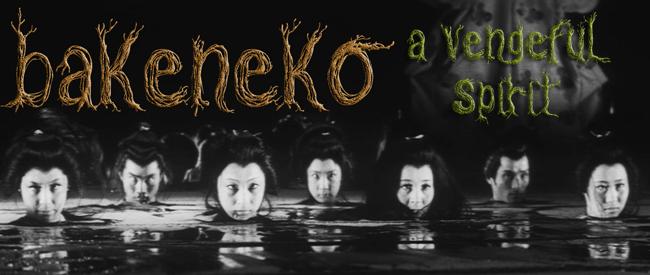 BAKENEKO: A VENGEFUL SPIRIT (aka THE CURSED SWAMP)
Dir. Yoshihiro Ishikawa, 1968
Japan, 86 min.
In Japanese with English subtitles.
FRIDAY, JANUARY 8 – 10 PM
MONDAY, JANUARY 11 – 7:30 PM
SUNDAY, JANUARY 17 – 7:30 PM
MONDAY, JANUARY 25 – 7:30 PM
Part of the Cats in the Cradle to the Grave: Three Japanese Ghost Stories series.
Lord Nabeshima, who rose to power by murdering his master, demands that the young Yujiki become his concubine. When she refuses to submit, he murders her and her fiance Yuki. Yujiki's cat consumes her blood and becomes her avenging spirit, possessing one of Nabeshima's wives and murdering his vassals, his concubines and his only son.
Ishikawa was one of the writers of BLACK CAT MANSION, and though he directed few films, Bakeneko displays directorial genius. Beginning in a quietly haunting vein reminiscent of UGETSU, BAKENEKO descends into a nightmarish parade of splattered blood, decapitations and ghosts gnawing on severed limbs.
---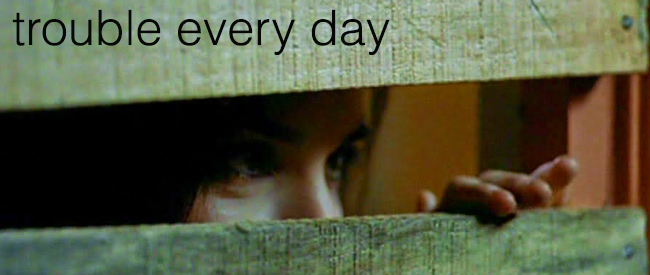 TROUBLE EVERY DAY
Dir. Claire Denis, 2001
France, 101 min.
SUNDAY, JANUARY 10 – 5 PM
WEDNESDAY, JANUARY 13 – 7:30 PM
FRIDAY, JANUARY 22 – 7:30 PM
SATURDAY, JANUARY 30 – 7:30 PM
An American doctor (Vincent Gallo) arrives in Paris with his new wife (Tricia Vessey). They are ostensibly on honeymoon, but he is strangely distant and preoccupied with finding a former a colleague. Meanwhile, a French couple live in seclusion, the husband (Alex Descas) both caring for and imprisoning his wife (Béatrice Dalle, exuding a primal power) whose mysterious illness has reduced her to a vehicle for her own bloodlust. Connections between these characters reveal themselves slowly; exposition here is a distant second to a deep sensuality in the truest sense of the word. Denis' tactile approach to filmmaking is in full effect, the camera mapping out fragile bodies with careful, almost predatory attention, creating a discomfiting sense of intimacy. TROUBLE EVERY DAY is a film felt as much as viewed, and when it reaches its bloody apex, that's a truly frightening thing.
---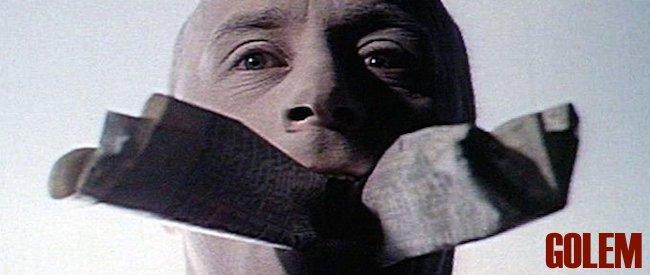 GOLEM
Dir. Piotr Szulkin, 1980
Poland, 92 min.
In Polish with English subtitles.
MONDAY, JANUARY 4 – 10 PM
SUNDAY, JANUARY 10 – 7:30 PM
TUESDAY, JANUARY 26 – 7:30 PM
FRIDAY, JANUARY 29 – 7:30 PM
GOLEM (1979) is a loose retelling of Der Golem, Gustav Meyrink's 1914 novel. Replacing the ghettos of Prague with a garbage-strewn, dilapidated future, Szulkin's adaptation trades the golem for "Pernat," a clone manufactured for shadowy reasons by a totalitarian regime. Pernat, played with remarkable gentility by Szulkin favorite Marek Walczewski, interacts with the swifter edges of Polish society as he attempts to understand the institution that created him, and his purpose on the planet. Upon its release, the film won the Brown Lion at the Gdańsk Film Festival, but has been all but forgotten today.