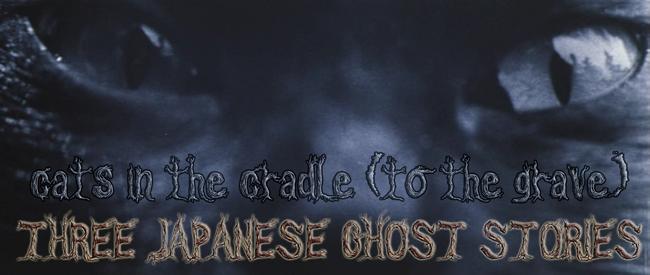 This Spectober, our Japanese Ghost Story series returns with three bakeneko-mono or ghost-cat stories, one of the most popular sub-genres of kaidan. All three of these films involve a woman who is wronged by a feudal lord and either ruthlessly murdered or driven to suicide. But first, she urges her cat to lap up her blood as she lies dying. The cat is transformed into her avenging spirit and proceeds to bring misery and death to the Lord's castle.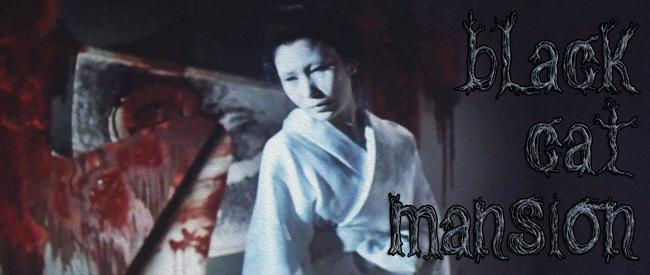 BLACK CAT MANSION
Dir. Nobuo Nakagawa, 1958
Japan, 69 min.
In Japanese with English subtitles.
THURSDAY, OCTOBER 1 – 10:00 PM
THURSDAY, OCTOBER 15 – 10:00 PM
MONDAY, OCTOBER 19 – 10:00 PM
FRIDAY, OCTOBER 23 – 10:00 PM
Acknowledged by Nobuhiku Ôbayashi as a major influence on HAUSU, BLACK CAT MANSION contains an unusual, extended present-day sequence bookending its Edo-period tale. Filmed in blue-tinted monochrome, the modern-day segment involves a doctor who relocates to an old country mansion to care for his sick wife. Once there, the doctor and his wife begin to experience bizarre hallucinations. They consult a monk who relates the tragic history of the mansion: a tale of a jealous lord, a blind monk and his distraught sister and a possessed cat.  BLACK CAT MANSION features near-psychedelic set pieces that point the way towards Nakagawa's most celebrated horror masterpiece JIGOKU, made two years later.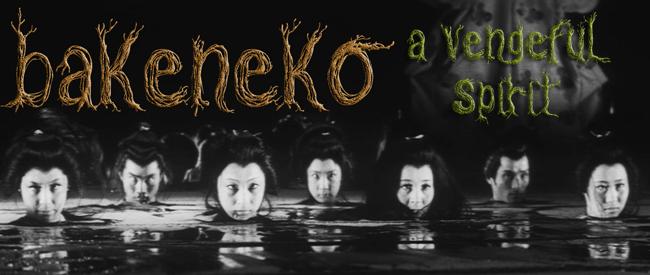 BAKENEKO: A VENGEFUL SPIRIT (aka THE CURSED SWAMP)
Dir. Yoshihiro Ishikawa, 1968
Japan, 86 min.
In Japanese with English subtitles.
TUESDAY, OCTOBER 13 – 10:00 PM
SATURDAY, OCTOBER 17 – 7:30 PM
SUNDAY, OCTOBER 25 – 7:30 PM
Lord Nabeshima, who rose to power by murdering his master, demands that the young Yujiki become his concubine. When she refuses to submit, he murders her and her fiance Yuki. Yujiki's cat consumes her blood and becomes her avenging spirit, possessing one of Nabeshima's wives and murdering his vassals, his concubines and his only son.
Ishikawa was one of the writers of BLACK CAT MANSION, and though he directed few films, Bakeneko displays directorial genius. Beginning in a quietly haunting vein reminiscent of UGETSU, BAKENEKO descends into a nightmarish parade of splattered blood, decapitations and ghosts gnawing on severed limbs.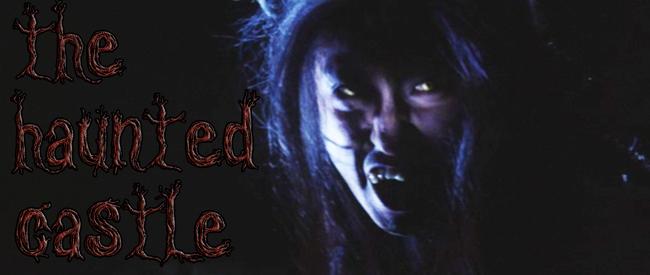 THE HAUNTED CASTLE (aka SECRET CHRONICLES OF THE GHOST-CAT)
Dir. Tokuzô Tanaka, 1969
Japan, 82 min.
In Japanese with English subtitles.
THURSDAY, OCTOBER 1 – 7:30 PM
SUNDAY, OCTOBER 11 – 5:00 PM
WEDNESDAY, OCTOBER 21 – 10:00 PM
THE HAUNTED CASTLE's narrative is a bloodier retelling of BLACK CAT MANSION, but its unique and elaborate visual style, marked by disorienting zooms and elaborate tracking shots, wouldn't be out of place in a giallo. Much of the film take place in near-total darkness, illuminated only by slivers of candlelight and lightning flashes. Director Tokuzô Tanaka was an assistant director on RASHOMON, UGETSU and SANSHO THE BAILIFF, and he later directed the great kaidan THE SNOW WOMAN, a favorite from last Spectober's series of Japanese Ghost Films.