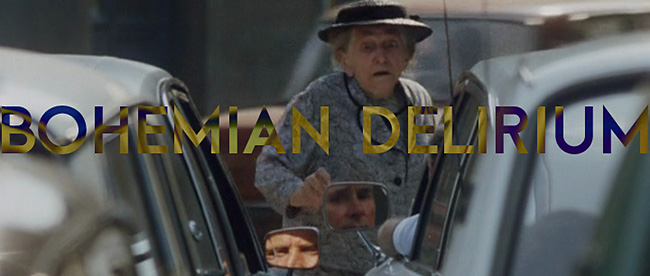 As with so many Eastern European cinemas, Czechoslovakia's flourished in the 1960s under relaxed censorship and state funding for wild experimentation on a level we can only dream of in the U.S. Before Soviet tanks rolled in, crushing the Prague Spring (and proposals for democratic elections) in 1968, the Czech New Wave had hit such international recognition as to have produced two academy award winners in the States, as well as more deliciously outré masterpieces like Vera Chytilova's anarchic Daisies and Juraj Herz's macabre satire of the lead-up to WWII THE CREMATOR.
But this series isn't about the Czech New Wave, it's about what happened after, when those same visionary directors refused to go away or give up their visions. For some, this ultimately meant fleeing to the West, but for Chytilova and Herz it would mean decades more of developing their art and fighting to get some of their best and most radical films made, first under Communist restriction and then against the new funding complications of capitalism. Chytilova was blacklisted from working entirely twice (for her work in the 60s, and again after her scathingly brilliant PANELSTORY, for about eight years total, during which she directed commercials under the name of her husband and cinematographer Jaroslav Kučera), while Herz's career became a constant battle against compromise, bureaucratic red tape, and American directors borrowing scenes (as when bits of his own lived WWII concentration camp experiences may have made their way into SCHINDLER'S LIST).
Perhaps this is why both found success during forays into genre cinema in the 80s, where the official oversight was lower than in supposedly serious filmmaking. Perhaps this is why these films, sci-fi horrors both, are so uniquely strange and fantastic. (And, as a bonus, we're also including Herz's 90s nightmare vision of the post-modern shopping mall).
Chytliova passed away last year at the age of 85 after directing her last feature in 2006 and continuing to teach at FAMU, while Herz, now 81, is still at work on new films.
---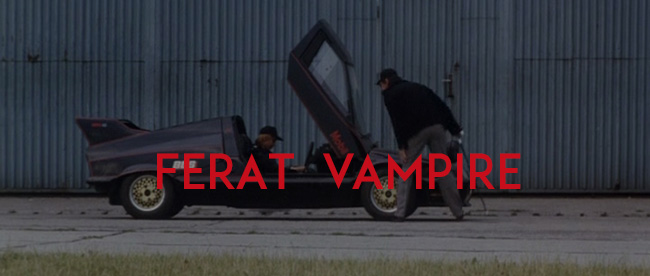 FERAT VAMPIRE
A.k.a. Upír z Feratu
Dir. Juraj Herz, 1981
Czechoslovakia, 94 min.
In Czech with English subtitles.
SUNDAY, OCTOBER 4 – 7:30 PM
SATURDAY, OCTOBER 10 – 10:00 PM
THURSDAY, OCTOBER 22 – 7:30 PM
SUNDAY, OCTOBER 25 – 5:00 PM
While Juraj Herz honed his horror chops on THE CREMATOR and gothic-psychedelic past Spectober favorite MORGIANNA, FERAT VAMPIRE may actually be his best. A sinister car corporation prepares to launch the Vampire, a flashy, modernist sports car with very peculiar engineering, mysteriously low gas requirements, and a flurry of marketable rumors of death and danger that international press constantly eats up. An ambulence driver (director Jiri Menzel, who snagged one of those 60s Best Foreign Film Oscars for CLOSELY OBSERVED TRAINS!) suspects something is up after his ex-racecar driver partner (Dagmar Havlová, later first lady of the Czech Republic!!) falls under the spell of the prototype. Soon, both are drawn deep into a stylish surrealist noir of hidden motives, doubles, corporate marketing machinations, and Cronenbergian bio-mechanical terror (actually arguably referenced by Cronenberg for Videodrome two years later!) As reality dissolves, even the logical linking scenes get taken over by absurdist vignettes of our uneasy symbiosis with the automotive world.
---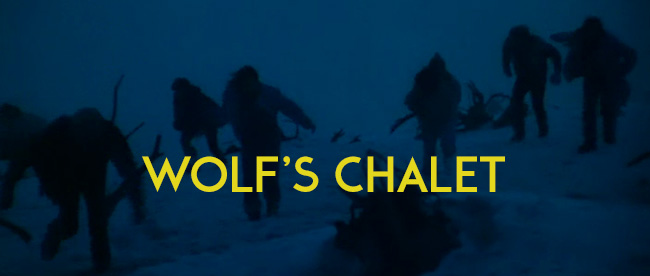 WOLF'S CHALET
A.k.a. Vlci bouda
Dir. Vera Chytilová, 1987
Czechoslovakia, 92 min.
In Czech with English subtitles.
WEDNESDAY, OCTOBER 7 – 10:00 PM
SUNDAY, OCTOBER 11 – 7:30 PM
FRIDAY, OCTOBER 23 – 7:30 PM
FRIDAY, OCTOBER 30 – 10:00 PM
An absolute and stunning outlier amongst the satiric relationship comedies Vera Chytilova was making at the time, Wolf's Chalet opens essentially as a Chytilova teen ski movie, with all attendant teen behavior patterns familiar from the American 80s in evidence. Seriously, it's either an impressive testament to the universal archetype of 80s teens, or to the increasing porousness of the Iron Curtain by the mid-80s, as it almost seems like anyone on the cast could have skied off-set and into a scene from BETTER OFF DEAD at any moment. But it gets better: the instructors at the remote alpine camp are not what they seem, strange events occur overnight, and soon the teens are turning on one another as ambiguous tensions and mysterious dread overtake the story. And then, Chytilova, a life-long Socialist however frustrated with the political realities she had to work under, manages to inject political allegory as a further layer in the wild mix of the film. While also assuring that you'll never look at a snow man the same way again.
---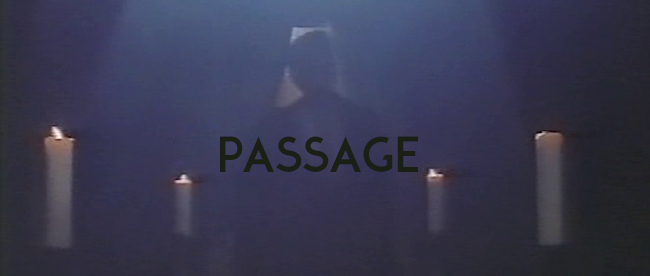 PASSAGE
A.k.a. Pasáz
Dir. Juraj Herz, 1997
Czechoslovakia, 104 min.
In Czech with English subtitles.
TUESDAY, OCTOBER 6 – 7:30 PM
FRIDAY, OCTOBER 16 – 10PM
FRIDAY, OCTOBER 30 – 7:30 PM
In PASÁZ (PASSAGE), one of his late career films from 1997, Juraj Herz explores the deep animal fear we experience when setting foot inside a shopping mall. It is the fear of an unending self-contained world of buying and selling, so like the new Capitalism the Czech Republic had recently been plunged into.
The hero of PASÁZ Mikhail Forman, a banker out for a shopping trip wanders the murky halls and crannies of the mall with the presumed initial goal of picking up an anniversary gift for his wife. The shopping trip turns sinister as Mikhail encounters various mall types with unclear identities, his own identity is stripped away, and causality becomes a closed loop, like that of a shopping mall arcade. Packed with vague anxieties about bureaucracy and the modern world, this one is a true masterpiece of the "Man propelled against his will on journey, which takes place in a compressed time frame, and from which he emerges forever changed" genre.