Best known for 1970's Mick Jagger-starring PERFORMANCE (codirected with Nicolas Roeg), Scottish filmmaker Donald Cammell (1934 – 1996) was many things – a child of the aristocracy, a Crowley-inflected mystic who worked with the likes of Kenneth Anger, a skeptic of auteurism, a man described by Roman Polanski as "wicked". This October, Spectacle is pleased to present two direly under-sung classics from this late cine-provocateur, both cowritten by Cammell and his widow China Kong.
TRIGGER WARNING: WHITE OF THE EYE features visceral sequences of murder and violence; both versions of WILD SIDE feature a harrowing rape sequence.
---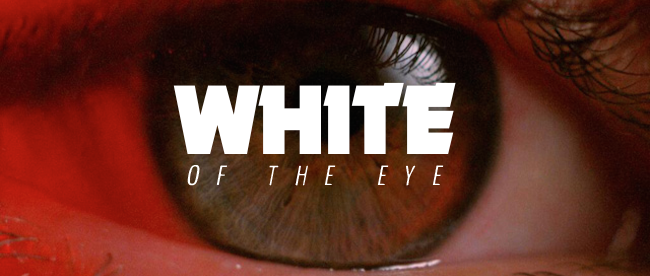 WHITE OF THE EYE
Dir. Donald Cammell, 1987
U.K./U.S., 110 minutes.
SATURDAY, OCTOBER 10 – 7:30 PM
THURSDAY, OCTOBER 22 – 10:00 PM
MONDAY, OCTOBER 26 – 10:00 PM
"The only difference between a hunter and a killer…. is his prey."
While Cammell's producers were merely seeking to capitalize on the 80s brood of lurid cheapies, he and Kong would take an utterly different tack; the director described his adaptation of pulp author Margaret Tracy's Mrs. White as "an artistic exploration of man's need to destroy." A family man (David Keith) is suspected of being a gated-community serial killer; Cathy Moriarty (RAGING BULL) stars as his wife. Scored by Pink Floyd's Nick Mason, White of the Eye is an unmissable gem, a unique case study in onscreen violence, alienating Southwestern landscapes and characters carrying aching – insane, even – contradictions.
"As the action twists a benign homestead into a domestic nightmare, signature Cammell forms resurface—startling flash-cuts between the recent past and present creating schizoid sensations, an exaggerated emphasis on the eyeball as visual fulcrum for transitional delirium, and a soundtrack that announces invocation and possession." – Chris Chang, Film Comment
"By far the most accomplished thriller I have seen this year. Deserves to be feted." – Derek Malcolm, The Guardian
"A mesmerizing mosaic of a film." – Nigel Andrews, Financial Times
---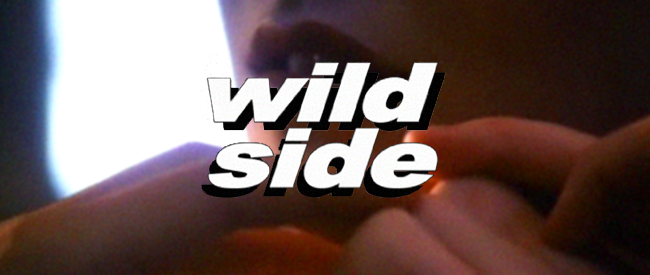 WILD SIDE
Dir. Donald Cammell, 1995.
U.S., 110 min. (Director's cut); 95 min. (Nu Image re-edit)
Nu Image Re-edit
SATURDAY, OCTOBER 3 – MIDNIGHT
Director's Cut
SATURDAY, OCTOBER 3 – 10:00 PM
FRIDAY, OCTOBER 16 – 7:30 PM
MONDAY, OCTOBER 26 – 7:30 PM
Donald Cammell's fourth film in as many decades, the brilliant and berserk WILD SIDE is a beyond-salacious slab of psycho-noir starring Anne Heche as "Alex", a Long Beach investment banker-cum sex worker for the rich and powerful. Tonight, that means Bruno – a shadowy millionaire money launderer (Christopher Walken, plus wig) – and perhaps also his valet, a sleazy undercover cop by the name of Tony (Steven Hauer, of Scarface fame). Cammell's signature refracted narrative comes into play when Alex meets Bruno's wife Virginia (Joan Chen), up-turning audience expectations for late-nite sleaze into a surprisingly tender, psychologically astute, and crushingly desperate queer love story. (There's also a sublime Ryuichi Sakamoto score, and a concurrent subplot about a virus on a floppy disk that, if it fell into the wrong hands, would bring the western world to its knees.)
After Nu Image Productions wrested control of WILD SIDE away from Cammell and recut the film into the schizoid quasi-porn they thought they had paid for, the filmmaker saw fit to take his own life. In 2000, Kong supervised a painstaking, posthumous recut with editor Frank Mazzola; this October, Spectacle is thrilled to present both the damned and saved versions of WILD SIDE.
"Games are again played with power and identity, dangerous games but not fatal ones this time; if there is one difference between the Cammell of 1968 and of 1995 that stands out above all others, it is the replacement of Artaudian cruelty with an affectionate generosity towards his characters." – Maximilian Le Cain, Senses of Cinema
"When this film was premiered at last year's Edinburgh Festival, it was accompanied by a remarkable on-stage talk from Mazzola and Kong, who were able to show extracts from the butchered, and utterly different 'TV version': furnishing us with an unmissable masterclass in the realities of film editing and a radical essay in the textual aspects of cinema. I hope that Mr Mazzola and Ms Kong can be persuaded to repeat this lecture all over the country." – Peter Bradshaw, The Guardian