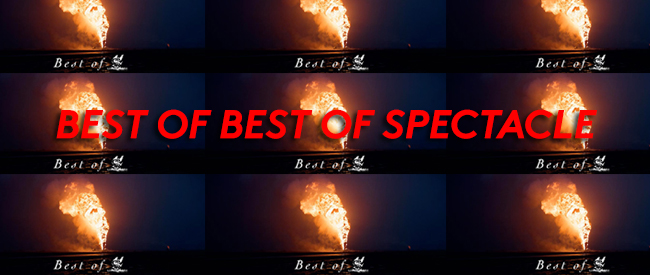 Each year in December or January, Spectacle selects some of our favorite films that we've shown over the past 12 months for our "Best of Spectacle" series. This year we are starting a new tradition; to celebrate Spectacle's first five years in existence, we will present some of our favorite discoveries from past installments of "Best of Spectacle" and feature them each month throughout 2016 as part of "Best of Best of Spectacle".
As we look forward to our next five years, Spectacle would like to acknowledge the audiences, artists and distributors who have pitched in their support, vision and feedback. Thank you for five brilliant years!
October: Bakeneko: Spirit of Vengeance / The Snow Woman
September: Viy / Head Against the Wall
August: Women in Revolt / Riddles of the Sphinx / Extreme Private Eros
July: Naked Killer / Dorothea's Revenge / Boxer
June: Don't Deliver Us from Evil / School of the Holy Beast / Der Fan
May: Go Down Death / Digital Man / The Killing of America / Death Promise
April: Hawk Jones / Little Marines
March: Final Flesh / Magic of the Universe / Marquis / Themroc
February: Les Saignantes / Behindert / The Monster and the Stripper / The Red Squirrel / Offshore TV
January: Panelstory / The Shining Backwards and Forwards and Inwards and Outwards in High Definition Anaglyph 3D / Devilhelm
---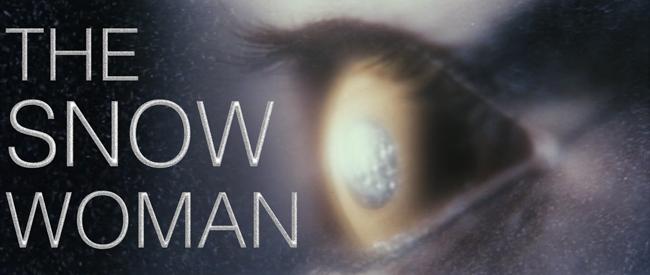 THE SNOW WOMAN
aka Kaidan Yukijorô
Dir. Tokuzô Tanaka, 1968
Japan, 79 min.
In Japanese with English subtitles
SATURDAY, OCTOBER 1 – 5:00 PM
TUESDAY, OCTOBER 11 – 7:30 PM
MONDAY, OCTOBER 17 – 10:00 PM
The story of Yuki-Onna, the Snow Woman, who kills any man who sets his eyes upon her, is best-known to western audiences as one of the segments in Masaki Kobayashi's 1965 portmanteau horror classic KWAIDAN. Made just three years later, Tokuzô Tanaka's poetic and haunting feature-length interpretation adheres to the basic outline of the folk tale (which is also referenced in Kurosawa's DREAMS), infusing it with added emotional depth and political subtext and one-upping Kobayashi's version with some truly inspired and terrifying set-pieces.
Shigetomo, a master sculptor, and his apprentice Yosaku set out for the Mino Mountains to find the suitable wood from which to carve the Buddhist statue for the state temple. Caught in a blizzard, they take refuge in a hut, where the Snow Woman finds them asleep. She murders the sculptor but, struck by Yosaku's "youth and beauty", impulsively decides to spare him if he promises to never tell anybody what he witnessed. He returns safely to his village but soon falls in love with a new arrival named Yuki, who is really the Snow Woman disguised as a human.
---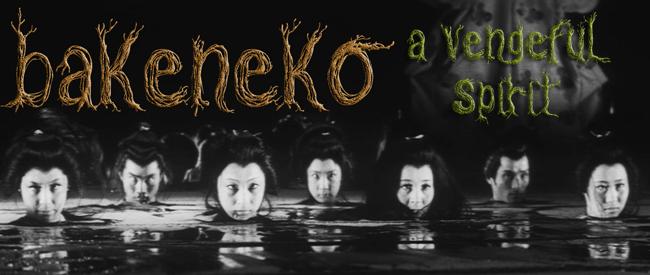 BAKENEKO: A VENGEFUL SPIRIT (aka THE CURSED SWAMP)
Dir. Yoshihiro Ishikawa, 1968
Japan, 86 min.
In Japanese with English subtitles.
SUNDAY, OCTOBER 9 – 5:00 PM
FRIDAY, OCTOBER 21 – 7:30 PM
MONDAY, OCTOBER 31 – 7:30 PM
Lord Nabeshima, who rose to power by murdering his master, demands that the young Yujiki become his concubine. When she refuses to submit, he murders her and her fiance Yuki. Yujiki's cat consumes her blood and becomes her avenging spirit, possessing one of Nabeshima's wives and murdering his vassals, his concubines and his only son.
Ishikawa was one of the writers of BLACK CAT MANSION, and though he directed few films, Bakeneko displays directorial genius. Beginning in a quietly haunting vein reminiscent of UGETSU, BAKENEKO descends into a nightmarish parade of splattered blood, decapitations and ghosts gnawing on severed limbs.
---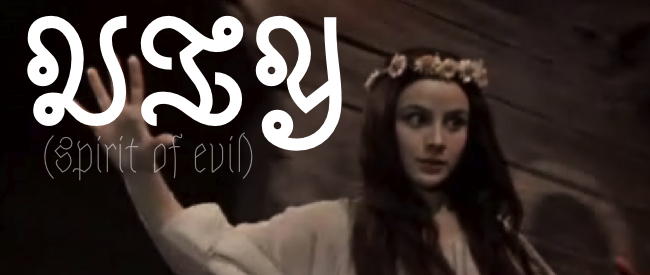 VIY
Dir. Konstantin Yershov and Georgi Kropachyov, 1967.
Soviet Union. 78 minutes.
In Russian with English subtitles.
FRIDAY, SEPTEMBER 2 – 10:00PM
THURSDAY, SEPTEMBER 15 -10:00PM
TUESDAY, SEPTEMBER 27 – 7:30PM
FRIDAY, SEPTEMBER 30 – 7:30PM
A young student must pray for 3 days over the body of a recently deceased woman – believed to be a witch – while her restless spirit and a gang of ghouls temp, prod, and terrorize him to no end. Based on the story (also called Viy) by Nikolai Gogol, the film boasts some excellent effects work and a beautiful score.
---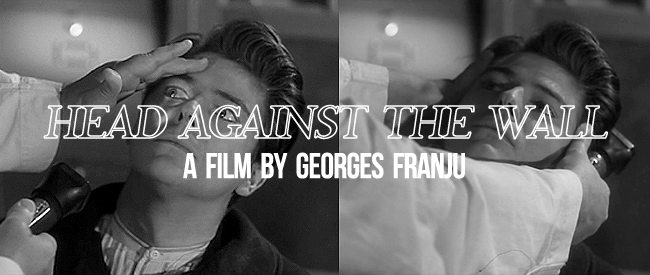 HEAD AGAINST THE WALL
(aka LA TETE CONTRE LES MURS)
Dir. Georges Franju, 1959.
France. 95 min.
In French with English subtitles.
SUNDAY, SEPTEMBER 4 – 7:30PM
WEDNESDAY, SEPTEMBER 14 – 7:30PM
TUESDAY, SEPTEMBER 29 – 10:00PM
Anouk Aimee. Charles Aznavour. A shimmering black motorcycle jacket. Georges Franju's Head Against The Wall taps into cinema's inherent attractions but renders its own utterly untenable, less a cautionary tale than a smoldering portrait of loss. Behind the gates of a countryside sanitorium lives young Francois (future filmmaker Jean-Pierre Mocky), the hotheaded son of a stuffy lawyer – a wild one in the Brando tradition on the outside, bored to sedation within. Francois knows he's sane, but while waiting for this latest convulsion of The System to pass, all he can do is look at the people around him – and now, without the comfort of his on-and-off girlfriend Stéphanie (Aimee), his visage isn't pretty.
Blessed with the same magisterial stillness and dark beauty that gave Eyes Without A Face its inimitable power, Franju's feature debut is both straightforward and serpentine. The screenplay (adapted from a Herve Bazin novel) posits man's place in society as anything but certain; as Francois seeks validation from parties neutral to his domineering father, his individuality seems to vanish. What develops is not a critique of doctors or hospitals, but instead of French paternalism at large. Under the heel of a society founded on class expectations, Francois doesn't lose his freedom so much as he realizes it never existed in the first place.
"He seeks the madness behind reality because it is for him the only way to rediscover the true face of reality behind this madness… Let us say that Franju demonstrates the necessity of Surrealism if one considers it as a pilgrimage to the sources. And Head Against The Wall proves that he is right." – Jean-Luc Godard, Cahiers du Cinema
"Whether it's the weird, eerily erotic gaze of a female inmate or a strange gathering of doves or a cityscape by night that seems as dank and claustrophobic as the asylum walls themselves, Franju's mastery and palpable adoration of effect is ever evident." – Glenn Kenny, The Auteurs
---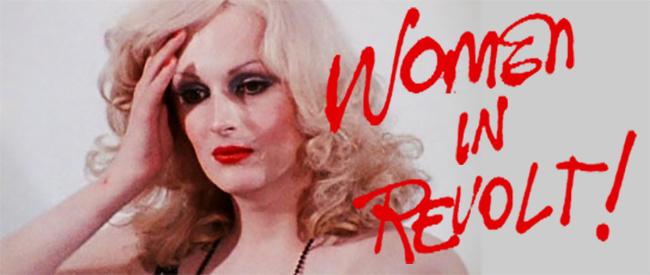 WOMEN IN REVOLT
Dir. Paul Morrissey, 1971.
USA, 97 min.
In English.
MONDAY, AUGUST 8 – 10:00 PM
SUNDAY, AUGUST 14 – 7:30 PM
FRIDAY, AUGUST 19 – 5:00 PM
Featuring Candy Darling, Jackie Curtis, Holly Woodlawn and Jane Forth. With music by John Cale.
What do you mean "Come down off the trapeze and into the sawdust"? That's circus talk.
Three of the most indelible transgender icons of all time play militant feminists in this incredible film, which is so much more than parody. Jackie Curtis and Holly Woodlawn have had it with men and their foul ways, so they join a militant feminist organization called PIG (Politically Involved Girls). Candy Darling is a wealthy socialite from Park Avenue (or Long Island – they can't keep it straight) who they draw into the group to give it legitimacy, but it turns out that she's having an incestuous relationship with her brother. Regardless, the three quickly become enemies: "I could just plunge a knife right into her back." "Oh no, it's too bloody!" "Well, I could do it and just not look." Holly Woodlawn becomes a Bowery bum and Jackie Curtis can't stop hiring male prostitutes, while Candy becomes a famous actress: "I'm sick of incest and lesbianism. I'm ready for Hollywood."
After Women in Revolt previewed on 59th Street, it was protested by a feminist organization, who mistook the film for a caricature of feminism rather than a caricature of the popular discourse around feminism, not to mention a caricature of traditional gender roles. Candy Darling reportedly declared, "Who do these dykes think they are anyway? Well, I just hope they all read Vincent Canby's review in today's Times. He said I look like a cross between Kim Novak and Pat Nixon. It's true – I do have Pat Nixon's nose."
---

RIDDLES OF THE SPHINX
Dir. Laura Mulvey and Peter Wollen, 1977.
UK, 92 min.
In English.
FRIDAY, AUGUST 5 – 5:00 PM
SATURDAY, AUGUST 13 – 10:00 PM
THURSDAY, AUGUST 25 – 7:30 PM
Laura Mulvey, author of the seminal essay Visual Pleasure and Narrative Cinema, helped to establish feminist film theory as a legitimate field of study. With Peter Wollen, she directed one of the most visually stimulating, theoretically rigorous films to emerge from the 1970s. RIDDLES OF THE SPHINX is a landmark fusion of feminism and formal experimentation that seeks to create a non-sexist film language. Its title figure, the legendary creature of antiquity, terrorized Thebes and self-destructed only after Oedipus correctly answered her riddle. Invoking and challenging traditional interpretations of the Oedipus story as a movement from matriarchal culture to patriarchal order, the film also probes representation in film itself. The central narrative section, about Louise, a middle-class woman, and her four-year-old daughter Ana, is an inquiry into the arbitrary nature of conventional film techniques that captures Louise's struggles with motherhood in a patriarchal society. — Women Make Movies
Special thanks to Women Make Movies.
---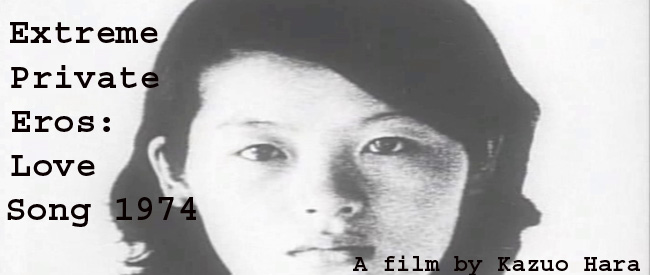 EXTREME PRIVATE EROS: LOVE SONG 1974
Dir. Kazuo Hara, 1974.
Japan, 98 min.
In Japanese with English subtitles.
THURSDAY, AUGUST 4 – 10:00 PM
SUNDAY, AUGUST 21 – 7:30 PM
TUESDAY, AUGUST 30 – 10:00 PM
Shot over several years, EXTREME PRIVATE EROS: LOVE SONG 1974, a documentary about Hara's ex-lover was a clarion call against a historically reserved Japanese culture. The film follows Miyuki Takeda, Hara's ex and father of his son, as she navigates new relationships (first with a woman, and then with an American GI in Okinawa), raises her son, and explores life in 1970s Japan as an outspoken feminist. But the film isn't just a portrait of the vulnerabilities of a radical feminist single mother, in a time when that wasn't heard of; Miyuki often takes the opportunity of being filmed by her ex to let loose with what she really thinks about him as a partner, as a lover, and as a filmmaker.
As well as a portrait of two complicated, damaged people, the film is a portrait of Okinawa as a dysfunctional city, damaged by two decades of American military presence. Hara films the GI bars and the underage prostitutes that frequent the bars for business. Hara takes a detour into the life of a 14-year-old "Okinawa girl" Chichi, whose life converges and diverges from Miyuki's story in intriguing ways.
Released around the same time as the groundbreaking PBS series An American Family (and predating the similarly-themed SHERMAN'S MARCH by a decade), EXTREME PRIVATE EROS takes a long, hard look at gender roles, romantic relationships, and what it means to be a family in 1970s Japan. Hara's out-of-sync sound and hand-held photography are disorienting and intimate at the same time, giving the feel of an experimental film to a film with very real content. The results are bitter and sometimes hard to watch, but always compelling.
Special thanks to Tidepoint Films.
---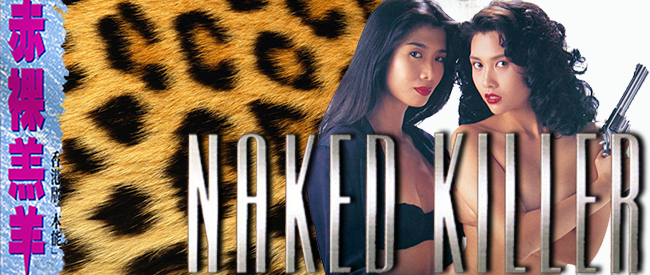 NAKED KILLER
Dir. Clarence Fok Yiu-leung, 1992
Hong Kong, 93 min.
In Cantonese with English subtitles.
FRIDAY, JULY 1 – 10:00 PM
FRIDAY, JULY 8 – 5:00 PM
TUESDAY, JULY 12 – 10:00 PM
TUESDAY, JULY 19 – 10:00 PM
A gleefully sleazy, over-the-top CAT III camp romp about dueling lesbian contract killers and the impotent policeman caught in the middle, NAKED KILLER is a joyous ode to all things (s)excessive.
Following a traumatic crime bust gone awry, Hong Kong cop Taninan can't seem to perform in the line of duty or in the bedroom… until he meets the enchanting seductress/killer Kitty. Their tango is soon cut short by Sister Candy, a veteran assassin who snatches Kitty away and teaches her the ways of professional execution and how to tap into her sensual side. Almost just as quick, two of Sister Candy's previous students show up to murder their former teacher, prompting an all-out lesbian assassin war.
With tongue planted firmly in-cheek, director Fok Yiu Leung crosses titillating eroticism with a strong sociological undercurrent denouncing male piggishness. But he also knows how to entertain, and wildly so: copious amounts of milk drinking, dick slicing, office shoot-'em-ups, underwater knife fights, and Skinemax soft-core lesbian playfulness all wrapped up in a engrossing amount of 90s neon bliss… it's all here and then some.
This is the 1992 summer action blockbuster you deserve.
"Imagine the erotic world of Basic Instinct exaggerated into a kung-fu cartoon of sexy lesbian avengers executing quadruple leaping somersaults in a deadly assault against the opposite sex." —The New York Times
"John Woo on acid… Naked Killer breaks Mach 5 within the first 10 minutes and never lets up. Bursting with colorful lighting, angles, and set pieces, it's a panoply of Nineties sex and violence, decadence for decadence's sake, with little moralizing thrown in. A genuine crowd-pleaser…" —The Austin Chronicle
"It's like nothing you've ever seen before… a stylized girlie graphic novelization of psycho hot babe killers as channeled through and re-imagined by Quentin Tarantino… Naked Killer is girl power gone gonzo, a geek's wet dream doused with libido lightening messages about Chinese society's misogyny." —Pop Matters
---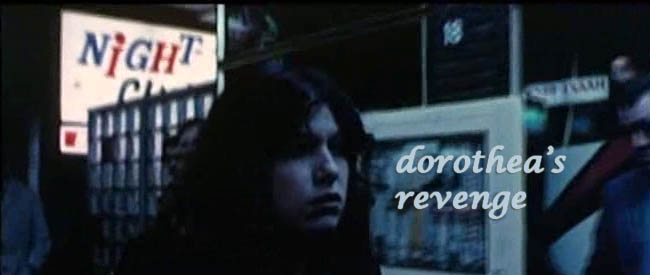 DOROTHEA'S REVENGE
aka Dorotheas Rache
Dir. Peter Fleischmann, 1974
West Germany/France, 92 min.
In German with English subtitles
TUESDAY, JULY 5 – 7:30 PM
MONDAY, JULY 11 – 10:00 PM
FRIDAY, JULY 22 – 10:00 PM
SATURADY, JULY 30 – 10:00 PM
The shortlist of fans for Fleischmann's sex satire is nothing to scoff at. Among its most ardent fans were several household names of European arthouse: Bernardo Bertolucci, Pier Paolo Pasolini, and Claude Chabrol. Then there's the post-surrealist group the Panic Movement (comprised of Fernando Arrabal, Alejandro Jodorowsky, and Roland Topor) who liked the film so much that they even decided to bestow upon the film a little reward—the "prix du group panic."
Dorothea is a 16-year old girl from Hamburg, brought up in a typical, bourgeois family. This changes one day when she comes down for breakfast and her parents find her completely disheveled—a Martian has just raped her. So begins Dorothea's sex odyssey, as she seeks to understand her body and its various uses in an incereasingly consumerist society. The key to the film is that she approaches these question of sex with every ounce of naiveté common to a young girl. She tries to make softcore porn with her friends, and when that doesn't work, she gives prostution a turn, and so on and so forth. There's seemingly no end to this excursion.
Fleischmann proved that he could produce biting political commentary within the confines of fiction in HUNTING SCENES FROM BAVARIA. Eschewing the traditional narrative scaffolding and riding on the back of a sex wave in European cinema—Vilgot Sjöman's I AM CURIOUS (YELLOW), Dušan Makavejev's WR: MYSTERIES OF THE ORGANISM, and the films of Walerian Borowczyk are key predecessors—Fleischmann enlists a slew of experimental techniques, like having the characters routinely break the fourth wall and construing a hodge podge of stylistically contradictory scenes, from conversations with Christ on the cross to BDSM rituals. Moreover, humor is a constant presence, something that can't be said for many of the period's Eurotrash sexploitations. In one scene, there's a shot of three men getting an erection, played to brassy, courtly music. It's the promise of entertainment that gives an otherwise powerful political satire its enduring glow.
---

BOXER
Dir. Shûji Terayama, 1977.
94 min. Japan.
In Japanese with English subtitles.
WEDNESDAY, JULY 13 – 7:30 PM
SATURDAY, JULY 23 – 10:00 PM
WEDNESDAY, JULY 27 – 10:00 PM
Dense with glorious tints and nail-biting moments, Shûji Terayama's Boxer pits avant-garde and crowd-pleaser sensibilities against each other with downright jugular results.
The story is old as sin: a withered ex-champion, fueled by bitterness and drink, takes a young drifter under his wing. In a society that rewards cowardice and conformity, the student's values are shaken by his mentor's discipline and focus, but it's hard to tell if the retired boxer is steady, or just plain berserk.
Spectacle favorite Terayama (Pastoral, Emperor Tomato Ketchup), who wrote boxing commentary as a hobby between plays and movies, gives the story a dazzling palette and lightning swiftness, but also a necessary sense of respect for the body – and the weight of its punishment.
---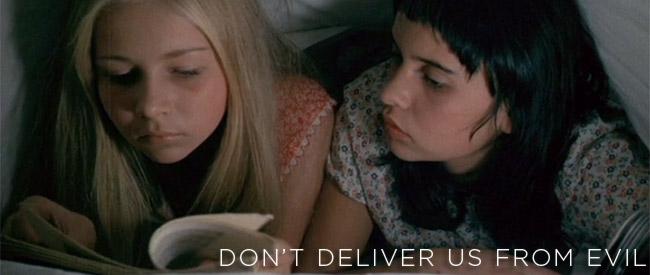 DON'T DELIVER US FROM EVIL
Dir. Joël Séria, 1971.
110 min. France.
In French with English subtitles.
FRIDAY, JUNE 3 – 10:00 PM
SUNDAY, JUNE 12 – 7:30 PM
THURSDAY, JUNE 16 – 10:00 PM
MONDAY, JUNE 27 – 7:30 PM
"Really about the obsessive nature of female friendship, of girls suffering a tedious, square world filled with hypocrisy and becoming hopped up by literature and the forbidden and hellfire and all the stuff that's so intense when you're 15, [DON'T DELIVER US FROM EVIL] is a fiendish paean to the freaky bad girl—girls who, when staring into that bland void would rather, quite literally, burn out than fade away." —Kim Morgan, Sunset Gun
Special thanks to Pete Tombs and Mondo Macabro
Trigger warning: attempted sexual assault of a minor
---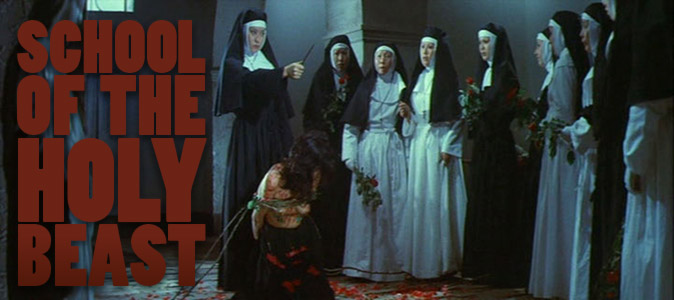 SCHOOL OF THE HOLY BEAST
Dir. Norifumi Suzuki, 1974.
91 min. Japan.
In Japanese with English subtitles.
FRIDAY, JUNE 3 – 5:00 PM
THURSDAY, JUNE 23 – 10:00 PM
MONDAY, JUNE 27 – 10:00 PM
Special thanks to Nico B and Cult Epics.
Something foul is afoot at the Sacred Heart Convent, as Yumi Takigawa discovers after cloistering herself to search for traces of her mother, who had disappeared into the monastery years before. Once there, she becomes privy to dark secrets and sadistic games. In the hands of brilliant director Norifumi Suzuki, Sacred Heart is a wonderful and terrifying world of sensuality and violence rendered with masterful visual panache. Equally notorious for its exploitational extremes as its stunning artistry, School of the Holy Beast is a twisted rabbit hole of sin and vice that absolutely lives up to its legendary cult reputation.
---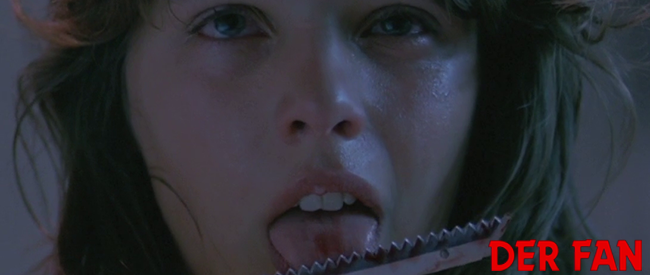 DER FAN
Aka Trance.
Dir. Eckhart Schmidt, 1982.
Germany, 89 min.
In German with English subtitles.
TUESDAY, JUNE 7 – 7:30 PM
SUNDAY, JUNE 12 – 5:00 PM
FRIDAY, JUNE 24 – 10:00 PM
Special thanks to Pete Tombs and Mondo Macabro.
In the wake of films like CHRISTIANE F., studies of displaced, dysfunctional German youth were a dime a dozen. However, the forerunner in the sweepstakes for the most memorable and disturbing entry would have to be DER FAN.
Like every other teenager in school, Simone has a crush on a rock star. When her idol, the lead singer 'R', comes to town to make a television appearance Simone is gripped by a trance-like state, leaving school, friends and parents behind her. However, when Simone comes to realize the shallow nature of the 'glamorous' music industry and of 'R' himself, she plans a calculated, ritualistic and bloody revenge on her obsession.
An unsettling blend of new wave pop culture, adolescent angst, and full-blooded horror, this nasty little art house shocker caught more than a few unsuspecting viewers off guard and earned a bit of a cult following in the process. Imagine a John Hughes film with Michael Haneke in the driver's seat and you're getting close…
---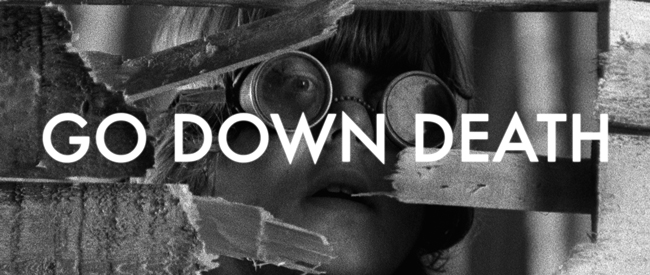 GO DOWN DEATH
Dir. Aaron Schimberg, 2013.
87 min. USA.
SUNDAY, MAY 1 – 7:30 PM
TUESDAY, MAY 10 – 7:30 PM
THURSDAY, MAY 19 – 10:00 PM
FRIDAY, MAY 27 – 10:00 PM
In early 2014 Spectacle presented the first–and only?–narrative feature run of Aaron Schimberg's staggering debut feature GO DOWN DEATH. Acclaimed as one of the most distinctive, visually stunning, and greatest undistributed films of 2013, it sits uneasily among rote indie festival programming. Naturally, we feel we make a great pair.
GO DOWN DEATH is a wry, sinister realization of a strange new universe, a cross-episodic melange of macabre folktales supposedly penned by the fictitious writer Jonathan Mallory Sinus. An abandoned warehouse in Greenpoint, Brooklyn, stands in for a decrepit village haunted by ghosts, superstition, and disease, while threatening to buckle under rumblings of the apocalypse. Soldiers are lost and found in endless woods, a child gravedigger is menaced by a shape-shifting physician, a syphilitic john bares all to a young prostitute, and a disfigured outcast yearns for the affections of a tone-deaf cabaret singer. Highlighted by offbeat narrative construction, stunning black-and-white 16mm cinematography, and immaculately detailed production design, GO DOWN DEATH is a distinctively original film informed by American Gothic, folk culture, and outsider art.
#1 Best Undistributed Film of 2013 —Christopher Bell, IndieWire's The Playlist
"AN ASTONISHING, OUT OF NOWHERE FILM. Amidst all the cookie-cutter indies, Aaron Schimberg's Go Down Death casts a mysterious spell. A dreamy, highly stylized affair recalling early David Lynch. Highly recommended." —Scott Macaulay, Filmmaker Magazine
"A UNIQUE, STRANGE, UNFORGETTABLE FILM, a half-remembered dream that will trouble and beguile the subconscious long after you've moved on. (A-)" —Gabe Toro, IndieWire's The Playlist
"One of the best films of the year! An uncompromising feast of vision and atmosphere." —Kentucker Audley, NoBudge
"Robert Altman meets Tod Browning…an immaculate, offbeat triumph. Rarely do homespun independent filmmakers convey such a distinctly original vision." —Jon Dieringer, Screen Slate
"Irresistible! Evokes the great novels of William Faulkner, even as Go Down Death offers us a resolutely modern filmic experience. Schimberg appropriates the language of cinema and obeys only the rules he sets out for himself. The result is a thrilling leap into the unknown." —Simon Laperrière, Fantasia
"Go Down Death is as eccentric and daring as American indie cinema gets." —Matthew Campbell, Starz Denver
Distributed by Factory 25
---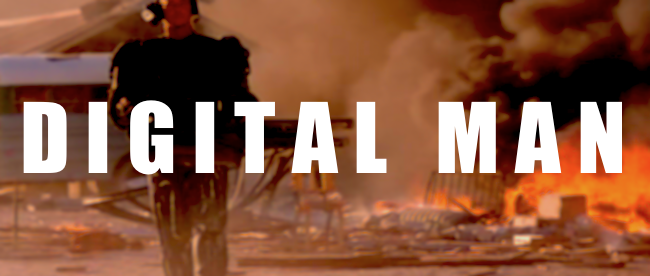 DIGITAL MAN
Dir. Philip J. Roth, 1995.
Nevada. 91 min.
In English.
FRIDAY, MAY 13 – MIDNIGHT
SATURDAY, MAY 28 – MIDNIGHT
Hot on the heels of 2013's sold-out screenings of Richard J. Pepin's Hologram Man, Spectacle offers up this late-night cyberwar curio fielded from the pixelated precipice between Atari and The Matrix. Starring an Altmanesque corps of noteworthy surnames, Philip Roth's Digital Man concerns a glitch in national security so cruel, it'd be divine if it weren't so damn digital: a time-traveling supercyborg touches down in the small-town Southwest just in time to hijack an apocalypse's worth of nuclear launch codes.
Fresh off a realm too insane in its violence and punishment for mere humans  to enter, the Digital Man must be stopped – and it's up to a motley crue of wisecracking heavyweights (some military experts, some shotgun-toting salt of the earth) to take him out, analog style. Tons and tons and tons and tons of fireball explosions (replete with slo-mo backflips and brutal, spaghetti-worthy shootouts) ensue, culminating in one night you can't merely "attend" while on your laptop.
Digital Man is a very entertaining movie, with good acting, excellent photography and outstanding F/X. It does suffer from a mediocre script however. A very good, overall effort from a bunch of actors who fall  into the category of "where have I seen them before?" A rating of 8 out of 10 was given. – VCRanger, IMDB
lets get down to brass tax where can we get this movie someone upload cmon it cant be ilegal look at it buying it would be a magor crime – Jamie Mcfayden, YouTube
I've seen Digital man almost a decade ago when it came to video. My dad rented me this movie to watch over the weekend since he was leaving with my mom. I loved it so much that I've watched it five or six times in 48 hours !!! – thebigmovieguy, IMDB
Don't just settle for T2 ,experience this equal ,yet lower budget Sci-Fi action outing,with martial arts giant Matthias Hues in the lead. – "A Customer", Amazon
I rented this when it came out on video. I remember thinking the special effects and costumes were pretty cool back then. And in the early-to-mid-1990s computer animation was a novelty, so that added to the movie's appeal. (And back then CGI looked cooler with those smooth surfaces.) – felicity4711, YouTube
---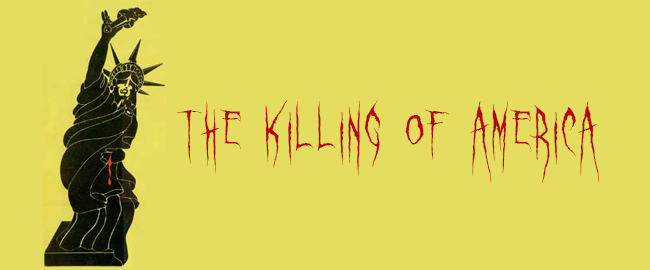 THE KILLING OF AMERICA
Dir. Sheldon Renan & Leonard Schrader, 1982
USA, 90 min.
TUESDAY, MAY 10 – 10:00 PM
MONDAY, MAY 16 – 7:30 PM
FRIDAY, MAY 27 – 7:30 PM
ALL OF THE FILM YOU ARE ABOUT TO SEE IS REAL. NOTHING HAS BEEN STAGED.
So begins the 1982 shockumentary THE KILLING OF AMERICA, a film that, even among its mondo movie contemporaries, stands out as one of the grimmest and most infamous films ever produced. So much so, in fact, that to this day it remains effectively unreleased in The United States.
If violence is the disease, then THE KILLING OF AMERICA is the microscope. Compiled almost entirely from news broadcasts, security camera footage, etc, THE KILLING OF AMERICA chronicles nearly every major violent incident of the era, from the JFK assassination onward. The America presented here is land characterized by widespread burnout and disillusionment. Add to that the increasing pervasiveness of the mass media, as well as an obscene overabundance of firearms, and you are left with a sobering portrait of a sick society, in which insanity and paranoia breed easily. Meanwhile, three decades later…
Directed by Sheldon Renan & Leonard Schrader (brother of Paul Schrader), and featuring a noteworthy narration by voiceover master Chuck Riley.
---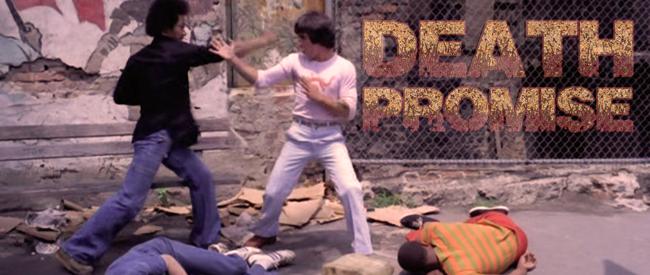 DEATH PROMISE
Dir. Robert Warmflash, 1977
USA, 95 min.
FRIDAY, MAY 27 – MIDNIGHT
After the murder of his father, a young vigilante targets a cabal of extremely corrupt landlords and their army of henchmen to restore justice in a city gone mad.
The holy spawn of DEATH WISH and ENTER THE DRAGON, DEATH PROMISE is a kung-fu revenge epic set against a sweltering Manhattan backdrop that features the greediest landlords ever put on film, a Kung Fu master living upstate, bags of hungry rats tied to heads, defenestrations, street fights, rooftop fights and a soundtrack that brings the FUNK from a band calling themselves Opus.
---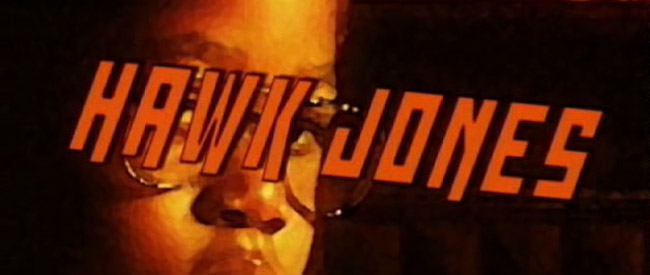 Hawk Jones
Dir. Richard Lowry, 1986.
USA, 88 min.
In English.
SATURDAY, APRIL 2 – MIDNIGHT
SATURDAY, APRIL 16 – MIDNIGHT
SUNDAY, APRIL 24 – 7:30 PM

Part of the Children on Fire series.
Minitropolis is under siege by gangster Antonio Coppola, whose reach extends throughout the city, all the way to the police department, where the Chief of Police does everything in his power to aid Coppola and thwart the one person who can rid the city of this scourge once and for all – HAWK JONES! Against all odds, Hawk uses an arsenal of weapons to take down Coppola's army of thugs and anyone who stands in the way of justice.
We should mention the average age of the cast is eight years old.
Those of you expecting Disneyfied goofs should beware – this is a film well in line with shoot-em-all 80s action. There's no mugging to the camera, no soapy morality lessons, no relentless merchandising. What you do get is Uzi-toting shootouts, crooked cops, milk-slinging speakeasies and a hero more in line with Fred Williamson than Fred Rogers. In other words, perfect for Spectacle!
---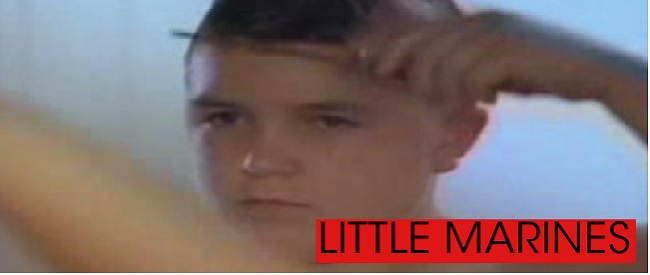 Little Marines
Dir. A. J. Hixon, 1991.
USA, 87 min.
In English.
FRIDAY, APRIL 1 – MIDNIGHT
SUNDAY, APRIL 24 – 5:00 PM
SATURDAY, APRIL 30 – MIDNIGHT
Part of the Children on Fire series.
Awkwardly shot like a pervert peeking on these kids in the woods, A.J. Hixon's LITTLE MARINES is the story of three turds that go camping. It's not really an adventure film since it is mostly just a series of mishaps and fuck-ups and offers no resolutions to these kids problems. Most famous for its really long shaving scene featured at the Found Footage Film Festival, LITTLE MARINES has many more precious moments including bizarre flashbacks to their friend who died of cancer, a cool dude that tries to give them a handful of joints, a not so cool dude that is probably a child molester, a bully that has a gun, and a moment when the fatty admits that his father never said he loved him and the fatty's friends say nothing. Its what you can expect from good ol' Christian entertainment.
For this screening, the Spectacle will be screening the VHS tape that features the original music they probably couldn't get the rights to when it came out on DVD!
---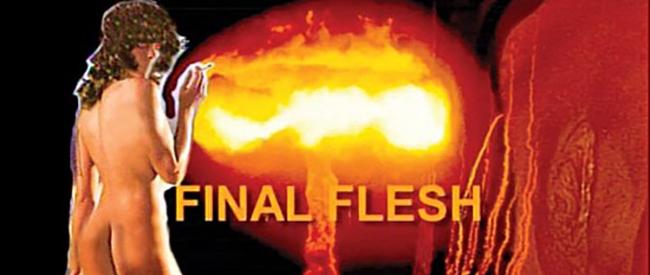 FINAL FLESH
Dir. Vernon Chatman
USA, 71 min.
TUESDAY, MARCH 8 – 10:00 PM
WEDNESDAY, MARCH 16 – 10:00 PM
FRIDAY, MARCH 25 – MIDNIGHT
SUNDAY, MARCH 27 – 7:30 PM
Writer/director Vernon Chatman of PFFR (WONDER SHOWZEN, XAVIER: RENEGADE ANGEL) discovered the existence of "websites whereupon one can hire professional porn production companies to do the sick and custom bidding of your panting loins' darkest yearn." He chose four different custom-porn-making sites, and submitted segments of a highly detailed script, or as he called it, his "purest truths", to each of them. The results form the "8-part prepocolyptic triptych in D minor" (or perhaps the 4-part "cinematic exquisite corpse") that is FINAL FLESH.
This epic and disturbing saga cannot be adequately explained or summarized, but by way of an attempt, it concerns the Pollard family (who shape-shift in their representation by the four different smutmakers).
The family is calmly discussing their impending death by atom bomb when Mrs. Pollard recounts a dream in which she sensually bathes herself in the "Tears of Neglected Children". Daughter Pam goes to the Psycho Sexual Burn-Ward (the bathroom) and reads the Koran on the toilet: "Yahweh ordered a double-latte. When the barista handed it to him, it was too hot, so Yahweh threw it in the janitor's face. The end." Pam then gives birth to an egg ("this is so hot") and a piece of raw steak which she names Mr. Peterson and breastfeeds. Mrs. Pollard and Pam then hatch a plan to convince their patriarch to return to the womb ("get up in there"), before Mrs. Peterson recounts her life's regret: "I didn't want to have a family, I wanted to murder the president. I wanted to use his blood to oil the machinery of capitalism." The atom bomb drops but the adventure continues as they re-emerge in God's womb, reincarnated as a different set of amateur porn actors…
If FINAL FLESH is not the greatest film of the 21st century, then I just creamed in my demon. "It's the same thing every Thanksgiving. Remember?"
---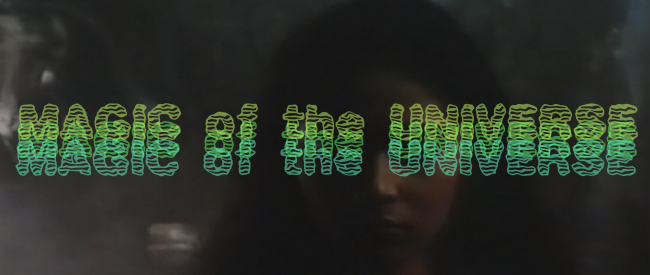 MAGIC OF THE UNIVERSE
Aka Salamamgkero / The Magician / Monster of the Universe.
Dir. Tata Estaban, 1986/1988.
Philippines. 84 min.
Dubbed in English.
BELIEVE in MAGIC. A wizard accidentally loses his daughter to an unimaginable evil. He risks hat and wand to make things right. Cast of tens includes humans and puppets.
---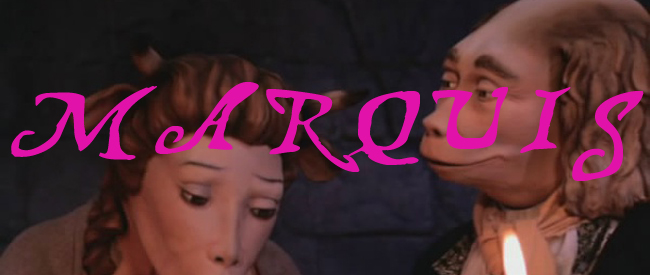 MARQUIS
Dir. Henri Xhonneux, 1989.
France. 78 min.
In French with English subtitles.
FRIDAY, MARCH 4 – 7:30 PM
MONDAY, MARCH 14 – 10:00 PM
FRIDAY, MARCH 18 – MIDNIGHT
SATURADY, MARCH 26 – 10:00 PM
THURSDAY, MARCH 31 – 10:00 PM
Clumped in your history book between the chapters on French Revolution and pioneering 18th century erotic fiction grows a horny, pornographic mold called MARQUIS.
Immersed in a world in which uncanny animal masks mirror the spirit of the character within, a canine Marquis de Sade serves a prison sentence for allegedly raping the bovine Justine… but the situation may be more complicated than it seems. In between bouts of banter with his anthropomorphic, meter-long penis Colin, the Marquis gets down to writing a few of his more infamous scenes—many depicted in surreal claymation. Before too long the Revolution has begun, but where will it leave the Marquis?
Co-written by Henri Xhonneux and Roland Topor—animator of 1973's inimitable surrealist classic "Fantastic Planet"—MARQUIS's bizarre tone swings at will between irreverent perversion and clear-headed satire, never failing to entertain and utterly confound.
"This is one of the strangest movies I have ever seen. I found it to be discomforting and just weird. It makes you squirm in your seat and wonder what the people making this are like in real life. It's definitely entertaining and it sort of sucks you in, especially if you don't know French and have to read subtitles. It is certainly not American and it is certainly very peculiar. I have never seen a movie where everyone is wearing life-like animal costumes and acting like humans in very abnormal ways. This movie gives me the chills. However, I would watch it again just because it is so fascinatingly WEIRD." —IMDB user 'ethylester'
"NOT FOR THE PRUDISH." —Variety
---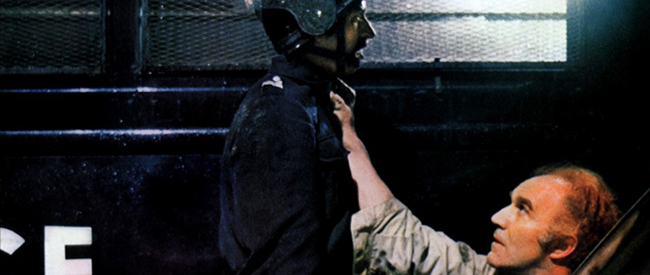 THEMROC
Dir. Claude Faraldo, 1973.
France. 110 min.
In grunts.
FRIDAY, MARCH 4 – MIDNIGHT
MONDAY, MARCH 7 – 10:00 PM
THURSDAY, MARCH 17 – 10:00 PM
SATURDAY, MARCH 26 – 7:30 PM
THURSDAY, MARCH 31 – 7:30PM
With only a vague U.S. release and a blind eye turned by all but the most annoyingly nerdy film buffs, this surreal French satire doubles as a pitch-black freak-out. But when writer/director Claude Faraldo starts to lose it and settle for straight absurdism, THEMROC's bizarre view of working-class revolution is, as Shock Cinema puts it, "worth a look, if only for its audacity. The most inspired aspect of this Working Class Rant is the fact that nobody on-screen utters a single word of intelligible dialogue, with the entire story told in grunts, howls or simple gibberish. At first glance, the middle-aged Themroc (Michel Piccoli) seems like your typical, brutish, dirty-undershirted factory laborer. And his day goes straight into the crapper once he arrives at his dreary job, and is called onto the carpet after playing voyeur on a manager and his leggy secretary. With a lifestyle this demeaning and repetitious, it's no big surprise when Themroc suddenly goes bonkers, and for the first time in his miserable life, breaks free of his 9-to-5 shackles. The second he gets home, this disgruntled wacko wrecks his apartment (unlike modern-day Americans, who'd prefer to grab a gun and shoot their boss) and begins acting like a modern-day Neanderthal."
---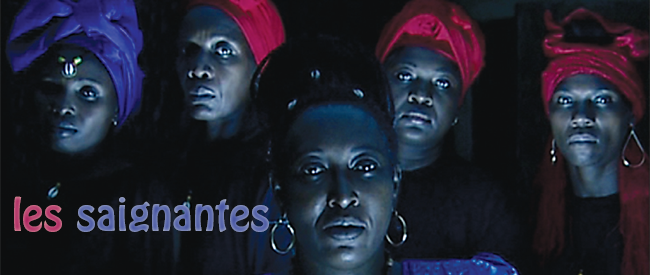 LES SAIGNANTES
Aka The Blood-lettes.
Dir. Jean Pierre Bekolo, 2005.
Cameroon. 97 min.
In French with English subtitles.
FRIDAY, FEBRUARY 5 – 10:00 PM
SATURDAY, FEBRUARY 13 – 10:00 PM
MONDAY, FEBRUARY 22 – 7:30 PM
SUNDAY, FEBRUARY 28 – 7:30 PM
Part of the Anti-Valentine's series.
LES SAIGNANTES is the best African sci-fi vampire political satire with homoerotic overtones you've ever seen. Best friends Majolie and Chouchou are two beautiful young women trying to get ahead in a near-future Cameroon. After accidentally killing a powerful politician during sex, the two come up with a plot to dispose of the body, and get into the glamorous wakes that have taken over the local nightlife.
As the girls tear their way through the corrupt ruling class, using their their feminine wiles and magical powers, Bekolo drops inter-titles into the film, commenting on the difficulties of filmmaking in an oppressive political climate. With a feminist subtext and cinematography like a blacklight rave, LES SAIGNANTES is a beautiful, disorienting, and truly original work.
---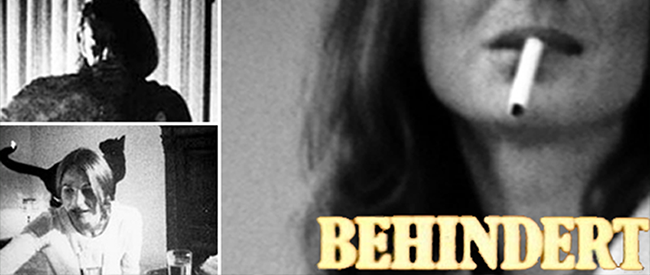 BEHINDERT
Dir. Stephen Dwoskin, 1974
Germany. 94 min.
In German with English subtitles
SUNDAY, FEBRUARY 7 – 5:00 PM
FRIDAY, FEBRUARY 12 – 10:00 PM
THURSDAY, FEBRUARY 18 – 7:30 PM
WEDNESDAY, FEBRUARY 24 – 10:00 PM
Part of the Anti-Valentine's series.
Special thanks to The Estate of Stephen Dwoskin
Described by Stephen Dwoskin as "a documentary without being one," the basis of BEHINDERT is autobiographical: the story of a physically disabled man and a physically normal woman- played by Dwoskin (who has a post-polio disability) and Carola Regnier- who confront the difficulties of a relationship. The two were no longer a couple at the time Dwoskin made the film, yet it burns with the passion and intensity of true love.
With minimal dialogue and a stirring drone score by Gavin Bryars, Dwoskin uses extended takes and extreme close-ups of Regnier's eyes, feet, hands, and face to create a sustained, hypnotic atmosphere that is simply unparalleled.
An intimate, unsentimental and haunting evocation of desire.
OFFICIAL SELECTION – 1974 CANNES FILM FESTIVAL – DIRECTOR'S FORTNIGHT
"Nothing short of a revelation… this is Dwoskin's masterpiece. Indeed, I have come to regard it as one of the greatest works in cinema history… BEHINDERT remains Dwoskin's most daring and artistically successful attempt to splice his "first person" mode of cinema with a staged fiction—creating a kind of cubistic complexity from the constantly shuffled perspectives. The 'fourth look' which Willemen intuited – not exactly the look of the characters, the spectator, or even the camera-eye, but some other, more forbidding look, like the gaze of society itself – hovers over the interstices between these images, these tableaux, these scenes from a relationship. From a film-history standpoint, Dwoskin's breakthrough here is prophetic. Anticipating the ongoing novelistic autobiography of Philippe Garrel's work since the 1980s, BEHINDERT plays a thrilling, almost vampiric game with the proximity of real-life experience to its fictive recreation—especially as its principals are the actual former lovers!" —Film Quarterly
"The mere mention of a film concerned with the subject of physical disability conjures up preconceived notions and images as to the type of film it is. It is put aside as a medical/social document of little importance, particularly by film people who think of films as 'political,' 'narrative,' 'entertainment,' 'poetic,' or 'structural.' This film is about the physically normal and disabled in confrontation, but not literal relations. It is a documentary without being one. The content lies beneath the film. The material is treated subjectively, and crosses fiction with realistic documents, without a clear distinction." —Stephen Dwoskin
---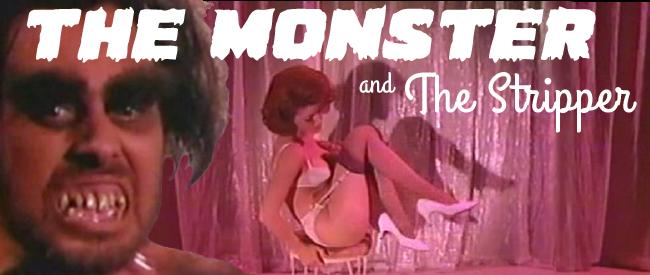 THE MONSTER AND THE STRIPPER
Aka The Exotic Ones.
Dir. Ron Ormond, 1968.
USA. 91 min.
SATURDAY, FEBRUARY 6 – MIDNIGHT
FRIDAY, FEBRUARY 12 – MIDNIGHT
SATURDAY, FEBRUARY 20 – MIDNIGHT
FRIDAY, FEBRUARY 26 – MIDNIGHT
Part of the Anti-Valentine's series.
Any attempt at classing up this sleazy 60s gem stopped with its original title, THE EXOTIC ONES, and even that failed as it switched to the more accurate THE MONSTER AND THE STRIPPER on rerelease. With a lot more stripper than monster, this film is pure 60s trash GOLD, and the last made before director Ron Ormond turned toward moralizing Christian fare.
What a film to go out on though – beginning with a gloriously overlong open call for "talent" at a "New Orleans" burlesque joint (actually a claustrophobically-shot Methodist Church), we're treated to a bevy of beauties featuring star dancer Titania (I couldn't make this up) and her famous Fire Dance strutting their stuff to the running Dada commentary of the film's co-producer and wife of Ron Ormond, June Carr.
Ormond himself plays demented Tony Clifton doppleganger/club owner Nemo, first seen torturing a man foolish enough to steal his money with the contents of a spittoon. Word reaches Nemo a monster's been murdering hillbillies in the swamps of Louisiana, and Titania suggests a Beauty and The Beast act with the beast ripping off all her clothes. NO OTHER ACT will do, and Nemo finds himself in the monster-hunting business. With a team led by son Tim Ormond (a trifecta of Nashville's First Family of Film!) they wander into the swamps and capture the beast, played by rockabilly also-ran Sleepy LaBeef (dare I say the Meatloaf of rockabilly?).
Back at the club, Little Timmy befriends the monster, who in turn falls for one of Titania's new dance rivals. The whole town is abuzz and eager to see the Monster and the Stripper, but will the show go off without a hitch? Of course not.
For all the supposed sleaze, this exploitation film doesn't feel exploitive – it's a bizarro family affair where nothing makes a lick of sense, but everyone's having a damn fine time onscreen. SEE a man get beaten with his own arm! WATCH a couple play dueling oversized harmonicas! MARVEL at hair and eye makeup that would make Divine puke with jealousy! HEAR dialogue that sounds like it was written with Noir Cliché refrigerator magnets! WITNESS – THE MONSTER AND THE STRIPPER! (and a lot of other strippers too)
---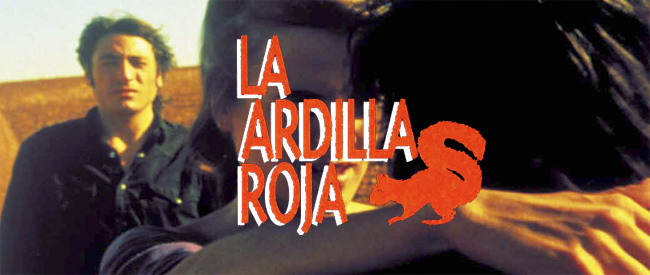 THE RED SQUIRREL
Aka La Ardilla Roja.
Dir. Julio Médem, 1993.
Spain. 114 min.
In Spanish with English subtitles.
SATURDAY, FEBRUARY 6 – 10:00 PM
THURSDAY, FEBRUARY 11 – 7:30 PM
SUNDAY, FEBRUARY 14 – 5:00 PM
FRIDAY, FEBRUARY 19 – 10:00 PM
Part of the Anti-Valentine's series.
A bruising satire of pop musicianship more than a little indebted to the Hitchcockian identity-swap, THE RED SQUIRREL is a painfully unsung masterpiece, maybe the pinnacle of Julio Médem's white-hot 1990s streak (beginning with COWS in 1991 and culminating in the more famous SEX AND LUCIA a decade later.) On the verge of taking his own life, a grunge musician named Jota (Nancho Novo) witnesses a motorcycle accident on the beach, suddenly tasking himself with helping coax Lisa (Emma Suarez) – a beyond-voluptuous blonde – out of her thick fog of amnesia. The two strike up a romance based just as much on his lies as their latent (and undeniable) chemistry; they hit the road in matching leather outfits, and cozily absorb themselves into a suburban family's vacation at a gossipy campsite – the nominal Ardilla Roja, in a region between Basque country and Castile.
Long before Lisa has taken to donning herself in a sleevelss tee with nothing on it but a gigantic xerox of Jota's face, things have gotten weird. A mysterious stranger from the past inevitably threatens to upend Jota's reprieve from real life, and soon you'll realize the film has begun – without asking permission – to peel back the membranes separating memories from dreams, and dreams from desires. Anchored by the meticulous, insinuating performances of Novo and Suarez, THE RED SQUIRREL is a serpentine head trip with erotic frisson to spare – one of the sharpest and most vivid un-romances to ever hit the big screen. (Bonus factoid: legend has it this film had Stanley Kubrick recommending Médem to Steven Spielberg for the job of directing THE MASK OF ZORRO, which the Spanish auteur duly declined.)
---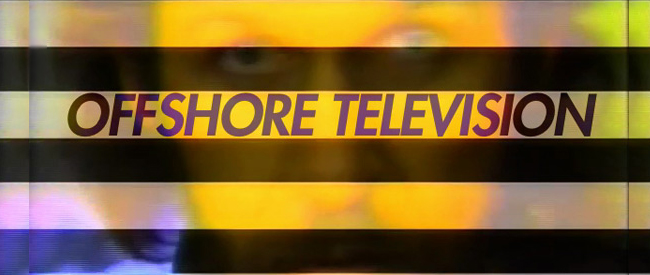 OFFSHORE TELEVISION
Dir. Mark Hudson, 1988(?).
64 min.
FRIDAY, FEBRUARY 5 – MIDNIGHT
SATURDAY, FEBRUARY 13 – MIDNIGHT
FRIDAY, FEBRUARY 19 – MIDNIGHT
SATURDAY, FEBRUARY 27 – MIDNIGHT
As a child in Cincinnati, Ohio, artist C. Spencer Yeh views a bizarre late-night sketch comedy show that leaves an unshakable impression. It remains ellusive over many years, and Yeh begins to question its existence and the integrity of his own memory. As recent as the late 2000's, Yeh is unable to discover any information or even trace of its existence—until following up on a faint mention from an obscure message board lands a dub of a fan's VHS tape in hand.
Tonight, C. Spencer Yeh teams up with Screen Slate to present three of the five known extant episodes of:
Long-forgotten late 80's television show OFFSHORE TELEVISION. Defined by its lo-fi video fuckery, excessive celeb cameos, and no-laugh jokes, "Offshore Television" is totally dumb and stoned; a lost classic for no-one.
Despite the comprehensive fansite from which the Hudson Brothers biographies and the filmography were taken from, there is NO information about OFFSHORE TELEVISION on the internet. The only acknowledgement of its existence is a comment on the website jumptheshark.com in regards to the mid-70s "Hudson Brothers" variety show:
"I was crazy about the Hudson Brothers! Brett (my fave!) and Mark did a show around 1990 called Offshore Television–I still laugh when I think some of the skits from that one! The Hudson Brothers did a movie in '83 called Hysterical, but it wasn't as funny as the TV shows."
---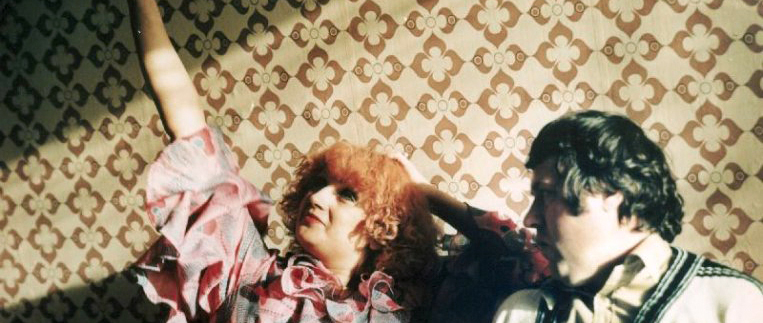 PANELSTORY
Dir. Věra Chytilová, 1979.
Czechoslovakia. 100 min.
In Czech with English subtitles.
MONDAY, JANUARY 4 – 7:30PM
SATURDAY, JANUARY 16 – 7:30PM
THURSDAY, JANUARY 21 – 10PM
SUNDAY, JANUARY 31 – 7:30PM
Vera Chytilova's 1966 Daisies may be her best known work of radical cinema, but it's neither her last, nor arguably most significant. A decade later, at time when most of her Prague Spring contemporaries had fled Czechoslovakia or drastically reigned in once-experimental visions, she came back with the equally daring and essential Panelstory. Framed as a sort of ensemble comedy circulating among the many lives contained within a new Soviet-bloc housing complex, the film is actually a scathing satire shredding every available ideal of home and family. The whole film can be understood by its audaciously critical setting: lost in a wasteland of debris and stalled construction, still incomplete yet already falling into disrepair, riddled with half-functional elevators, the housing complex precisely mirrors the disintegrating families contained within, whose individual stories form a catalogue of bleakly hilarious dysfunction and despair. It might have been all too believably familiar to those living under similar conditions in Czechoslovakia at the time, but Chytilova's disillusionment, as always, extends far beyond her immediate surroundings to call into question the thwarted utopian hopes of an entire industrialized world.
As with all Chytilova's best work, form here deftly follows function. The urban malaise is caught near-entirely in verité-style hand-held camerawork decades ahead of fashion, and rhythmically fragmented under anarchic editing that mixes apartment interiors with dystopian architecture and massive earth-moving operations. Even the sound design follows suit, as the characters are beset by cataclysmic atonal score (contrasted against a synth-funk interlude straight out of an aspirational 70s home furnishings showroom). What Panelstory may lack in Daisies' sheer stylistic invention, it makes up for in thematic cohesion.
After the collapse of the Prague Spring, Chytilova was among those directors cut out of the studio system for their brilliant excesses, which meant that she spent the years from 1970 to 1976 secretly directing commercials under the name of her husband (Jaroslav Kučera, her frequent cinematographer and collaborator). Pressures from international film festivals and a bold letter from directly to the president restating her sincere Socialist values allowed Chytilova release The Apple Game in 1976. But if that work seemed comparatively restrained, she pulled out all the stops for Panelstory. It's unbelievable that such a film could have been produced under the noses of the state censors, and following its release, Chytilova found herself banned for another two years for her troubles. Seeing Panelstory again, all these years later, it seems well worth the risks of getting it made.
While the film opened up our series at the Museum of Art and Design in summer 2014, this will be the first time it's shown in the Spectacle itself since the theater's earliest weeks.
---

THE SHINING BACKWARDS AND FORWARDS AND INWARDS AND OUTWARDS IN HIGH DEFINITION ANAGLYPH 3D (CHAOS MIX)
1980/2011/2013.
USA. 146 min.
The Shining Backwards and Forwards Returns in a Soul-Searing 3D Re-Remix!
THURSDAY, JANUARY 7 – 10PM
WEDNESDAY, JANUARY 20 – 10PM
FRIDAY, JANUARY 29 – MIDNIGHT
SATURDAY, JANUARY 30 – 10PM
Dark Side of the Rainbow for the 21st century, THE SHINING BACKWARDS AND FORWARDS is a hallucinatory palindromic mindfuck, an accidental profundity resulting from a literal reading of MSTRMD's comment that "The Shining is a film meant to be watched both forwards and backwards."
Conceived by John Fell Ryan and executed with Spectacle's Akiva Saunders behind the controls, it became one of the most successful events in the sprouting days of the theater, and it returned October 2011, when it was performed live with Saunders mixing multiple additional layers of superimposition with realtime audio manipulation by Tony Lowe and Jason McMahon.
In the meantime, it has become instant legend, followed by stagings at Fantastic Fest and the Seattle International Film Festival inspired by the attention of Shining obsessives doc ROOM 237, in which JFR is one of the primary participants and Spectacle receives a hearty shout-out. In fact, the footage shot inside Spectacle appears to be the only non-archival live footage in the film.
And now TGHNEISNHIIHNSIENHGT has been radically re-rendered by Jon Dieringer as THE SHINING BACKWARDS AND FORWARDS AND INWARDS AND OUTWARDS IN HIGH DEFINITION ANAGLYPH 3D (CHAOS MIX), in which The Shining Backwards and Forwards now also movies Inwards and Outwards in High Definition Anaglyph 3D. The superimposed channels now intersect not only chronologically but depth-wise. Each forward and backward channel has been individually post converted to 3D. Subsequently, they are both mixed overall at different depths so that the superimposed backwards channel(s) initially appear to float above the forwards track(s). The depths then gradually converge to meet each other in the center, and the forwards channel(s) then rises to the top. This configuration foregrounds the more sinister latter half of the film over its tranquil beginning like a spectral premonition of violence; therefore, we're calling it the CHAOS MIX. This diagram elaborates: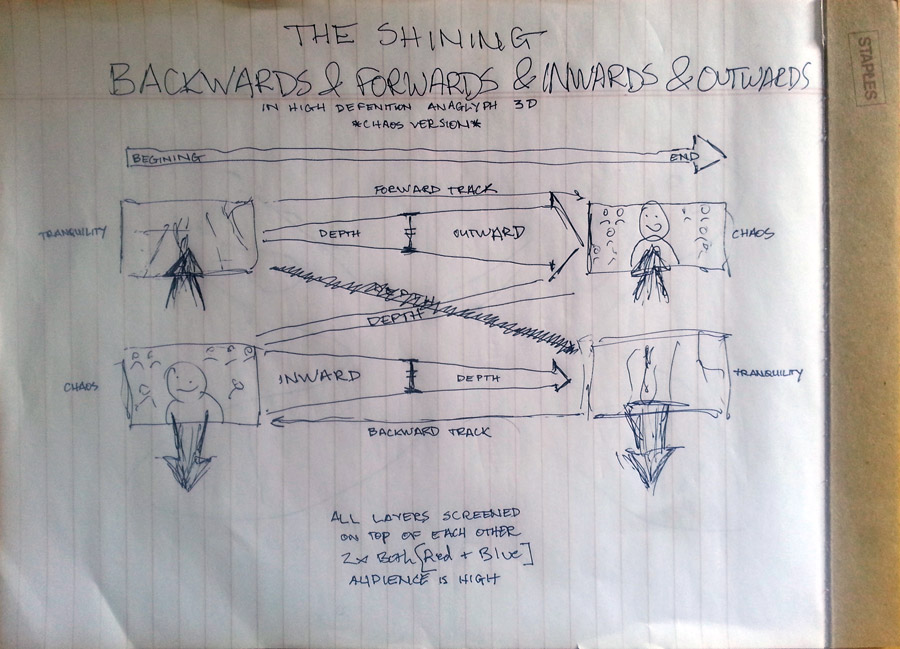 Special thanks to John Fell Ryan, Akiva Saunders and Jon Dieringer.
---

DEVILHELM
Dir. Craig Rahtz/Hibachi Chicken Films, 1999.
USA. 96 min.
In English.
FRIDAY, JANUARY 15 – MIDNIGHT
SATURDAY, JANUARY 23 – MIDNIGHT

"When the Dark Elves, driven by hatred and greed, steal an evil relic known as the Devilhelm, chaos threatens the peaceful valley.  Only three ninja have the power and courage to stop this evil, and protect the earth from the ravaging powers of the Devilhelm."
"Intense martial combat combines with supernatural wizardry to make Devilhelm an unforgettable adventure."
Made over the course of three years in the woods of southwestern Ohio in the late 90s, Devilhelm is a virtually unknown exemplar of autodidactic backyard moviemaking.  Unconventional energy and invention is firmly on display, from the ambitious makeup and sets, to the primitive computer graphics and original soundtrack; most importantly, Devilhelm rides that right line of irreverence and sincerity that we all love when we hear the phrase "shot-on-video."
‪Ninja stars are thrown, riddles are spoken, the re‬ ‪d stuff sprays freely, ‬ ‪and some pagan raver vomits up a ____.‬
Originally released on VHS mostly to family and friends, Spectacle Theater is excited to reintroduce Devilhelm into the audience and dialogue where it belongs.