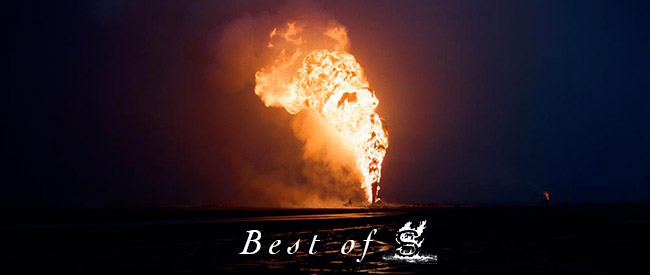 To mark the conclusion of Spectacle's third full calendar year of operation, our programming collective has selected their favorites from among the regular series features each other showed throughout the past twelve months. The result, BEST OF SPECTACLE (aka BoS2K13), provides an opportunity to revisit some of 2013's greatest discoveries, thrills and audience-pleasers.
As the year draws to a close, Spectacle would like to acknowledge the audiences, artists and distributors who have pitched in their support, vision and feedback. Thank you for another brilliant year! We'll save you a seat in 2014.
---

ANTI-CLOCK
Dir. Jane Arden & Jack Bond, 1979
92 min. UK.
SUNDAY, DECEMBER 15 – 5:00 PM
SATURDAY, DECEMBER 21 – 7:30 PM
Part of the series Arden & Bond
A mixed-media riddle, fractured psychodrama and slow-burning sci-fi thriller all fused into one, Anti-Clock- the final feature born out of Arden and Bond's collaboration and only one in which they are credited as co-directors- is the CCTV output of your most paranoid, hypnagogic distress.
Ostensibly a loose narrative about an experimental psychiatric procedure that deconstructs the past, present and future of a suicidal young man, Arden and Bond employ a variety of film and video processing techniques to conjure a world in which mind and screen are enigmatically intertwined. As described in the opening credits (appropriately buried in a sea of television static), Anti-Clock is a 'time stop' of obsessive self-revelation.
The film premiered at the London Film Festival in 1979 and experienced a short run in NYC in 1980 before being shelved in 1982 after Jane Arden's suicide.
---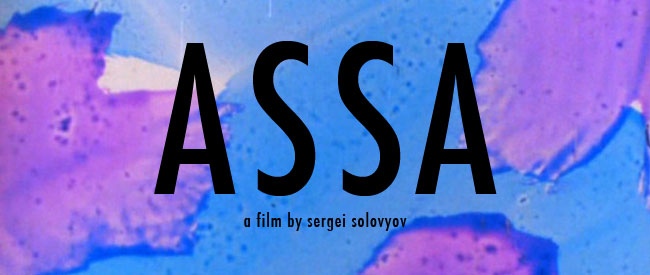 ASSA
Dir. Sergei Solovyov, 1987
Soviet Union, 153 min.
Russian with English subtitles.
SUNDAY, DECEMBER 1 – 7:30 PM
SUNDAY, DECEMBER 15 – 7:30 PM
Part of the series MOLODOST: Films on Soviet Youth
Assa came to recognition and cult status as one of the first films to bring underground rock culture into the Soviet mainstream, featuring songs by bands such as Aquarium, Soyuz Kompozitorov, Bravo, and Kino (whose lead singer Viktor Tsoi, also featured in Igla, plays himself in the film). Assa reflected a time of change in the USSR, as emphasized in Tsoi's song "We Wait for Change," consequently adopted by the real-life Russian opposition movement Solidarnost as its anthem. Set in Crimea during the late 1980s, Assa follows the story of Alika, a young nurse who is romantically involved with Krymov, her much older patient and the leader of an organized crime group. Despite her relationship with Krymov, Alika starts falling for a young rock musician named Bananan (played by the avant-garde artist Afrika). Bananan introduces Alika to his countercultural world of music and art. When the jealous Krymov begins to notice a change in Alika's emotions toward him, he stages a plan to eliminate Bananan from Alika's life forever. Assa has a playful, absurdist touch, combining sober moments with dreamlike sequences. Experimental scenes of hand-painted abstract patterns and inter-titles explaining youth slang are interspersed throughout the film. One amusing subplot that develops follows Krymov reading a book of the assassination attempt on Russia's Tsar Paul I—the "Mad Tsar". As he reads, a fantasy reenactment plays parallel to the main story. Perhaps this text foreshadows the inevitable fate of the Union: according to the assassins, they were only abolishing a power from Russia that had gone mad.
---

BOXER
Dir. Shûji Terayama, 1977
94 min. Japan.
In Japanese with English subtitles.
THURSDAY, DECEMBER 12 – 10:00 PM
WEDNESDAY, DECEMBER 18 – 7:30 PM
Dense with glorious tints and nail-biting moments, Shûji Terayama's Boxer pits avant-garde and crowd-pleaser sensibilities against each other with downright jugular results.
The story is old as sin: a withered ex-champion, fueled by bitterness and drink, takes a young drifter under his wing. In a society that rewards cowardice and conformity, the student's values are shaken by his mentor's discipline and focus, but it's hard to tell if the retired boxer is steady, or just plain berserk.
Spectacle favorite Terayama (Pastoral, Emperor Tomato Ketchup), who wrote boxing commentary as a hobby between plays and movies, gives the story a dazzling palette and lightning swiftness, but also a necessary sense of respect for the body – and the weight of its punishment.
---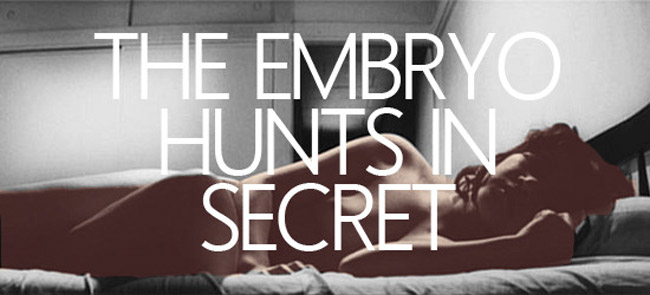 THE EMBRYO HUNTS IN SECRET
Dir. Kôji Wakamatsu, 1966
72 min. Japan.
In Japanese with English subtitles.
THURSDAY, DECEMBER 12 – 7:30 PM
MONDAY, DECEMBER 16 – 10:00 PM
Part of the series Kôji Wakamatsu
One part art house, one part Grindhouse, The Embryo Hunts In Secret was made right after Wakamatsu left Nikkatsu. This classic film presents a brutal exploration of the Japanese psyche seen through a child-like megalomaniac's perspective.
This is a man who keeps his girlfriend imprisoned in their small apartment, controlling her every move and torturing her in between bouts of denial and self-induced humiliation. In the end, she gets revenge.
---

DER FAN
aka Trance
Dir. Eckhart Schmidt, 1982
89 min. Germany.
In German with English subtitles.
MONDAY, DECEMBER 2 – 10:00 PM
SATURDAY, DECEMBER 14 – 7:30 PM

Part of the series Anti-Valentines 2013
In the wake of films like Christiane F., studies of displaced, dysfunctional German youth were plentiful. However, the frontrunner in the sweepstakes for the most memorable and disturbing entry would have to be Der Fan.
Like every other teenager in school, Simone has a crush on a rock star. And because this is Germany in the 80s, that rock star fronts a Kraftwerk-style new wave/minimal wave solo project. When the lead singer 'R' (lead singer of the real-life German pop group Rheingold) comes to town to make a television appearance, she's suddenly gripped by a trance-like state… leaving school, friends and parents behind her. However, when Simone comes to realize the shallow nature of the 'glamorous' music industry and of 'R' himself, she plans a calculated revenge on her obsession that builds to one of the most shocking and brutal endings ever committed to celluloid.
An unsettling blend of new wave pop culture, adolescent angst, and full-blooded horror, this nasty little art-house shocker caught more than a few unsuspecting viewers off guard and earned a bit of a cult following in the process. Imagine a John Hughes vehicle with Michael Haneke in the driver's seat and you're getting close…
---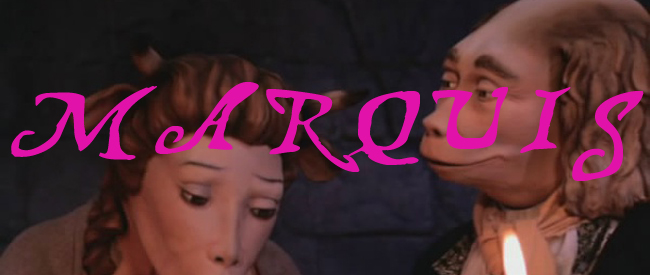 MARQUIS
Dir. Henri Xhonneux. 1989
78 min. France.
In French with English subtitles.
TUESDAY, DECEMBER 3 – 10:00 PM
FRIDAY, DECEMBER 20 – 10:00 PM
Clumped in your history book between the chapters on French Revolution and pioneering 18th century erotic fiction grows a horny, pornographic mold called MARQUIS.
Immersed in a world in which uncanny animal masks mirror the spirit of the character within, a canine Marquis de Sade serves a prison sentence for allegedly raping the bovine Justine… but the situation may be more complicated than it seems. In between bouts of banter with his anthropomorphic, meter-long penis Colin, the Marquis gets down to writing a few of his more infamous scenes—many depicted in surreal claymation. Before too long the Revolution has begun, but where will it leave the Marquis?
Co-written by Henri Xhonneux and Roland Topor—animator of 1973′s inimitable surrealist classic "Fantastic Planet"—MARQUIS's bizarre tone swings at will between irreverent perversion and clear-headed satire, never failing to entertain and utterly confound.
"This is one of the strangest movies I have ever seen. I found it to be discomforting and just weird. It makes you squirm in your seat and wonder what the people making this are like in real life. It's definitely entertaining and it sort of sucks you in, especially if you don't know French and have to read subtitles. It is certainly not American and it is certainly very peculiar. I have never seen a movie where everyone is wearing life-like animal costumes and acting like humans in very abnormal ways. This movie gives me the chills. However, I would watch it again just because it is so fascinatingly WEIRD." -IMDB user 'ethylester'
"NOT FOR THE PRUDISH." -Variety
---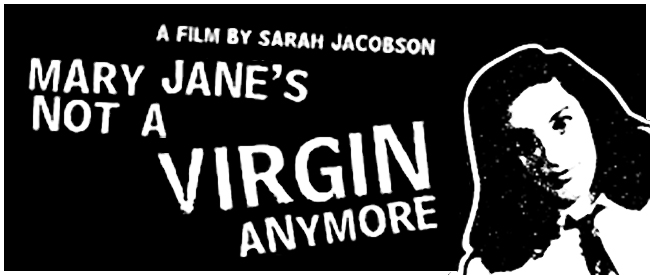 MARY JANE'S NOT A VIRGIN ANYMORE
Dir. Sarah Jacobson, 1998.
98 min. USA.
FRIDAY, DECEMBER 6 – 7:30 PM
WEDNESDAY, DECEMBER 11 – 10:00 PM
THURSDAY, DECEMBER 19 – 10:00 PM
Part of the series You Can't Keep Me Quiet!: Films by Sarah Jacobson
Sarah Jacobson (1971-2004) was an independent filmmaker who led a DIY filmmaking movement in the 90s. She wrote and directed several short films, documentaries, music videos and a feature film. She formed Station Wagon Productions with her mother and producer Ruth Jacobson and with her help, Sarah self-promoted and distributed her films all over the country. Originally from New Jersey and Minneapolis, Jacobson studied briefly at Bard College and then at the San Francisco Art Institute with George Kuchar.
She directed I Was a Teenage Serial Killer in 1993, which she described as the story of "a 19-year-old girl who has a series of run-ins with various condescending men." Jacobson's slap-in-the-face feminist interpretation of "sexy"/violent B movies found a cult following. Jacobson went on to make her feature Mary Jane's Not a Virgin Anymore a few years later.
Too in your face to be an after-school special, Mary Jane's Not a Virgin Anymore is a movie about sex from a girl's point of view. After a gross and unceremonious "first time," Jane learns about the joys of pleasing herself and asking for what she wants from her punky co-workers at a Midwestern movie theater (with Jello Biafra and Davey Havok cameos). the film debuted at the Chicago Underground Film Festival in 1997 and sold out at Sundance and SXSW; Jacobson promoted the film the year previous at the Independent Film Market with homemade "Not a Virgin" stickers that her and her mom made at Kinko's.
After cancer ended Sarah Jacobson's life in 2004, her mother Ruth and Sam Green established the Sarah Jacobson Film Grant to support young women "whose work embodies some of the things Sarah stood for: a fierce DIY approach to filmmaking, a radical social critique, and thoroughly underground sensibility." Find out more about the Sarah Jacobson Film Grant here.
---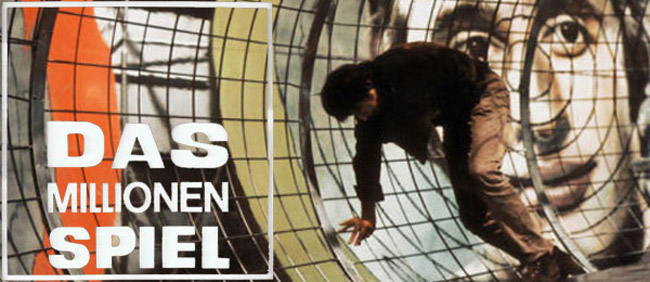 DAS MILLIONENSPIEL
Dir. Tom Toelle & Wolfgang Menge, 1970
96 min. West Germany.
In German with New English subtitles.
MONDAY, DECEMBER 2 – 7:30 PM
SATURDAY, DECEMBER 21 – 10:00 PM
Long before The Hunger Games, Battle Royale, Series 7: The Contenders and even The Running Man, 1970's Das Millionenspeil portrays a deadly reality television contest in which a participant is given seven days to elude a trio of professional assassins and win a $1 million prize.
Based on a 1958 story by Robert Sheckley often cited as the first predicting the advent of reality television, Das Millionenspeil was itself made for German television and interspersed with convincing false advertisements, psychedelic studio interludes and man-on-the-street documentary bit. And moreso than all its followers, its a richly unsettling satire of government, broadcast and entertainment sectors colluding and engendering various alliances and sympathies among the public they entangle.
It also represents some of the first-ever recordings by the legendary CAN, then known as The Inner Space. Their propulsive title track and ambient interludes provide the backbone of an unusually polished, thrilling and subsequently little-seen production.
---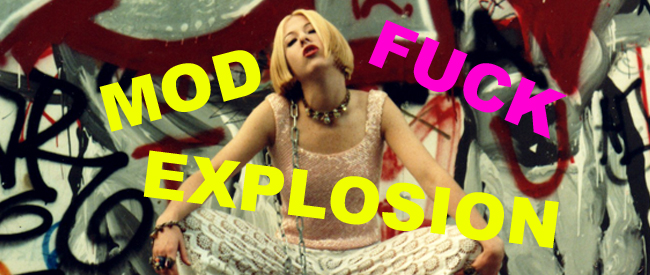 MOD FUCK EXPLOSION
Dir. Jon Moritsugu, 1994
76 min. USA.
FRIDAY, DECEMBER 6 – 10:00 PM
WEDNESDAY, DECEMBER 18 – 10:00 PM
Part of the series Postmodernism: Who Cares? The Complete Jon Moritsugu
Combining the tropes of 60s art-house cinema with the primitive punk aesthetics of the Cinema of Transgression, Jon Moritsugu has been making movies far outside the mainstream for over twenty-five years. While his work has screened at venues as high profile as the Sundance, Berlin and Toronto Film Festivals and even public television, he continually shirks convention and classification. After making his name with a series of hand-made 16mm features, he's recently embraced video with a fervor and a freeness to which every young filmmaker should be paying attention. Moritsugu's world is overflowing with eye-popping production design, eardrum-destroying rock 'n' roll, gross-outs aplenty and deadpan one-liners you'll be quoting for weeks.
In this teen angst epic, London (Amy Davis) longs for love and leather jackets. Meanwhile, vicious Mods wage a turf war against a gang of lip-synched Asian bikers.
"A dynamic punk odyssey of a pair of innocent teens adrift in a violent urban world; Moritsugu unleashes a barrage of powerful images and hard-driving music." – Los Angeles Times
---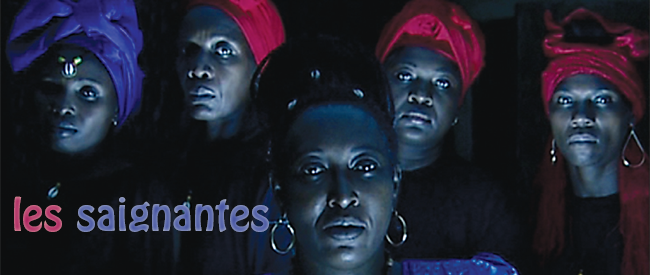 LES SAIGNANTES
aka The Blood-lettes
Dir. Jean Pierre Bekolo, 2005
Cameroon. 97 min.
In French with English subtitles.
FRIDAY, DECEMBER 13 – 10:00 PM
THURSDAY, DECEMBER 19 – 7:30 PM
Part of the series Welcome to Applied Fiction: The Films of Jean Pierre Bekolo
Les Saignantes is the best African sci-fi vampire political satire with homoerotic overtones you've ever seen. Best friends Majolie and Chouchou are two beautiful young women trying to get ahead in a near-future Cameroon. After accidentally killing a powerful politician during sex, the two come up with a plot to dispose of the body, and get into the glamorous wakes that have taken over the local nightlife.
As the girls tear their way through the corrupt ruling class, using their their feminine wiles and magical powers, Bekolo drops inter-titles into the film, commenting on the difficulties of filmmaking in an oppressive political climate. With a feminist subtext and cinematography like a blacklight rave, Les Saignantes is a beautiful, disorienting, and truly original work.
---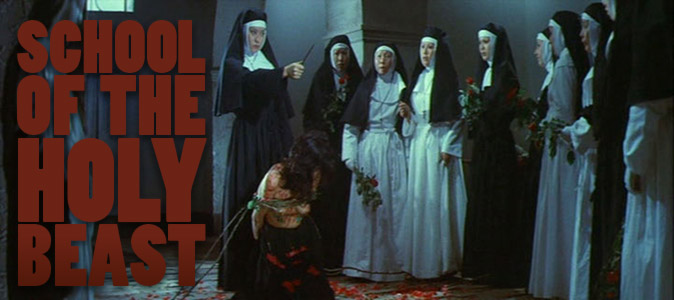 SCHOOL OF THE HOLY BEAST
Dir. Norifumi Suzuki, 1974
91 min. Japan.
In Japanese with English subtitles.
FRIDAY, DECEMBER 13 – 7:30 PM
SUNDAY, DECEMBER 22 – 5:00 PM
Part of the series S†NDAYS
Something foul is afoot at the Sacred Heart Convent, as Yumi Takigawa discovers after cloistering herself to search for traces of her mother, who had disappeared into the monastery years before. Once there, she becomes privy to dark secrets and sadistic games. In the hands of brilliant director Norifumi Suzuki, Sacred Heart is a wonderful and terrifying world of sensuality and violence rendered with masterful visual panache. Equally notorious for its exploitational extremes as its stunning artistry, School of the Holy Beast is a twisted rabbit hole of sin and vice that absolutely lives up to its legendary cult reputation.
---

SWEET BUNCH
Dir. Nikos Nikolaidis, 1983
154 min. Greece.
In Greek with English subtitles.
New restoration presented in HD.
SUNDAY, DECEMBER 8 – 8:00 PM
SUNDAY, DECEMBER 22 – 7:30 PM
Part of the series Dead Wax: A Nikolaidis Double A-Side
Nikos Nikolaidis (1939-2007) is one of Greece's most masterful and subversive filmmakers, yet his work remains inexplicably neglected abroad. Best known in the States for his transgressive, kinky horror-noir pastiche SINGAPORE SLING, his distinctive oeuvre encompasses many works embraced by radicals, outcasts and misfits, while earning an unexpected place within the pantheon of critically acclaimed national cinema of his native country.
Nikolaidis's most acclaimed film charts a string of increasingly bizarre circumstances in the lives of four misanthropic housemates. An episodic, surreal, and offbeat paranoid epic in the spirit of Celine and Julie Go Boating, SWEET BUNCH weaves various plot strands as the characters cheat, steal, sleep, swindle and dance their way to oblivion, represented here by an extreme climax that clarifies the title's allusion to Sam Peckinpah.
Veering between magical effervescence and hard-bitten cynicism, SWEET BUNCH is a neon-bathed yowl from a generation born into immediate obsolescence; what Vrasidas Karalis calls "an elegy and farewell to the innocence of a forgotten generation through poetic realism and colorful expression." It's further distinguished by nimble performances; a rich pop soundtrack; deftly choreographic sequences that would make Scorsese blush; and vintage-vortex production design encompassing offbeat knicknacks, Victorian junk, and jukejoint neons.
In it's most recent list the Greek Film Critics Association (PEKK) ranked SWEET BUNCH among the country's ten greatest films, and its idiosyncratic influence lingers in the work of Athina Rachel Tsangari and Giorgos Lanthimos. Nevertheless, SWEET BUNCH remains unavailable on DVD outside of Greece and previously had not been shown in New York in nearly 13 years. Here's your chance to catch up on a national classic all-too overlooked outside its borders.
---

THE TELEPHONE BOOK
Dir. Nelson Lyon. 1971
80 min. USA.
TUESDAY, DECEMBER 3 – 7:30 PM
FRIDAY, DECEMBER 20 – 7:30 PM
Sexually frustrated gamine Alice (Sarah Kennedy) is freed from her apartment-bound malaise when she receives the world's greatest obscene phone call from one "John Smith." Setting out on picaresque journey through the Manhattan white pages in search of its maker, Alice encounters ego-crazed porn directors, perverted psychologists and priapic shut-ins. Her trip grows more and more deranged (interrupted by first-person interviews with phone freaks), climaxing in one of the nuttiest half-hours of 1970s cinema.
Directed by Saturday Night Live writer Nelson Lyon and produced by Merv Bloch, creator of some of the movie industry's best ad campaigns, The Telephone Book is hilarious and disturbing in equal measure, featuring Warhol Factory regulars, a man with a never-ending erection, and a lurid animation sequence (that is mostly to blame for its X rating). This is the Everything You've Always Wanted to Know About Sex But Were Afraid To Ask…for the porn-house crowd, with one caveat: it's not porn and it never pretends to be.
---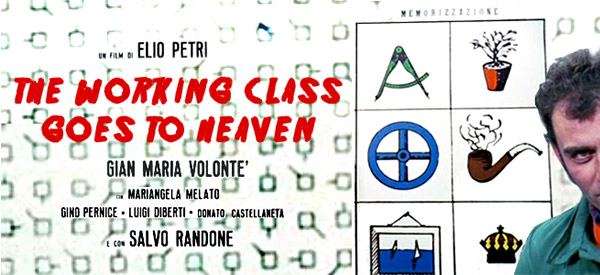 THE WORKING CLASS GOES TO HEAVEN
aka La Classe Operaia Va in Paradiso
Dir. Elio Petri, 1971
112 min. Italy.
In Italian with English subtitles.
SUNDAY, DECEMBER 1 – 5:00 PM
MONDAY, DECEMBER 16 – 7:30 PM
Part of the series Elio Petri
"Such films should be burned."
–Jean-Marie Straub
Shot in a factory occupied by striking workers, The Working Class Goes to Heaven is Petri's investigation of the restructuring of capitalist social relations and the waning primacy of the mass worker as the holder of revolutionary agency (Gian Maria Volonté stars as "Lulu Massa"). Student militants and union bureaucrats battle over piecework at the factory gates, while the workers themselves remain in a state of fatal ambivalence.
The mutilation of the body and the consciousness of the worker here receives one of its clearest cinematic expressions. The worker's total incorporation into the machine of large-scale industry also occasions the most Deleuzian moment in Petri's oeuvre: "The machine starts to move. Arms, legs, mouth tongue … The food goes down, and here is the machine that crushes it. A shit-making factory!"