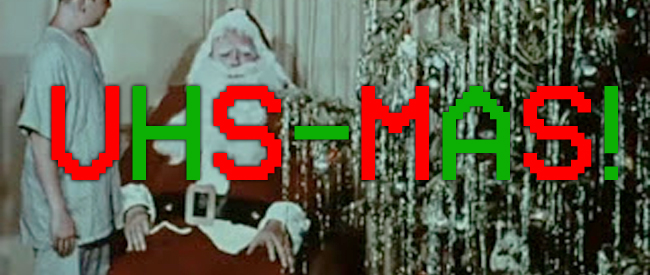 Crack open a carton of egg nog and soak in the holiday cheer with this double serving of Christmas turkeys! The video boom of the 80s saw not only a glut of new content, but also the reappropriation of forgotten cheapies, freshly packaged to fool unsuspecting renters. With stores in constant demand of new titles, it's only natural that home video companies would crank out some Christmas movies every year to make an easy December dollar. Presented here are two of the strangest, craziest Yuletide cash-ins to ever hit the shelves.
---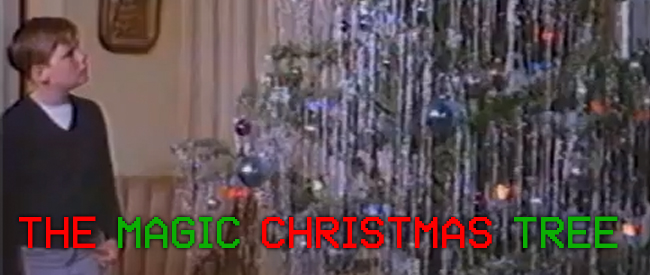 THE MAGIC CHRISTMAS TREE
Dir. Richard C. Parish, 1964
USA, 60 min
TUESDAY, DECEMBER 10 – 8:00 PM
Using a magic ring given to him by the happy witch next door, Mark, the world's least creative boy, summons a bitchy, wish-granting evergreen to do his bidding during the holiday season. He wishes for an hour of total control of the universe, then kidnaps Kris Kringle himself (played by what appears to be a drunk the producers slipped into a Santa outfit while he was blacked out.) Will Mark's newfound powers ruin Christmas for everyone? Or will he see the light and save the day? Also featuring, a pervy giant.
In the pantheon of phoned-in kiddee matinee movies from the 60s, few are as cheap and cynical as THE MAGIC CHRISTMAS TREE. The only thing more disappointing than seeing this as a child in the 60s must have been seeing it as a child on VHS in the 80s. You'll laugh, you'll cry, you'll feel dirty for reasons you can't quite pinpoint.
---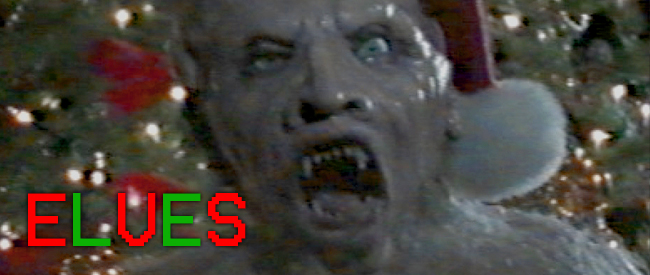 ELVES
Dir. Jeffrey Mandel, 1989
USA, 89 min
TUESDAY, DECEMBER 10 – 9:30 PM
When teenager Kristen accidentally cuts her hand at a late night wiccan ceremony to the "Virgin of Anti-Christmas", the blood that spills unleashes an unspeakable evil upon her small town! This demonic creature rips anyone in its way to shreds, but has a special, unwholesome interest in Kristen… Only she and retired-cop/recovering alcoholic/department store Santa/hobo Mike McGavin (TV's Grizzly Adams, Dan Haggerty) solve the mystery and stop the madness. What they discover is truly, truly crazy.
Despite the film's pluralized title, there's only one elf on display here, which is basically a Halloween mask on a stick and monster glove. But hey, you get neo-Nazi occultists, castration, explosions, perms and boobs aplenty, a kitten drowned in a toilet, and lines like "Santa said oral." ELVES transcends its straight-it-video budget and B-grade performances by being 110% committed to bat shit insanity 100% of the time.