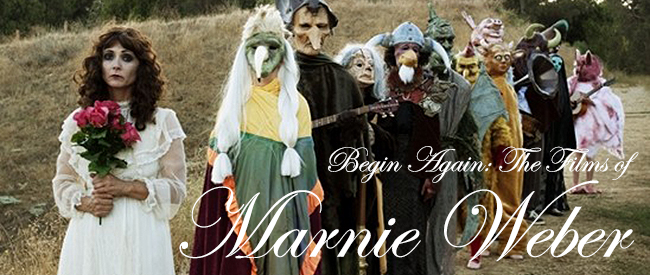 BEGIN AGAIN: THE FILMS OF MARNIE WEBER
Dir. Marnie Weber, 1993-2010
USA, 134 min.
THURSDAY, OCTOBER 10, 7:30 PM (Pt. 1) & 9:00 PM (Pt. 2)
Director Marnie Weber in attendance for Parts 1 & 2 for an introduction and Q&A!

Los Angeles based artist Marnie Weber has been constructing an elaborate narrative through music, collage, sculpture and film since the late 1970's. Weber cut her teeth as a musician in no wave bands such as The Party Boys and The Perfect Me before continuing solo as a performer and visual artist. From her start in music, she continued adding layers to her performance and visual art through costume and theatrics as well as narrative and character vignette.
With the addition of film to her oeuvre in the 1990's Weber folded an entirely new dimension into her artistic universe—a universe in which the inanimate and the hominal intermix freely. In film, the tropes of personified animals, ghosts, and special powers, which have always frequented her work, mingle eerily with masks that transform live actors into puppets and sculptures into cast characters. The result is an animated and newly uncanny view through the windows of her haunted dollhouse.
Part I: EARLY FILMS AND OTHERS
(approx. 61 min.)
All Night Movies (1993)
Songs Hurt Me (1994)
Destiny and Blow Up Friends (1995)
Death Valley (1996)
I'm Not a Bunny (1996)
Lost in the Woods (1997)
The Red Nurse and the Snowman (2000)
The Forgotten (2001)
The Ghost Trees (2002)
The Night of Forevermore (2012)
Part II: FILMS OF THE SPIRIT GIRLS
(approx. 73 min.)
In the early 2000's Weber created The Spirit Girls who are on one hand a band and on another their own artwork. They are the ghosts of five adolescent girls who were struck down in their prime and continue through musical performance and ventriloquism to attempt to communicate with the living world.
Songs that Never Die (2005)
A Western Song (2007)
Sea of Silence (2009)
The Campfire Song (2009)
The Eternal Heart at Eternity Forever Performance (2010)