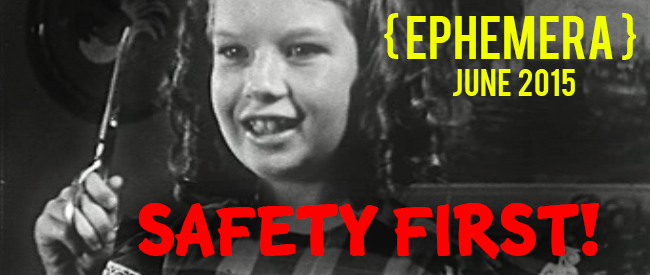 EPHEMERA: SAFETY FIRST!
1940s-2002
Approx. 95 min. USA.
MONDAY, JUNE 1 – 7:30 PM
WEDNESDAY, JUNE 10 – 10:00 PM
SUNDAY, JUNE 14 – 5:00 PM
SUNDAY, JUNE 28 – 7:30 PM
Safety films are modern morality plays aimed at You, The Everyman! Without their stern guidance you would get your dumb self killed in short order. OSHA's 2010 statistics list over 4,000 on-the-job fatalities and millions of productive hours lost due to accidents. Unfortunately, even when depicting very real dangers, safety films' authoritative tone and stiff reenactments (not to mention terrible gore effects) elicit more laughter than concern.
These ephemeral films fill a social (and sometimes legal) need to educate the public on what it means to be 'safe'. When society is confronted with new technology or changing environments, it is up to the safety film to show the proper path to tread. They want to save you from yourself – your wild emotions, lazy shortcuts, rule-bending and other human foibles all lead straight to your gory, violent death. Safety films want you to watch out, and whether by gentle caution or gruesome reenactment, they WILL get their message across.
So join us for an evening of well-intended threats, frights, falls and severed limbs! Bonus: a US Postal Safety Rap featuring young Justin Timberlake!
LIVE AND LEARN (1951)
TIME OUT FOR TROUBLE (1961)
ON EVERY HAND (1969)
COOKING – KITCHEN SAFETY (1949)
ONE GOT FAT (1963)
WHY TAKE CHANCES? (1952)
RANGE SAFETY (1990)
DANGER IS YOUR COMPANION (1940s)
OFFICE SAFETY (1970)
SAFETY IN OFFICES (1944)
CHRISTMAS TREE HARVEST (2002)
SHAKE HANDS WITH DANGER (1970s)
HAZARDS AROUND BINS AND HOPPERS (1978)
DOMESTIC DISTURBANCE (1976)
STAIRWELL SAFETY (2001)
GUNS ARE DIFFERENT
HALLOWEEN SAFETY (1985)
POST OFFICE SAFETY RAP (1990s)
HAZARDS IN MOTION (2001)
SAFETY: IT'S YOUR RESPONSIBILITY (1982)
WILL YOU BE HERE TOMORROW? (1998ish)
SAFETY: IN DANGER OUT OF DOORS (1970s)
A SAFE DAY (early 1940s)
HOSPITAL SAFETY (1979)
Special thanks to the Internet Archive, Rick Prelinger and everyone at the Prelinger Archive.
Rick Prelinger began collecting "ephemeral films"—all those educational, industrial, amateur, advertising, or otherwise sponsored—in 1982, amassing over 60,000 (all on physical film) before his Prelinger Archive was acquired by the Library of Congress in 2002. Since then, the collection has grown and diversified: now it exists in library form in San Francisco and is also gradually being ported online to the Internet Archive (archive.org), where 5,336 of its films are currently hosted (as of this writing).
Of course, the content of the Prelinger Archive's films varies in accord with the variety of mankind. Historic newsreels, mid-century automobile infomercials, psychological experiments, medical procedurals, big oil advertisements, military recruitment videos, political propagandas, personal home videos, celebrity exposes, amateur narratives, scientific studies, war bulletins, instructional films, special interest op-eds, safety lessons, hobby guides, travel destination profiles and private industry productions all sit comfortably together in one marginalized category.