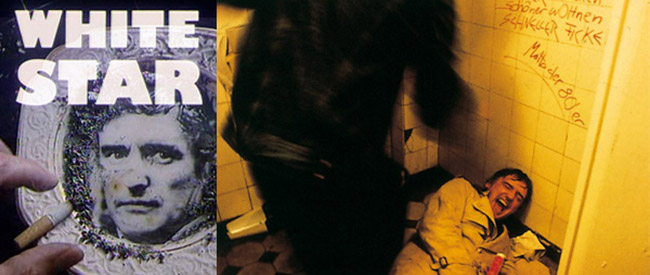 WHITE STAR
1983. 92 min. West Germany.
In English.
FRIDAY, JULY 26 – 10:00 PM
BACK DUE TO POPULAR DEMAND! ONE SHOW ONLY!
"The emotionally most demanding film I've ever made, and therefore the most dangerous one — for me." – Dennis Hopper
Blue Velvet? In the words of Frank Booth: Fuck That Shit. Dennis Hopper gives his most terrifying, unhinged performance as a seedy concert promoter in this dystopian synthpunk urban odyssey.
Hopper plays Kenneth Barlow, the sociopathic Colonel Tom Parker to fledgling New Wave artist Moody Mudinksy aka White Star's Elvis. Ferociously asserting his credibility while getting beat up, pissed on, and sold out, Barlow orchestrates a series of increasingly dangerous schemes without Moody's knowledge, culminating in a wretched stunt straight out of a mid-'70s Bowie concept album.
Made while Hopper was at the rock-bottom throes of addiction, White Star leads one to truly fear for the actor's fellow performers, as if he'll break role, snap their necks, and charge out of the screen at any moment. The experience of working with Hopper allegedly sent his director into early retirement and rural seclusion, where he has remained ever since. Miraculously, Klick has maintained the star's performance wasn't ad-lib'ed — you be the judge. Spectacle shows an uncut version previously mangled beyond recognition by Roger Corman for stateside non-release. This is a must-see.