FRIDAY, AUGUST 2: BLOODSUCKING DOLL
SATURDAY, AUGUST 3: SPECTACLE ROULETTE
FRIDAY, AUGUST 9: CHARLIE'S BACK WEEKEND! and TROMA ENTERTAINMENT presents THE LOVE THRILL MURDERS
SATURDAY, AUGUST 10: CHARLIE'S BACK WEEKEND! presents THE NIGHT GOD SCREAMED
FRIDAY, AUGUST 16: MANDATORY MIDNIGHTS presents HOLOGRAM MAN
SATURDAY, AUGUST 17: HOLLYWOOD BURN
FRIDAY, AUGUST 23: FIGHTING MADAM
SATURDAY, AUGUST 24: THE MEAT EATER
FRIDAY, AUGUST 30: BLACK SHAMPOO
SATURDAY, AUGUST 31: AND GOD SAID TO CAIN

---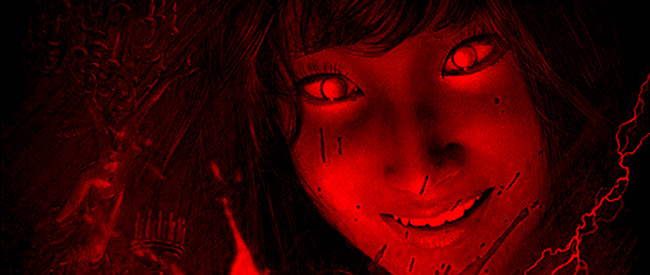 BLOODSUCKING DOLL
aka LEGACY OF DRACULA
Michio Yamamoto, 1970.
71 min. Japan.
In Japanese with English subtitles.
FRIDAY, AUGUST 2 – MIDNIGHT
In the early 1970s, a little-known director named Michio Yamamoto made a series of three vampire films for Toho studio. A surprisingly effective mashup of Hammer Goth, psychedelia, and classic Japanese kaidan, his trilogy of contemporary vampire tales remains curiously overlooked and virtually unseen in the U.S.
The first and most nocturne entry of Yamamoto's series takes place in a spooky house where a young man goes to visit his girlfriend after several months apart. When he meets her mother, he's shocked to learn she was apparently killed in a car crash. And yet while staying the night, he begins to experience strange visions of her. When he suddenly disappears, his own sister (Kayo Matsuo of Gate of Flesh, Shogun Assassin, and Lone Wolf and Cub: Baby Cart at the River Styx) visits the house to pursue her own investigation. From there, things become exceedingly creepy. Of the trilogy, BLOODSUCKING DOLL has the most in common with traditional Japanese ghost stories. The searing yellow eyes of its vampire are truly unforgettable, as is her method of dispatching victims by slashing their throats with a dagger (if Quentin Tarantino makes another vampire movie…). Though bigger on moonlight, candles, and fog than violence, BLOODSUCKING DOLL builds to a wicked climax featuring geysers of gore.
---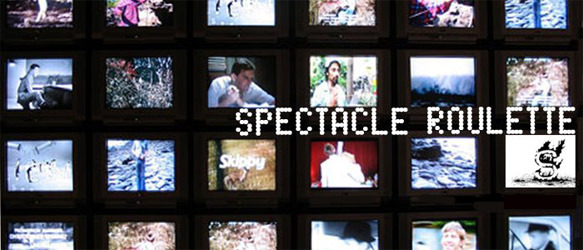 Spectacle presents:
SPECTACLE ROULETTE
Dir. ???, 19??/20??.
????. ??? min.
In any number of languages.
SATURDAY, AUGUST 3 – MIDNIGHT
Once again it's time to spin the chamber! And this time you CAN be any geek off the street!
But wait…
What are we going to show?
Cooking shows hosted by puppets from Iceland? Italian dancefighting epics? Hologramsploitation? Hostage situation bloopers? Dog Wedding Massacre? Open heart surgery? Prison slime fights? Hip-Hop Pronunciation? Mustard eating contests? Secret footage of doctors giving terrible news to patients? Hot Dog factory tours? Space Vampires? Musicals with songs in made up languages? Motorcycle accidents? Unicycle accidents? Regional DOOM II championship temper-tantrums? Pizza noir?
Well, that's up to you.
The first 6 people to show up with a movie will be given the chance to lobby by showing 5 minutes of that film. After all 6 are shown, everyone votes and that's what we watch!
If you want to participate, please do the following:
1. Show up at least 15 minutes BEFORE midnight with your proposed film. (Either a DVD or digital copy!) 2. Be prepared to introduce your 5 minute clip and lobby hard for your candidate. 3. COME CORRECT. Bring the craziest thing you can find, no half-steps! 4. Tell your friends!

---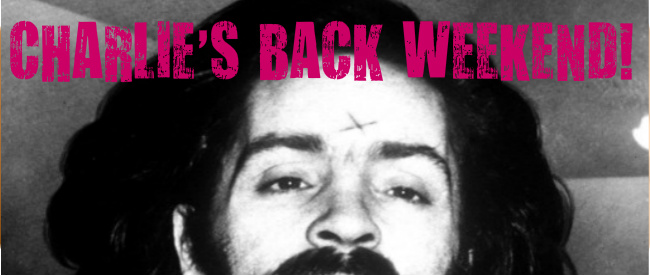 CHARLIE'S BACK WEEKEND!
"From the world of darkness I did loose demons and devils in the power of scorpions to torment."—Charles Milles Manson
The Summer of Love O.D.'ed and its body was tossed on the trash heap—and the basilisk that emerged from the dung was named Charlie…
While the brutal slaughters performed by the Manson Family, Charlie's gaggle of drug-addled followers, didn't bring down "Helter Skelter," the murders and subsequent headlining-hogging trail captured the gruesome fascination of the U.S.—and Hollywood noticed.
Exploitation flicks based on the conman/musician/guru's blood-drenched crimes were churned out, and added to the Hippie Fear the "Silent Majority" craved.
Watch some political piggies get creepy-crawled at the Spectacle, maaaaaaan!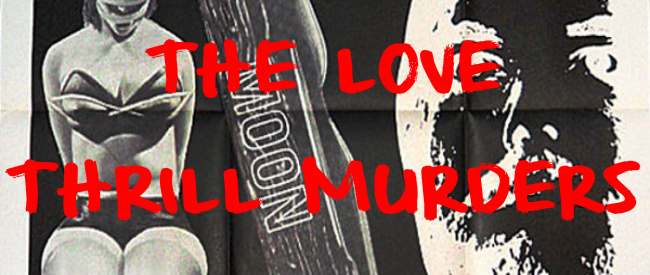 THE LOVE THRILL MURDERS
Robert L. Roberts, 1971.
92 min. USA.
English
FRIDAY, AUGUST 9 – MIDNIGHT
Troy Donahue as an acid slinging, anti establishment, messianic Charlie Manson surrogate who turns a bourgeois orgy into a freak scene slaughterhouse?! Yep, and the Spectacle's got it for you. Made a little over a year after the Manson Family murders, THE LOVE THRILL MURDERS (formerly SWEET SAVIOR) comes on free and easy, propelled by mellow folk rock(provided by the legendary composer Jeff Barry) and montages of communal hippie bliss, BUT sex and drugs quickly turns into blood and guts when Donahue decides it's time kick out the jams mamma jama.
Moon (Troy Donahue) is the bearded, motorcycle riding, charismatic, free love Jesus who leads a group of hippie freaks down on New York's lower east side in the late sixties. Moon and his followers fund their free and simple way of life by providing "straight pigs" with freaky sex and drug parties for cash, but Moon's got something a little different planned for their next orgy on demand—and it ain't musical chairs.
THE LOVE THRILL MURDERS is a disarmingly pleasant, unhurried and well acted little gem which confounds the line between tasteless exploitation and earnest independent filmmaking. This straight forward slice of MANSPLOITATION features some precognitive editing borrowed from Easy Rider and a break neck psychedelic dance number with a golden cobra! Mr. Troma himself, LLoyd Kaufman, served as production manager for this New York lensed affair, and watch out for a young Lloyd as one of Moon's long haired, freaky followers.
ADVISORY: This films contains scenes of sex, violence and torture which may act as triggers for some viewers.

---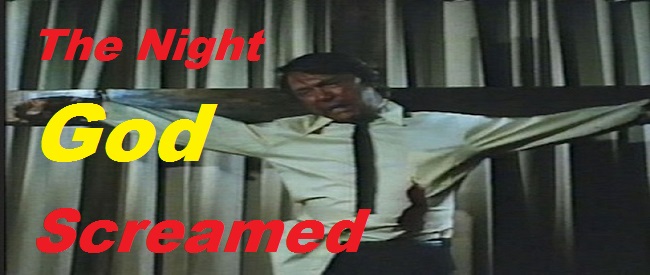 THE NIGHT GOD SCREAMED
Dir. Lee Madden, 1971
USA, 85 min.
SATURDAY AUGUST, 10 – MIDNIGHT
If you hate religion, goodness gracious, do we have a flick for you! Deliciously nasty old-school 42nd Street madness returns to South 3rd when this lost exploitation trash is given a midnight resurrection at the Spectacle!
1971's The Night God Screamed is an almost forgotten, "ripped from the headlines" grindhouse flick about the dangers of uncanny Bible-quoting hippies and the generation gap that has only gotten better with age as its subtextual philosophical questions have gotten more prescient over the years.
Neither the Manson-esque followers of psycho-prophet Billy Joe Harlan (a perfectMichael Sugich) nor the "Squares" who spend their last dime on religious trinkets instead of necessities, are spared in The Night God Screamed: foolish Reverend Pierce has used this month's mortgage payment on a giant wooden cross; and drug-pushing Billy Joe exults to his faithful, "They was all just a bunch of sinners…but I saved them, Lord! I showed them that using dope was the way to turn on to You!
Meanwhile, Billy Joe's hooded henchman, the Atoner ("the AAAy-toner!" shrieks themessianic nutjob in a way that will become a secret code between everyone who sees this film), lurks and slaughters for his master, like a medieval Jason Voorhies transplanted to suburban SoCal, prefiguring those killers with superhuman powers who stalked 1980s slasher pix.
After testifying against these "Kill for Jesus" freaks because they crucified (!) her preacher husband, Fanny Pierce (former Hollywood starlet Jeanne Crain, also in 1967'sHot Rods to Hell) finds herself in Straw Dogs territory as the incensed cultists seek holy revenge—by stalking her to a house where she's babysitting college students.
Enlivened by some beyond over-the-top performances and extraordinary documentary-style footage of the soup kitchens of Los Angeles' Skid Row, this is the exploitation market in overdrive, plugging into then-topical/now-dated qualms: Fear the Hippies! TheMansons are everywhere! Beware of longhairs! Christians are murderous, brainwashed loonies! Hey, wait a minute…
Yet with all its sleazy and grim turns, 1971's The Night God Screamed is a valid primer on the nature of guilt, earned or not—with a great twist ending (that you should just forget I ever mentioned).
Helped by a breakneck—hint, hint—pace, the script that feels like something John Waters wrote, but taken absolutely seriously.
Born and raised in Brooklyn, director Lee Madden also helmed these better-than-average biker movies: Hells Angels '69 (1969) and Angel Unchained (1970).
Can your soul stand the theological implications of The Night God Screamed?
Find out at the Spectacle, Midnight, August 10th!

---

MANDATORY MIDNIGHT
Feeling left out? Can't find common ground with your kids during those long, awkward dinners of meatloaf and self-loathing? Criminally unversed in the works of David A. Prior? Missing all those CANDY SNATCHERS references around the water cooler? Be honest, would you even be able to recognize an INTREPIDOS PUNK if you saw one?
Feeling woozy, it's getting dark, this is the end…
NOT QUITE.
The Spectacle Presents MANDATORY MIDNIGHTS (aka Turkish Netflix)! Fall in love for the first time or all over again with the best of Spectacle Midnights! Every month The Spectacle is showcasing one of our beloved midnight classics like ROCK N ROLL HOTEL, KILLER WORKOUT, HOLOGRAM MAN and so many MORE!!! Don't yawn your way through another screening of Rocky Horror, half heartedly throwing rice and lip syncing through tears of boredom. Come get kicked in the chest by the AMERICAN HUNTER and lose a quart of blood to a BLOODSUCKER FROM OUTER SPACE!
You haven't seen a Spectacle Midnight until you've seen it twice! Come Get Weird and Stay Weird at MANDATORY MIDNIGHTS!
THIS MONTH…
FRIDAY, AUGUST 16 – MIDNIGHT
HOLOGRAM MAN
Dir: Richard Pepin, 1995.
USA. 101 min.
LOS ANGELES, THE 21st CENTURY: Slash Gallagher (Evan Lurie), a revolutionary bomber locked in holographic stasis, finally gets a parole hearing. "Relax", the technician transporting Gallagher says: "I'm a genius."
But when Gallagher's corporate handlers get hacked, the vicious terrorist is on the loose again – from prison to prism. As his vengeance is wreaked across the city, innocent blood spilt in multiple dimensions, the only man to stop him is the rookie who put him in the slammer way back when: Kurt Decoda (Joe Lara). Richard Pepin's direct-to-video film is a brain-flattening kaleidoscope of superhighway chases, dusty warehouse explosions, shocking shootouts and gorgeously realized dystopian nightmares. This January, justice isn't blind – it's holographic.
---

THE MEATEATER
(aka: BLOOD THEATER)
Dir. Derek Savage, 1979
USA
SATURDAY, AUGUST 24 – MIDNIGHT
You know, a lot of you have probably had this dream. The dream of leaving the hustle and bustle of your day job behind – let's say your job is being a traveling shoe salesman for instance, let's also say that's it's put such a strain on you and your family and your home life that it's given you a "bleeding ulcer." Selling shoes. Anyway, the next logical step in your dream would be to…open a movie theater, right? OF COURSE! It's way easier than selling shoes. Well, friends, that happens to be the exact dream of a Mr. Mitford Webster. He's had it! Through with the shoe game! So when "they" finally accept his bid on the old local theater – The Crest – (which, by the way, was shut down for showing PORNOGRAPHY!) he's in there like swimwear.
Mitford gets the whole family together to clean up "pigeon BM", hang decorations, stock the snack bar over and over and – naturally – talk about how much they love hot dogs at every chance they get. They hire a nerdly projectionist with the hots for Mitfords daughter and soon the bright lights of the marquee are setting the night ablaze as opening night is upon them! Keeping good on his promise to the townsfolk to show "nothing harder than a G" (coincidentally, the name of my new rap album) Mitford & Company come out swinging with GRIZZLY SAFARI WHOLESOME MOVIE. With nearly the whole town in attendance – what could go wrong? Well, after the electrocution of the aforementioned nerdly projectionist – a terrible skeleton is discovered hanging behind the screen. So much for wholesome. Enter Lt. Wombat (for real) to solve the mystery. Will the family heed the warnings of the crusty hobo telling them of their impending doom? Who is the even crustier rat-biting, Jean Harlow obsessive? Who really likes hot dogs this much? What happens at the end of GRIZZLY SAFARI WHOLESOME MOVIE?
While Derek Savage shows a clear love for old timey movies, THE PHANTOM OF THE OPERA, the family unit, rats, and more – the true star of this PG rated head-scratcher is, you guessed it, MEAT. Though not explicitly stated, not long into it's 85 minute runtime it becomes clear that the Meat Council has sunk it's claws deep into the banking of this film. On more than one occasion, all action stops to extol the virtues of hot dogs and their various nutrients. One has to wonder how good it can be for a shoe-selling-induced-bleeding-ulcer to have hot dog after hot dog piled on it, but, hey, we're not doctors.
All told THE MEATEATER (aka BLOOD THEATER) is not a perfect film, though it is one you are not likely to forget anytime soon and certainly has that particular je ne sais hot dog that we find so endearing. In fact, once you've MUSTARD the strength to get your BUNS in the seat and watch it, you might find you actually RELISH it. I'll show myself out.

---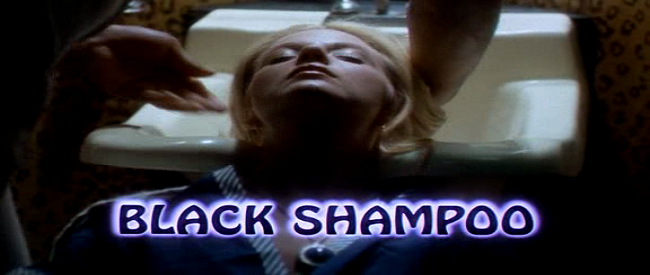 BLACK SHAMPOO
Dir. Greydon Clark, 1976
USA, 83 min.
FRIDAY, AUGUST 30 – MIDNIGHT
Old-school 42nd Street madness returns to South 3rd when this lost exploitation masterpiece about the dangers of being a stud hairdresser springs into action at the Spectacle! Enlivened by beyond over-the-top performances and excessive (but thematically integral) nudity, 1976's Black Shampoo is blasexploitation at its height: Mr. Jonathon knows how to satisfy his customers!
Essentially a Russ Meyer flick that takes itself seriously, Black Shampoo is a cross between one of RM's 1960s B&W morality tales, and one of his candy-colored 1970s romps. So you get the dangers of drug trafficking mixed with nude BBQs; violence is given a musical score better suited for the carnival; a goofy detour with the nympho swimming-pool sisters and disconcerting overdubbings; and any and all opportunities to show all-natural 1970s-era female flesh. So retro, it's refreshing!
There's total camp value in this flick, as well, with hair styles and clothing that's now almost like something out of a sci-fi movie. Lead John Daniels (who did all his own stunts) struts his stuff well, and the flick is enlivened by location shooting around Los Angeles (without permits, of course) by young Dean Cundey, a couple of years before he began his long collaboration with John Carpenter.
Meanwhile, Brenda, the new receptionist at Mr. Jonathan's hair salon, seems to be the only woman who has melted his Casanova's stone heart. Their happiness is threatened by Brenda's past as a Mafia mistress, though, as her old boyfriend wants her back.
Then, what started as a raunchy blaxploitation rip-off of Warren Beatty's "Death of the Sixties" opus, takes a nasty turn, and ends with pack of mean-spirited goons and amotherfuckin' chainsaw fight!
During the flick's meaner segments, anything gets used as a weapon: cars, pool cues—and in a scene both ludicrously over-the-top and quite horrifying, a sympathetic gay hairdresser is sexually abused with a curling iron.
If you can enjoy this flick on a deeper, more philosophical level, good for you—otherwise Mr. Jonathon's follicle follies will keep you happy with its parade of disrobing women—various Me Generation hotties of unique shapes and sizes—some low-budget thrills; and a super-soul soundtrack that'll flip your wig.
A few years earlier, director Greydon Clark explored race relations in the U.S. with 1973's highly recommended The Bad Bunch, a bleak and grim flick whose bitter message and utter social realism made it box-office poison.
With the much less socially conscious Black Shampoo, Clark eschews all politics: Playing up the legend of the Black Stud to the hilt while being weirdly post-racial in its depictions of social interactions, the movie spends half of its time being spicy and silly. Then the other half is menacing and serious—creating an overall schizoid vibe that keeps things jumping, even during moments of relative calm.
Black Shampoo—more bang for your B-movie buck!

---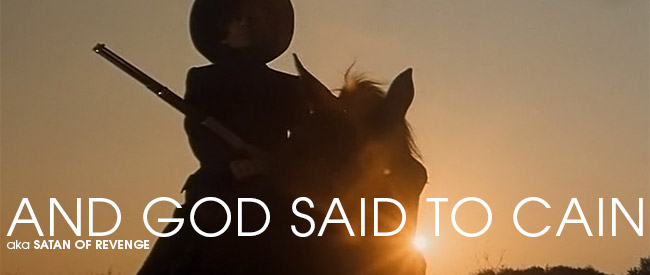 AND GOD SAID TO CAIN
Antonio Margheriti, 1970.
96 min. Italy/West Germany.
In German with English subtitles.
SATURDAY, AUGUST 31 – MIDNIGHT
In this macabre spaghetti western, the Duke of Delirium, Goth Kinski, gives a rare, heroic andunquestionably leading role as a man released after ten years of wrongful incarceration in a prison labor camp. Once sprung, he meanders his way back to town to get revenge on the men who framed him — one of whom has since become a wealthy and politically powerful land baron with dozens of hired guns on the payroll.
The plot may be traditional, but the movie is anything but: AND GOD SAID TO CAIN is notorious as of the darkest spaghettis ever made, and closer in tone to Italian horror films of the period than traditional westerns. It's the most accomplished picture of underrated director Antonio Margheriti, best known for gothic horror films like CASTLE OF BLOOD and THE LONG HAIR OF DEATH. CAIN is an effortless synthesis of the two genres: in a largely wordless performance, Kinski assumes an almost phantasmagorical aura, and eerie shootouts take place under moonlight and in churches and candlelit quarters. The film's baroque, blazing climax — think the of funhouse shootout of THE LADY FROM SHANGHAI restaged in Hell — validates the film's German title, SATAN DER RACHE — "Satan of Revenge."
Though AND GOD SAID TO CAIN frequently languishes in washed out transfers in YouTube andpublic domain purgatory, tonight we'll show a pristine digital transfer with the German-language soundtrack that preserves Kinski's original spoken dialog.