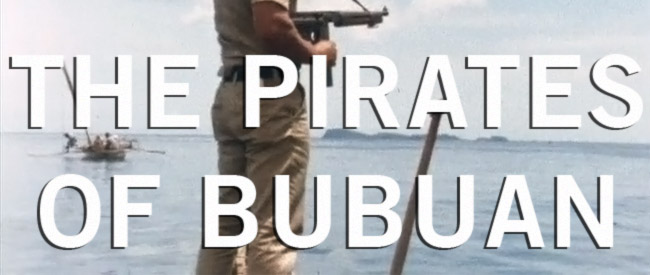 THE PIRATES OF BUBUAN
Shōhei Imamura, 1972. 47 min.
Japan/Philippines. In Japanese with English subtitles.
WEDNESDAY, AUGUST 7 – 8:00 PM
WEDNESDAY, AUGUST 28 – 8:00 PM

Presented in partnership with Icarus Films, a distributor of innovative and provocative documentary films from independent producers around the world.
In this gripping and poignant work of ethnography-cum-adventure-mystery, Imamura decides to visit the islands of the Sulu archipelago in the southwest Philippines, ostensibly out of curiosity to "see how people live on its sea." In exploring islands ranging from populations of over 300,000 to others barely inhabited, he becomes enmeshed in religious and class conflicts between the politically and economically dominant Muslim Tausug people of the larger islands and the "godless" indigenous maritime Badjao, who are subject to discrimination and impoverishment despite their fishing activities driving the larger economy.
And yet above all, Imamura becomes intrigued by whispers of piracy, which he initially dismisses as overly romantic. Yet fascination grows as Imamura hears more of the Pirate King Asaali and his savage band of thirty-some men living on the previously-uninhabited island of Bubuan. Intrigued by the fear Asaali inspires among the city folk and sea-dwellers alike, and burning to investigate the way fear of piracy aggravates local class distinctions, Imamura and his crew set out on an intrepid mission to confront Asaali head-on.
Equally rich in anthropological insight, earnest reportage, stranger-than-fiction thrills, and moments of cerebral self-reflexivity, THE PIRATES OF BUBUAN packs a feature-length wallop and sends the imagination reeling.
Proceded by:
MAMMY WATER
Jean Rouch, 1956. 18 min.
France/Ghana. In French with English subtitles.
In the coastal village of Shama, at the foot of the Pra River in Ghana, expert teams of fisherman known as "surf boys" thrust into the ocean on large canoes and homemade sailboats, where they hone their catch for hours or days on end. Their fortunes are thought to be at the behest of water spirits, "Mammy Water," and a bad catch must be addressed with a festive, ritualistic offering. In the course of the film, Rouch documents one such festival and the ensuing return to the sea.