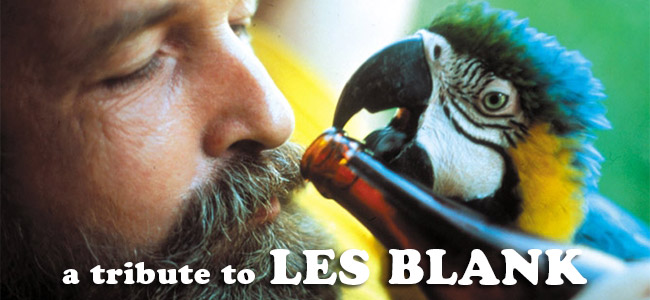 SATURDAY, AUGUST 3 – TWO PROGRAMS
ALWAYS FOR PLEASURE/ CIGARETTE BLUES – 8:00 PM
IN HEAVEN THERE IS NO BEER? / GAP-TOOTHED WOMEN – 10:00 PM
JUST ANNOUNCED Special Guests! Son Beau Blank will be in attendance for discussion at the 8:00 PM show, and Harrod Blank at 10:00 PM.
Spectacle is honored to be among the New York venues participating in a citywide celebration of the late Les Blank, both one of documentary's most rambunctious and sensitive artists.
Between 1960 and his passing this May, Blank made dozens of documentaries celebrating the cultures from around the world, especially the Cajun, Creole, Tex-Mex, Southern, Appalachian, and Hawaiian peoples. What he captures is a delight to the eyes, but might appeal foremost to the ear, the heart, and the stomach — cooking, dancing, drinking, and storytelling are the means by which Blank invites the audience into the world of his subjects. And though among the most respected artists in the field, Blank resists easy categorization as someone who is resolutely non-commercial, yet not falling easily into cinema verite, essay, or anthropological film making traditions. Ultimately, each of his films is a celebration, and one we cordially invite you to be a part of.
For more Les Blank, check out the other shows at The Academy Theater at Lighthouse International (Spend It All, July 30), BAM (Lightnin' Hopkins & A Well Spent Life, August 1), and the Museum of the Moving Image (Dry Wood, August 2) and UnionDocs (Burden of Dreams, August 4).
---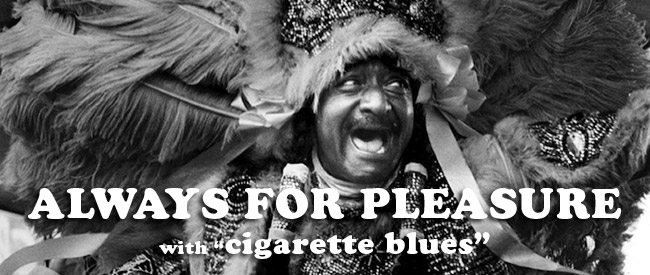 PROGRAM 1: SATURDAY, AUGUST 3 – 8:00 PM
Beau Blank in attendance for discussion!
ALWAYS FOR PLEASURE
Les Blank & Maureen Gosling. 1978.
58 min.
An intense insider's portrait of New Orleans' street celebrations and unique cultural gumbo: Second-line parades, Mardi Gras, Jazz Fest. Features live music from Professor Longhair, the Wild Tchoupitoulas, the Neville Brothers and more. This glorious, soul-satisfying film is among Blank's special masterworks.
CIGARETTE BLUES
Les Blank & Alan Govenar. 1985.
6 min.
Oakland bluesman Sonny Rhodes sings "Cigarette Blues": a musical warning that compares cigarette smoking with playing with a loaded gun.
---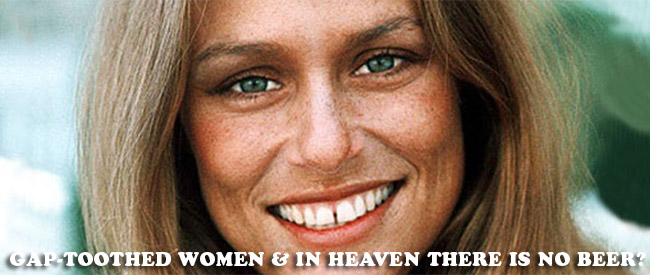 PROGRAM II: SATURDAY, AUGUST 3 – 10:00 PM
Harrod Blank in attendance for discussion!
IN HEAVEN THERE IS NO BEER?
1984. 50 min.
A joyous romp through the dance, food, music, friendship, and even religion of the Polka. The explosive energy and high spirits of the polka subculture are rendered with warmth and dedication to scholarship in this journey through Polish-American celebrations. Polka stars like Jimmy Sturr, Eddie Blazonzyck and Walt Solek are featured.
GAP-TOOTHED WOMEN
1987. 31 min.
A charming valentine to women born with a space between their teeth, ranging from lighthearted whimsy to a deeper look at issues like self-esteem and societal attitudes toward standards of beauty. Interviews were conducted with over one hundred women, including model Lauren Hutton and Supreme Court Justice Sandra Day O'Connor.
All descriptions by Les Blank/Flower Films