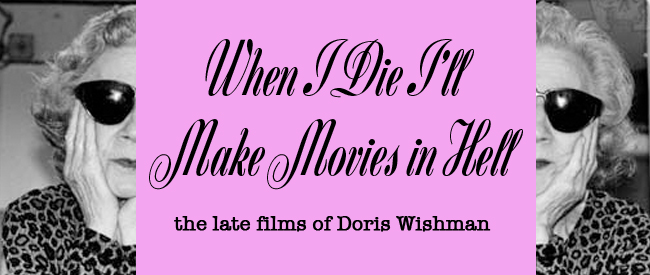 Doris Wishman's career is a history lesson in exploitation cinema. One of the most prolific female filmmakers of all time, she also had an inimitable sense of style. Her cinematic vernacular favors light switches and radiators as equally as it does faces and bodies. Her camera leers and lingers, creating an off-kilter sense of unease in even the most mundane scenes. After making some of the most well known nudist camp pictures (BLAZE STARR GOES NUDIST, NUDE ON THE MOON) she dove deep into "roughies" craze of the 60s, producing nasty clas-sicks like BAD GIRLS GO TO HELL and THE SEX PERILS OF PAULETTE. In the 70s, she teamed up with the uber-endowed Chesty Morgan to make the surreal sex thrillers DEADLY WEAPONS and DOUBLE AGENT 73 before foraying into hardcore, which just wasn't her scene.
Since the 70s, Wishman's output slowed, but her late work still bares her oddball signature. Shooting with whatever camera she could get her hands on and finishing by any means necessary, her final films show a truly idiosyncratic auteur unwilling to go quietly into the night. We're proud to present four of those features – sex-change shockumentary LET ME DIE A WOMAN, the truly insane slasher A NIGHT TO DISMEMBER, return to form SATAN WAS A LADY, and her incredibly rare video experiment DILDO HEAVEN.
---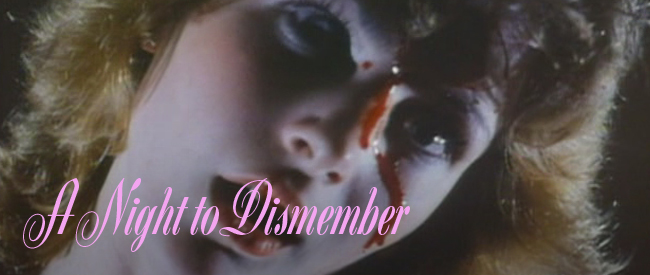 A NIGHT TO DISMEMBER
Dir. Doris Wishman, 1983
USA, 69 min.
WEDNESDAY, MARCH 5 – 10:00 PM
FRIDAY, MARCH 14 – MIDNIGHT
It's almost impossible to adequately explain the effect A NIGHT TO DISMEMBER has on the brain. Wishman had completed her first foray into 80s horror when the processing lab declared bankruptcy and a disgruntled employee destroyed most of the footage. Contractually bound to distributors, she finished the movie by any means necessary – using every frame of the remaining footage, re-writing the script, and shooting new scenes. What remains is a singular achievement in the history of motion pictures. It's a non-stop, blood-soaked, nudity-packed assault on the senses, and like all great train wrecks, it's impossible to look away.
---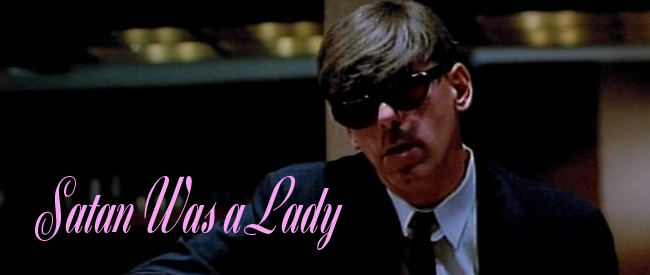 SATAN WAS A LADY
Dir. Doris Wishman, 2001
USA, 80 min.
MONDAY, MARCH 3 – 10:00 PM
SATURDAY, MARCH 29 – 7:30 PM
Wishman's first feature in almost two decades is a throwback to the female-driven tales of sex and psychosis she excelled in during the 60s. Longing for "that touch of mink," stripper/dominatrix Cleo will go to any depraved lengths to get what she wants. Betrayal! Blackmail! Murder! Go-go dancing! A coronary inducing phone call! Will she obtain the object of her desire? Music takes an unusual forefront here, as Cleo's live-in beatnik boyfriend croons along to the action. Shot on 35mm film in the sleaze Mecca that is Miami, SATAN feels like a love-letter to a bygone era – where all you needed to make a feature film were a few bucks, a handful of rooms, two to three strippers, and the craziest idea you could come up with.
---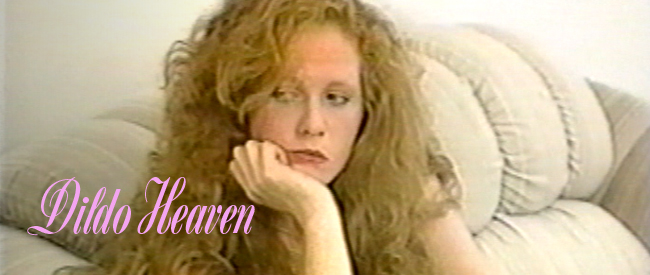 DILDO HEAVEN
Dir. Doris Wishman, 2002
USA, 80 min.
FRIDAY, MARCH 7 – 10:00 PM
FRIDAY, MARCH 14 – 10:00 PM
"This is the story of Lisa, Beth, and Tess. Three girls who shared an apartment and lived in perfect harmony. Each of these girls had the same desire: to seduce her boss." But what's a girl to do when romance doesn't work out? Wishman's first video production has the threadbare plot, awkward staging, and ample nudity we've come to expect, but with a surreal, self-referential tone that's unique among her oeuvre. Characters watch old Doris Wishman films on TV. Random sequences from seemingly lost productions are thrown in for the hell of it. The Chicago Reader hit the nail on the head, "The miscues also fascinate, wildly off in a way that reveals the artifice of commercial product." It's also her first "comedy" since her nudie productions – a wacky, confounding montage of cliché, camp, and wink-wink titillation.
---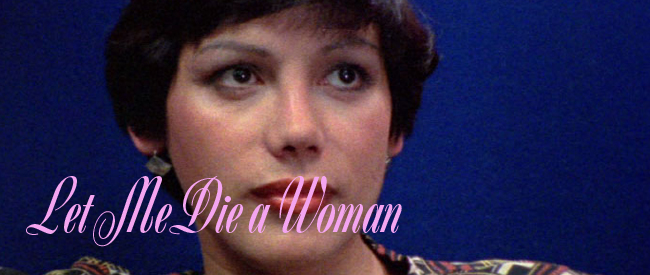 LET ME DIE A WOMAN
Dir. Doris Wishman, 1977
USA, 79 min.
FRIDAY, MARCH 7 – MIDNIGHT
SUNDAY, MARCH 16 – 7:30 PM
Wishman's sole foray into non-fiction is a disorienting, explicit, forward-thinking time capsule of sex-changes in the 70s. Combining interviews with noted surgeon Dr. Leo Wollman and his patients, soft porn dramatic re-enactments, and graphic surgery footage, LET ME DIE A WOMAN manages to be both exploitive and enlightening. Amidst its sleazy shocks and ramshackle sets, the subjects' sincere desire to tell their story earns our genuine empathy. Like all of Wishman's films, WOMAN is one of a kind, and must be seen to be believed.
Courtesy of Something Weird Video.