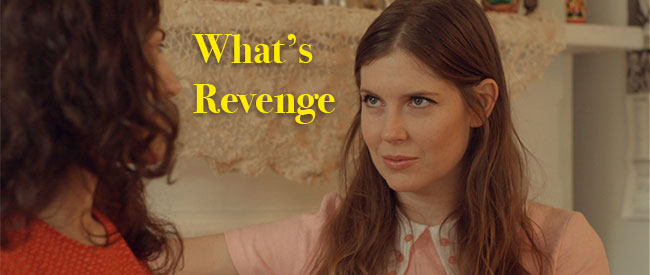 WHAT'S REVENGE
Dir. Kat Hunt, 2016
US, 52 min.
SATURDAY, OCTOBER 8 – 10:00PM (NYC Premiere)
SATURDAY, OCTOBER 15 – 10:00PM
Filmmaker Kat Hunt in attendance!
ADVANCE TICKETS SOLD OUT!
Innovative new docu-fiction WHAT'S REVENGE by interdisciplinary artist and director Kat Hunt adapts elements from 70's pulp revenge cinema to address the problems and pitfalls of relationships in the modern age. The film uses a blend of staged reenactments of real events and fictionalized scenarios inspired by the lived experiences of the cast and crew. A feminist piece of genre-bending film, made by an entirely female production team, Hunt plays the chief provocateur in a story of two friends seeking to explain the reason behind the injustices inflicted upon them by the men in their lives. Hunt's character makes a personal mission of revisiting these indignities upon "the men" in question, on a mission to take their power back in the process. By using non-actors and their stories throughout, Hunt crafts a complex and comedic take on relationships and filmmaking.