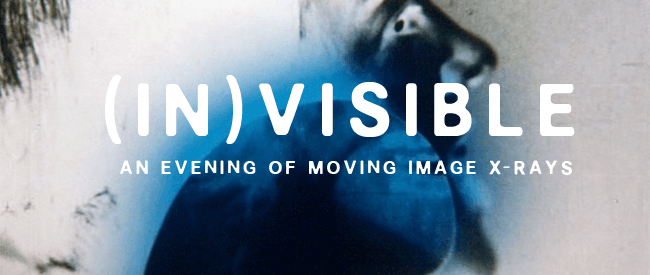 THURSDAY, OCTOBER 27TH – 8:00 PM
** ONE NIGHT ONLY! **
SANCTUS
Dir. Barbara Hammer, 1990.
USA. 20 minutes.
THE FALL OF THE HOUSE OF USHER
Dir. James Sibley Watson and Melville Webber, 1928.
USA. 13 minutes.
MOVEMENT OF THE JOINTS BY CINERADIOGRAPHY     
Produced by Nuffield Institute for Medical Research Oxford, 1945.
UK. 16 minutes.
**W/LIVE SCORE BY HIGH WATER**  
In 1990, experimental filmmaker Barbara Hammer explored what is visible beneath the surface of the skin. Digging through the archives at the George Eastman House, in Rochester, New York, she found previously unopened 35mm nitrate films made by Dr. James Sibley Watson in the 1950s. These were among the first experiments using X-ray technology to see what it looks like inside a living body when it moves. Hammer, through photography and painting, renders an intimacy to these X-rays in her 16mm film SANCTUS, with an operatic soundtrack by Neil B. Rolnick. 
The program on Thursday, October 27th will feature three rarely seen films: Barbara Hammer's SANCTUS; a horror film–an adaptation of Poe's The Fall of the House of Usher–made by Dr. Watson himself; and a medical tutorial, never before projected, created at Oxford University, of joints moving in flesh and then in X-ray. The Oxford film will be accompanied by an original, live score by High Water.
New York-based musician Will Epstein, aka High Water, is a saxophonist with a psychedelic vibe. A multi-instrumentalist, he also writes and incants his songs. His recent LP–"Crush"–was released on Nicolas Jaar's Other People label and is available on iTunes and Amazon.
Barbara Hammer is a filmmaker and visual artist who has been making groundbreaking films for over forty years. She is a progenitor of Queer Cinema. Retrospectives of her work have been presented at the Museum of Modern Art, the Tate Modern, and the Toronto International Film Festival, among others.