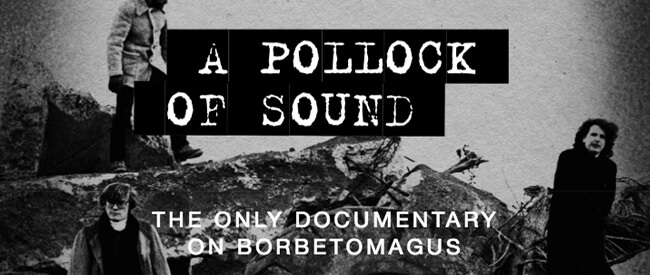 BORBETOMAGUS: A POLLOCK OF SOUND
dir. Jef Mertens, 2016.
Belgium, 63 min.
English
FRIDAY, OCTOBER 14 – 8:00 PM (SOLD OUT) and 10:00 PM
NYC PREMIERE! Director Jef Mertens in person for intro and Q&A!
GET TICKETS HERE!
A POLLOCK OF SOUND is the first-ever full feature documentary film on the legendary group Borbetomagus. With a current career spanning of 37 years, and still going, this explains a lot.
From 1979 on, Borbetomagus have persevered a 'no holds barred' musical style, described and boxed by the media so many times that they remain uncategorized. Coming together in upstate NY, far away from the burgeoning NYC scene, they began having a cult status reaching as far as Northeast Asia. With both saxophone players extending techniques beyond recognition and a guitar player utilizing metal shards besides a plectrum, the band have showcased a whole new vocabulary staying true to the word 'free.'
Guerilla filmmaker Jef Mertens brings the story previously only written in select underground media, as told by band members Don Dietrich, Donald Miller and Jim Sauter. Made on a low budget string and with the help of many artists, writers, photographers and fellow filmmakers, the film exhibits a raw, urgent, and unpolished vision on a band that has spent almost 4 decades defining and redefining their music.
Starring writer Byron Coley, drummer Chris Corsano, guitarist Thurston Moore, Japanese noise outfit Hijokaidan, Switzerland's Voice Crack, and a pontificating intro by Jason Gross. With never-before-seen archival footage, amazing photographic finds and even some never before released recordings, the film is a must-see, or must-listen if you will, for every Borbetomagus fan or lover of music that has labored its own definition of what sound should be like.
BIO: Jef Mertens is a self-taught documentary filmmaker hailing from Geel, Belgium. In the early 2000's he transitioned from his photographic training into moving image exploration while documenting Sonic Youth in "short rough tour diaries." His first documentary, DRONEVOLK in 2007, followed four acts in the local Belgian experimental music scene. He established his DVD/cassette label (and later production company) Taping Policies in 2009, publishing performances by Tony Conrad and Lee Ranaldo.