---

NOTHING CAN TURN INTO A VOID – AN ART APART: PEOPLE LIKE US
Dir. Carl Abrahamsson, 2015
Sweden, 58 min.
FRIDAY, OCTOBER 7 – 7:30 PM  
A documentary focusing on the British artist Vicki Bennett and her project People Like Us. Her work takes you on a journey into a world where literally anything can happen. Using her skills as an editor and a great sense of humor, she lets you roam through a world of imagination filled with contrasts and chance encounters between the past and the present. In performances, video work, music and collages, Bennett conveys that nothing is really what it seems.
---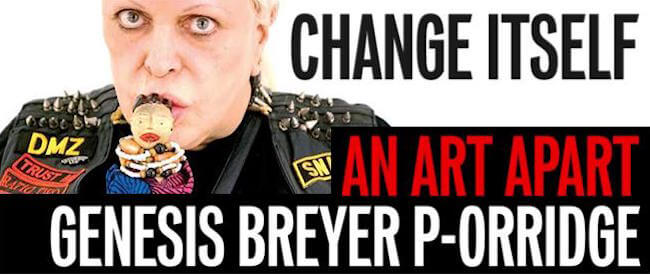 CHANGE ITSELF: AN ART APART – GENESIS BREYER P-ORRIDGE
Dir. Carl Abrahamsson, 2016
Sweden, 58 min.
TUESDAY DECEMBER 13 – 7:30 PM
(Originally Screened in October 2016)
To sum up the life and work of British artist Genesis Breyer P-Orridge is close to impossible. Not only because of the wide range of artistic disciplines, but also because of the timespan, since the mid 1960s to the present day, that has been saturated by hundreds of records, thousands of concerts, exhibitions, interviews, videos, spoken word performances, collages, sculptures, philosophy, cultural engineering, occultism and radical transgender concepts. A couple of descriptions are still valid after these 50 years of active creativity and provocation. P-Orridge is a romantic existentialist and a cultural engineer. Everything is both work as such and seed for cultural and behavioral change.