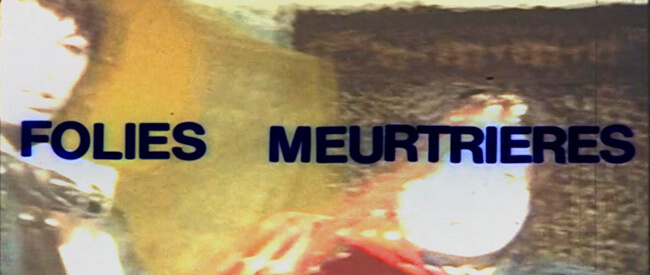 FOLIES MEURTRIERES
Dir. Antoine Pellissier, 1984
France, 47 min.
WEDNESDAY, OCTOBER 5 – 7:30PM
FRIDAY, OCTOBER 28 – 10PM
MONDAY, OCTOBER 31 – 10PM
The slasher film, like any genre, has various approaches. From the baroque excess of its giallo roots to the meta-awareness of the Scream series, from scuzzy video nasties like The Toolbox Murders and Don't Answer The Phone! to the satirical aspects of The Slumber Party Massacre, there's a variation for any taste, so long as your tastes lead to seeing people get killed. It can also be stripped down to its most minimal elements: 80s synth dirge, long POV shots and gruesome set piece murders. That's what FOLIES MEURTRIERES provides: the slasher boiled down to a kind of dead-eyed late-night trance, all VHS tape hiss and HG Lewis-style gore effects and zero relateable character development or or wisecracking comic relief. Anyone looking for a well-written mimetically plausible story won't find it here: this is homemade murderdrone haze. Information on this film is sparse, which may be for the best; it's a film that you might pick up from a box of unmarked VHS tapes on a streetcorner only to discover diseased dreams of torment and bloodshed stained onto magnetic tape. We will say director Antione Pellissier's day job is medical examiner, which is fitting for a film far closer to Grand Guignol than the action-film-jump-scare world of contemporary horror.
"The woozy, warped tape of Folies Meurtrieres has no subtitles. That's okay, as there are maybe five lines in the film that aren't a narrator reading off the date of the murder you are about to see. The 47 minute film is just that: a series of murders without context or plot, and within each murder sequence lies a different variation on the classic slasher scenario." -Peter Galvin, MURDERDRONE