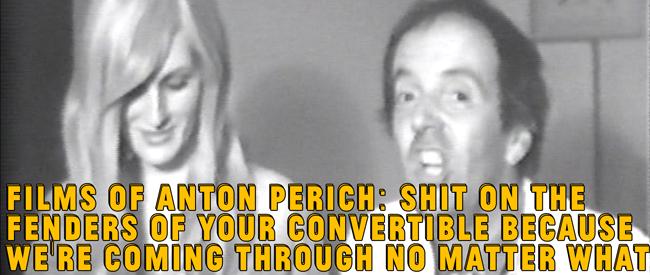 THURSDAY, JUNE 12 – 7:30 (Program I) & 10 PM (Program II)
TUESDAY, JUNE 24 – 7:30 (Program II) & 10 PM (Program I)
In 1973, filmmaker Anton Perich, the legendary Candy Darling and Taylor Mead, and the Broadway actor Craig Vandenburgh went to a nice apartment on Central Park West to make a film. The apartment belonged to the art collector Sam Green and the walls were groaning with Warhols. Perich came up with a simple scenario: Taylor Mead would play a decadent and perverse wall street type, Candy his socialite daughter. As the film opens, Craig Vanderbilt plays the piano for Candy while she screams "Play!" and strikes the instrument with her high heeled shoe. From there, everything is improvised. Before the night is through, Candy and Craig have split, Taylor Mead sits on the stairs, singing incoherently, with his pants around his ankles, and Anton Perich had a finished film.
Many of Perich's films were made this way, in two or three takes and improvised from simple premises. His films and interviews feature many regulars from Max's Kansas City (he was a busboy there) and Warhol's clan (he was also a photographer for INTERVIEW), including Andrea Feldman, Holly Woodlawn, Jackie Curtis, Edwige Belmore and Tinkerbelle, as well as orbiting artists and celebrities like John Cage and Merce Cunningham, Hugh Hefner, Grace Jones and John Waters, resulting in an incredible cross-pollination between art and personality. FRANKENSTINO (1973, starring Taylor Mead as Frankenstein, Katrina Toland, Jayne County and Robert Starr) was shot in the studio of sculptor John Chamberlain atop one of his giant works of foam (and features the line which serves as title for this series, uttered by Taylor Mead). In VICTOR HUGO ROJAS, the performance artist descends into an "Egyptian trance" (he's wrapped in toilet water, spritzed with water and doused with baby powder) before destroying an original Warhol painting. In HUNTINGTON HARTFORD'S TIE CLOSET (1977), Jerry Hall drapes herself with ties from the Fifth Avenue closet of multimillionaire Huntington Hartford, heir to the A&P supermarket fortune and art collector (who hated abstract art and once called Picasso a "mountebank").
Perich's MR. FIXIT (1973) is among the earliest material to be actively censored on television. Starring Susan Blond, Sami Melange and Danny Field, it appeared on public access in Manhattan and concerns a married couple (Blond and Field) who take a special interest in a television repairman's ass (a lightbulb and a jar of vaseline are involved). The cable operator literally cut the sound and picture for periods of time during the broadcast, interrupting and resuming the tape's transmission as he saw fit, explaining afterwards in a disembodied voice, "Certain segments of this tape were deleted on purpose. There was no time to edit it."
Anton Perich embraced television at a time when video and performance artists were beginning to turn to New York galleries in which to show their work. To him, the galleries were safe and bourgeois, whereas television was the "last taboo for artists", a pristine middle class venue waiting to be anointed by a subversive underclass of artists. Perich spent many years as a painter, poet and filmmaker before embracing the Portapak and its primitive video quality, and wanted to do something new with the technology. "TV was so perfect and sanitized, the answer was to introduce bad quality, bad sound, bad taste".
In addition to the short narrative and experimental content of the show, Perich also followed a rotating cast of hosts (Susan Blond, R. Couri Hay, Tinkerbelle) to parties, fashion shows, concerts and gallery openings. The show became such an exciting weekly event that Newsweek's media arm attempted to co-opt its success with its own mainstream version, with Tinkerbelle as host, called "Tinkerbelle's Parties". Producer John Peaslee recalls, "We were going to do a slicker version of Anton Perich." The show failed miserably. "The minute it got slick we lost it."
Beginning in 1980, Anton Perich took a 25-year break from filmmaking but continued to paint. Then he began to make films once again. His sense of humor is thoroughly intact (in 2010's MOTHER OF GOD, 85 year-old Taylor Mead plays an aging Sarah Jessica Parker) and he still uses improvisation to build on simple narratives – lately they often have to do with technology (he equates googling oneself to masturbating). Proust is his hero these days. Perich said that he thinks about the fact that Proust made his contribution to the world with just a pencil. Now for the first time, a pen can cost more than a video camera. "Everyone can be a filmmaker, but not everyone is." Therefore, "it's a good time for people to redefine cinema again".
In this special series, Spectacle presents both old and new works by extraordinary underground filmmaker Anton Perich.
Films by Anton Perich PROGRAM I: MAX'S KANSAS CITY, CANDY & DADDY, HUNTINGTON HARTFORD'S TIE CLOSET, and LIKE CINDERELLA
(97 min.)
THURSDAY, JUNE 12 – 7:30 PM
TUESDAY, JUNE 24 – 10 PM
MAX'S KANSAS CITY (1972)
14 min. Silent.
Andrea Feldman, Candy Darling, Jackie Curtis, Jack Smith, Taylor Mead, Holly Woodlawn and others hang out inside and out front of Max's Kansas City.
CANDY AND DADDY (1972)
35 min.
Featuring Candy Darling, Taylor Mead and Craig Vandenburgh. A perverse wall street broker (Taylor Mead) walks in on his daughter (Candy Darling – whose improvisation is genius) with her lover and then tries to seduce him.
HUNTINGTON HARTFORD'S TIE CLOSET (1977)
17 min.
Featuring Jerry Hall, R. Couri Hay, Antonio Lopez, Roger Webster and Huntington Hartford. The multi-millionaire Huntington Hartford had a collection of thousands of ties in a special closet in his Fifth Avenue penthouse, which a gorgeous, 21-year-old Jerry Hall puts to good use in this short film. She sings dirty songs, one of which begins "Going through the jungle with a dick in my hand." Huntington Hartford appears periodically, annoyed that his ties are being disturbed.
LIKE CINDERELLA (2010)
31 min.
Paparazzi kidnap a glamorous Italian movie star, and force her to clean while they photograph her.
Films by Anton Perich PROGRAM II: THE LIMO LIFE, VICTOR HUGO ROJAS, FRANKENSTINO and MOTHER OF GOD(101 min.
THURSDAY, JUNE 12 – 10 PM
TUESDAY, JUNE 24 – 7:30 PM
THE LIMO LIFE (1976)
13 min.
Featuring Victor Hugo Rojas, Tinkerbelle, Nancy North and Ramona. "What was the name of that limousine company? Where we had the orgy last week?" Five upscale citizens cruise "Los Angeles" (Manhattan) in a white limo. They pause to sing showtunes, brush their teeth, put on frog masks and die in the gutter. Brought to you by Dom Perignon and a jar of pickles.
VICTOR HUGO ROJAS (1978)
14 min.
Venezuelan performance artist Victor Hugo Rojas was an icon of the separate but overlapping fashion, art and gay party scenes. Here he performs various "Egyptian rites" before destroying an original work by his friend Andy Warhol.
FRANKENSTINO (1973)
31 min.
After the controversy surrounding the live televised censorship of MR. FIXIT, Perich and his cohort were on a mission. FRANKENSTINO features full frontal nudity and general nonsensical discussion of cunts and Hitler. Taylor Mead plays Frankenstein, who frolics atop a giant foam sculpture by John Chamberlain (the film was made in his studio) with Katrina Toland, Jayne (formerly Wayne) County, Robert Star and others.
MOTHER OF GOD (2007)
41 min.
Featuring Taylor Mead as an actor who has made millions playing an aging Sarah Jessica Parker. Mead's pregnant granddaughter arrives to ask for money but gets only a belly dancing lesson.